Mortgage Strategy...Protecting Your Interest Rate Without A Lock.
So, you want to buy a home or refinance - rates are low, but you want to wait and see if they go even lower. Then you are gripped with fear - what if rates should rise? Twenty years in the mortgage and real estate industry in California, hosting financial shows and much more, I have learned a thing or two about interest rates, the treasury market, locking loans and profiting from mortgage strategies.
Some of you may follow TBT (Proshares Ultrashort 20+ Year Treasury). This is a leveraged ETF that goes higher when interest rates rise and lower when interest rates drop. Mortgage rates tend to follow the 10-Year Treasury. If we look at a chart of the 10-Year Treasury over the last 6 months (see 10-Year treasury Chart), we see that on October 8, 2010, the yield was at 2.38%.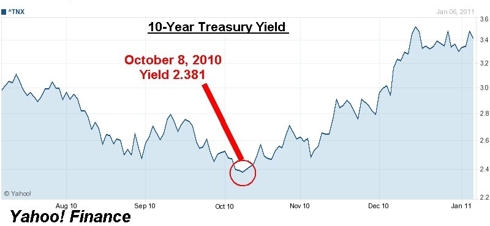 click to enlarge
According to Freddie Mac, 30 year fixed rates averaged 4.23% in October 2010 and TBT traded at $31.70 on October 8th, 2010, when the 10-Year reached a recent low of 2.38%. TBT opened 2011 at a price of $37.50, around 19% higher than its price on October 8, 2010. The 10-year treasury opened the year at 3.34% and Freddie Mac reported that, as of January 6, 2011, interest rates averaged 4.77%. That is a 12% increase in mortgage rates over the same time period that the TBT jumped 19%.
While past performance does not predict future changes, it is easy to see a short-term correlation. When interest rates rise, TBT also rises and when interest rates drop, TBT also drops (see chart of TBT /10-Year Treasury Comparison). The chart shows that TBT and the 10-Year Treasury do move in similar directions.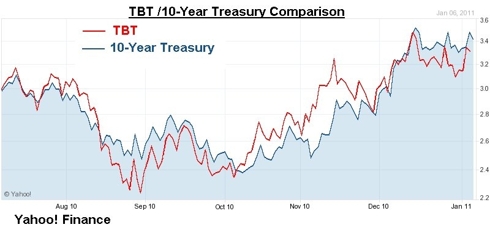 This allows the average home buyer or refinancer to "hedge" interest rates for the short term, either with a 30-day lock or to consider a short-term ARM. How does all this work? Let's say that you had started a loan application to purchase a home back in October when rates were around 4.23%. However, it took several months to close and now your 4.23% rate is at 4.77%. You were looking to purchase a home in the $200,000 range and initially your principal and interest were going to be $981, but it has now jumped to $1,045. A purchase of $1,000 shares of TBT on October 8th would now be worth $5,800 more than when you purchased it. The higher payment on your mortgage would cost you an additional $64 per month, but your gain on the sale of TBT would protect you for the first 7.5 years of owning the home.
This strategy also works to the downside. If interest rates would have dropped, your TBT investment would have lost money. However, you would have also gained in monthly savings on your mortgage. A good financial advisor or someone who is good with math could determine approximately how much of a purchase in TBT you would need to protect or hedge a specific mortgage.
Disclosure: I have no positions in any stocks mentioned, and no plans to initiate any positions within the next 72 hours.