With Alibaba expected to complete its IPO as early as next month, the announcement that it grew quarterly revenues by an impressive 46% is a big positive for anyone lucky enough to get a share allocation. But as a 22.5% owner of the Chinese e-commerce giant, the news has a mixed meaning for Yahoo (NASDAQ:YHOO). While many investors have held shares of the U.S. web portal as a proxy for Alibaba, there are diametrically opposed views on what the IPO does to Yahoo shares. Ultimately, I believe that shares should perform well heading into the IPO, but as soon as investing directly is an option, I would be on the sidelines.
Alibaba's Earnings
China currently makes up the single largest e-commerce market in the world, and Alibaba accounts for 80% of all online retail sales in that market. The company recently reported earnings, which included the e-commerce bump to $2.15 billion of the company's total $2.54 billion in revenue. Monthly users have continued their upward trajectory, finishing at 188 million for the most recent quarter; this number came in at 163 million a quarter earlier and 136 million the quarter before that. All of these numbers help to paint the picture of a company in a huge growth uptrend.
Pre-IPO Action
Ahead of the IPO, there are swirling and competing forces at that are likely to impact several companies, including Yahoo, Amazon (NASDAQ:AMZN) and Softbank (OTCPK:SFTBY). In addition to Yahoo's stake in the company, Softbank holds a 34% position; investors have been long using both of these stocks as proxies for owning Alibaba, with the edge going to the significantly better liquidity offered by Yahoo. As major fund managers prepare for the IPO, each will need to make room for the allocation: "it may trigger a veritable garage sale of names that are failing to impress Wall Street, including U.S. e-commerce rival Amazon.com Inc."
One of the primary gripes with Amazon is that the company continues to deliver anemic profits, and spends on diversified areas like original programming for Prime and hardware like the Fire Phone. Alibaba will offer a more pure e-commerce play, with greater access to the Chinese market. But Amazon is not the only stock potentially in play: "Chinese rivals like Baidu Inc. and Tencent Holdings Ltd. also may be pressured if fund managers view Alibaba, which powers 80 percent of all online commerce in China, as a better path to tap into growth in the world's second-largest economy."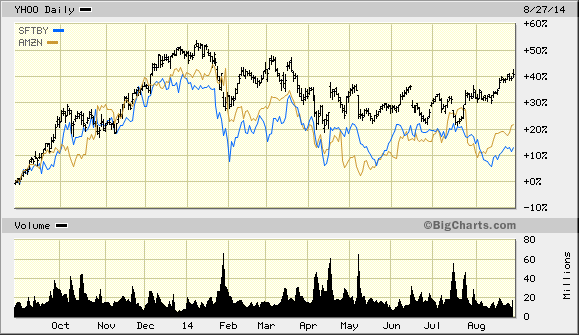 The Yahoo Conundrum
With other major companies impacted by the IPO, it is reasonable to ask why Yahoo remains front-and-center in most stories. As the web portal continues to reinvent itself and return to profitability, the stock has risen by over 100% over the last couple years on the strength of Alibaba. Investors, including major shareholding funds, may prefer to opt for direct exposure by buying Alibaba directly as soon as that is an option. The other side of the argument is that given the high demand for IPO shares, investors shut out of the IPO may continue to snap up Yahoo to gain some exposure - the IPO is expected to gross over $16 billion.
Rather than leaving things at the unsatisfying truth that shares of Yahoo will either go up or down, which is obvious, formulating a strategy for trading shares into the IPO is more helpful. I believe shares have additional upside from their current level and will get a significant pop when the precise date of the IPO is set. The stock has a 52-week high of $41.72 per share; if this level is broken before the catalyst of the IPO date's announcement, the jump will be larger. After this nudge, however, I would be moving out of the stock into strength. There is a reasonable chance that the stock will come under significant selling pressure in the days leading into and right after the IPO. While you may leave some upside on the table, there are better risk-adjusted options given how much downward pressure Yahoo may see. If Yahoo were on stronger footing independent of Alibaba, holding shares might make more sense. This is simply not the case. You should be able to profit short-term on Yahoo, but I am not a long-term holder. After the dust settles from the IPO, it will be time to reassess.
Disclosure: The author has no positions in any stocks mentioned, and no plans to initiate any positions within the next 72 hours.
The author wrote this article themselves, and it expresses their own opinions. The author is not receiving compensation for it (other than from Seeking Alpha). The author has no business relationship with any company whose stock is mentioned in this article.
Editor's Note: This article discusses one or more securities that do not trade on a major U.S. exchange. Please be aware of the risks associated with these stocks.