General Moly (NYSEMKT:GMO) and other miners have been on a wild ride over the past few months, supplemented by China's announcement on December 28th that they will reduce their exports of rare earth materials in 2011 by 11%. The logic goes that a smaller supply of these metals will lead to higher prices, and thus, higher earnings. General Moly is a junior miner that is not set to begin production until 2013 according to their latest projections. However, this has not slowed down the move into this stock as volume has picked up greatly to accompany the move up.
On December 30th, GMO hit an all-time high intraday of $7.25, but it was clear that the stock had become overbought. A healthy retracement back towards the 50 day Moving Average has since followed. Below is a chart of GMO compared to other miners Thompson Creek (TC), and Molycorp (MCP), over the past 3 months. Each company has had a long sustained rally that has finally begun to give back over the past week.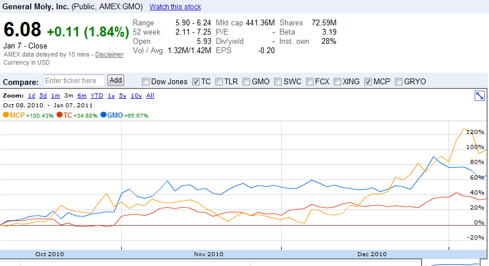 Click to enlarge
click to enlarge
Even though the short-term rally appears to be over, if GMO can establish a bit of support around the $6.00 level next week, it can still be a good buying opportunity with the right play. Besides the strong news in their sector, they also announced news specific to themselves that supports their higher valuation. Their major investor, Hanlong Mining Investment, Inc., closed their first planned $40 million equity tranche on December 20th, reinforcing their commitment to the project.
Hanlong is expected to provide all of the necessary financing for the Mt. Hope Project. The site has a 44 year mine life, and 1.3 billion pounds of proven and probable molybdenum reserves, making this a very long-term project. When production commences they will be producing 40 million pounds per year making them the world's largest producer. The Liberty Project, which has a 19 year life and a NPV of $514 million at an 8% discount rate, is set to begin after production begins on Mt. Hope (NPV was taken off their website). Last week it was announced that $2.5 million of the 2011 budget will be allocated to the Liberty Project. Financing for the project will eventually be funded from the free cash flow of Mt. Hope, so this limits the risk of future dilution to stockholder earnings.
The 50 Day Moving average is currently at $5.62, but is sloping upwards. Barring any other announcements out of China, the next major catalyst I see is the announcement on the decision of water rights for their Mt. Hope project. From all indications given at the Water Rights Update, a favorable ruling is expected in either late March or early into the 2nd quarter. It sounds as if March options expiration should occur prior to a ruling, and expire prior to the next big move. Implied volatility has ranged between 70 and 85 recently, and therefore allows for a nice opportunity to take in some income on long shares.
Currently, the March $5.00 puts can be sold for $.35 and the $7.50 calls sold for $.35, bringing the real cost down to $5.38. This gives downside protection of 11.5%, and a maximum return of 39.6% if it runs over $7.50 in just over 2 months. The conservative play of writing the June $6.00 calls will net $1.20 back in premium with a real cost of $4.88. This gives a maximum of 23.0% return in just over 5 months if the stock remains above $6.00. If water rights come back favorable it will be a major catalyst to remove uncertainty and should lead to another run-up. Writing covered calls does cap gains, so if you are a believer that it may move higher than the maximum returns within the given time frame, just going long the shares is the right play for you.
Disclosure: I am long GMO.