General Motors (NYSE:GM) is finding it hard to catch a break. The anti-trust activities in China have touched GM, and they are now extending to India. Some believe this is an effort to keep the foreign car companies at bay. Regardless, China has been, and will continue to be, a huge market for foreign car makers.
The current string of investigations focuses on the prices of after sales service and spare parts. It is noteworthy that a similar investigation into Mercedes-Benz resulted in the company slashing prices by around 15% in after sales spare parts just weeks ago.
Why 2Q was a mixed bag
2Q earnings were $0.58 per share, just barely topping $0.57 consensus. Revenues fell short of consensus at $39.6 billion, compared to $41 billion consensus. The car maker took a $200 million restructuring charge and spent $1.2 billion related to recalls. The free cash flow fell substantially, along with pre-tax profits in North America, South America and Europe. North American margins are running at 9.3%, below management's expected 10%.
Seeing the forest for the trees
Short-term weakness can be great buying opportunities in stocks with long-term potential. Shares of GM are down 14% YTD while Ford is up 14%. This looks to be a great buying opportunity in GM.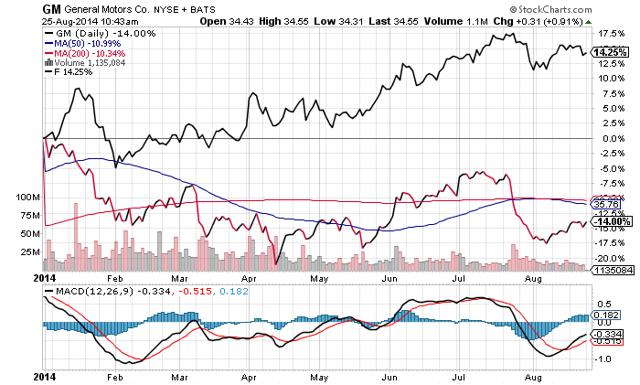 The media has been focused on the various recalls by GM so far this year. This has been overshadowing the company's strong performance. Revenues for 2Q were short of estimates, and EBIT was down 40% y/y. But adjusting for one-time items and EBIT was up 22% y/y for 2Q (8% y/y after adjusting for one-time items in 2Q 2013).
In its key market, the U.S., EBIT was up to $2.4 billion, versus $2.1 billion in the same period last year. It remains the U.S. leader with 17.9% of the market share. The European loss was flat y/y, but the company is reducing capacity there. China remains an area of strength and the company sold more cars in Asia than it did in North America.
Bottom line
GM is still just too cheap to ignore. Not only is it the best buy in the auto industry, it's very enticing when looking across the entire market. Shares trade at just 7.6x next year's earnings -- Ford is trading at 8.9x, Honda 8.7x, and Toyota 9x. GM also offers the best dividend in the auto space, yielding 3.5%.
The recalls continue, but weakness in other areas are starting to subside. Its sales in Europe are hurting sales for this year, but its EBIT loss for the reason is expected to decline y/y, ultimately hitting an EBIT break-even level in 2015. The company's new products are resonating with customers -- where it's renewed all of its models since the 2009 bankruptcy. With strong growth prospects despite the overhangs, and a robust yield, GM looks to be a buy for long-term investors.
Disclosure: The author has no positions in any stocks mentioned, and no plans to initiate any positions within the next 72 hours.
The author wrote this article themselves, and it expresses their own opinions. The author is not receiving compensation for it (other than from Seeking Alpha). The author has no business relationship with any company whose stock is mentioned in this article.