Yum Brands (NYSE:YUM) is always an appetizing stock on big pullbacks. Yum operates well established fast food brands such as Taco Bell, KFC, Pizza Hut and WingStreet. Thankfully the company has been dropping the proverbial ball enough of late - continuing to offer investors enticing entry points. After the February pullback, shares rose sharply but the recent turmoil in China has dropped the stock back near toward $70 a share.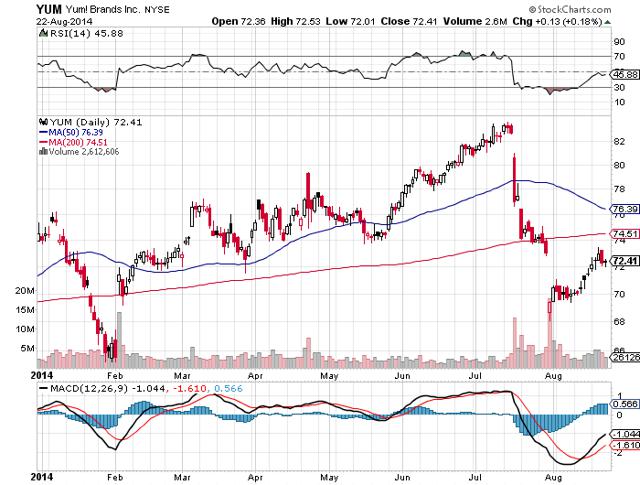 Click to enlarge
The latest drop comes after another food scandal in China, which is not just limited to Yum but also impacting McDonald's (NYSE: MCD) and Starbucks (NASDAQ: SBUX). Starbucks has noted that some of its Chinese outlets have sold chicken based items manufactured by the Shanghai based factory, Husi Food - the same plant that closed after a TV show claimed that it was using expired products.
Burger King (NYSE: BKW) has also stopped using meat processed by Husi in all its operations in China. Meanwhile, McDonald's has stopped the sale of these products at more than 1,300 stores in Japan, which is one of its major markets.
The ordeal remains complicated due to the transition in China from manufacturing to the service industries, and the fact that Chinese officials are still learning how to deal with issues such as food quality and safety. Couple that with the fact that it's a system that's on a much larger scale than the U.S., and things get even harder to deal with.
What this means for Yum
China is the company's biggest market hosting over 4,500 KFC stores of its total 14,000, and 1,200 Pizza Hut stores. But during the last couple of years, the company has faced a number of issues in the country.
Regardless, China and other emerging markets still offer major opportunities for the company as there are only an average of two restaurants per million people in the top ten emerging markets, compared to a whopping fifty-eight restaurants per million in the United States.
Moreover, disposable income and discretionary spending are both increasing in line with economic growth in these emerging economies. In the second quarter, KFC earned more than 90% of its profits from its international operations in which China was a major contributor. Restaurant margins showed a healthy increase of 6.2% to 16.8%, and operating profits jumped dramatically by 188% to $194 million. In China, same-store sales rose 15%, where comps were up 21% higher at KFC and flat at Pizza Hut.
The company opened 104 new outlets during the quarter and plans to open 700 by the end of 2014 and the cash back return on investment is expected to take only three years.
The increasing importance of Taco Bell
Although the company is showing signs of weakness in China, it is drawing strength from other areas. Taco Bell continues to be the prize investment in the U.S as its latest initiative has been the launch of the Dollar Cravings menu which takes on McDonald's and other major competitors in this arena.
Last year, under pressure from franchisees, McDonald's moved away its focus from its dollar menu and expanded the price points to $2 and $5. The new Taco Bell Dollar Cravings menu offers over 10 items for $1 each. This is expected to regain some traffic within the age group of 18 to 24 years which had shifted to other options such as Chipotle. In the second quarter, Taco Bell posted a 3% increase in sales, of which 2% was contributed by same-store growth.
Bottom line
The meat problem in China is bound to have an impact on the third and fourth quarter results. The company is giving no comments pertaining to how its China sales will shape up for the rest of the year. But it is expected that the 2014 China same-store sales will continue to grow at the low-end of its previously guided range.
Wall Street still expects EPS to come in around $3.56 per share for the full fiscal year, marking year-over-year growth of 20%. For fiscal year 2015, a further growth of 15% to $4.09 per share is expected. However, the company's own internal target is to achieve a 25% growth.
Its premium P/E multiple - over the likes of McDonald's - remains justified given its exposure to the faster growing Chinese economy. Pizza Hut and Taco Bell operations could easily prop up the company in the interim. With this, it looks to be a good idea to use the pullback as a buying opportunity.
Disclosure: The author has no positions in any stocks mentioned, and no plans to initiate any positions within the next 72 hours.
The author wrote this article themselves, and it expresses their own opinions. The author is not receiving compensation for it (other than from Seeking Alpha). The author has no business relationship with any company whose stock is mentioned in this article.