Last week, precious metals and agriculture commodities had a correction while oil and natural gas rose. The extremely cold weather across the country will certainly help the heating oil and natural gas prices.
The following table and charts show the trend scores for various commodities. Silver (NYSEARCA:SLV) continued to retain its top spot while agriculture (NYSEARCA:DBA) remains to be at the second place.

[Click all to enlarge]
As we are now in a new year, it is of interest to review some commodity-investing themes. In the previous articles (like this), we alluded to the reasons behind precious metals investment, especially in silvers. In this article, we will look at agriculture commodities, especially food.
Based on
statistics
from the Food and Agriculture Organization (FAO) of the United Nations, worldwide food prices rose 100% since year 2000 (7.2% annualized), compared with 2.8% annualized rate for CPI (Consumer Price Index, based on Bureau of Labor Statistics
numbers
). It is clear that as globalization continues in the near future, food demand from billions of newly-created middle-class members in emerging markets will continue to increase. This bodes well for agriculture commodity prices.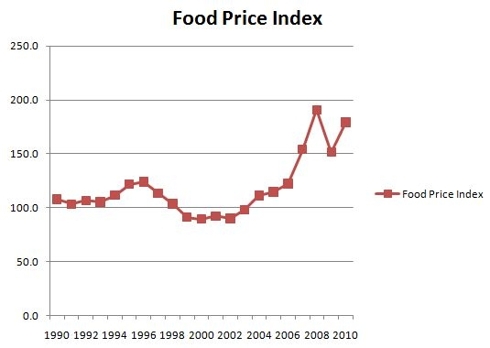 To summarize: Agriculture commodities are in a secular long-term bull market, and definitely have a place in one's portfolios. With that said, one still needs to maintain a systemic approach to manage the commodity investment.
Disclosure:
I have no positions in any stocks mentioned, and no plans to initiate any positions within the next 72 hours.