Castlight Health Inc (CSLT) - Sell Recommendation - PT $10.80
The lockup period that began with the March 13, 2014 IPO of Castlight Health Inc will conclude on September 10, potentially leading to at least a temporary decline in the price of CSLT shares.
The expiration of the lockup period will permit pre-IPO shareholders, as well as the firm's executives and directors, to sell their outstanding shares in the provider of cloud-based healthcare cost management software.
The sudden increase in shares available on the market could spell a further drop in price for the troubled stock, which has been on a downward trend since its March debut on the market.
Cost-Efficiency and Spending Controls For Healthcare Enterprises
Castlight provides cloud-based software that is designed to help enterprises improve spending control and cost-efficiency for their healthcare expenditures. The firm's software aggregates and analyzes large-scale data to generate usable information about users' healthcare costs and quality. It also allows companies to integrate disparate systems and applications, distribute personalized information to their employees, and enact technology-enabled benefit designs.
Castlight seeks to take advantage of the massive inefficiencies in the current American healthcare system by offering technology that at least in part remedies those inefficiencies. CSLT has signed over 95 customers, including 24 Fortune 500 companies, over the course of the past two years.
See our previous article on CSLT here.
Castlight's Competition: Stiff
CSLT competes with numerous other software providers that offer products similar to components of CSLT's software, some of which are in the process of developing more sophisticated and more comprehensive offerings comparable to CSLT's solution.
These firms include the likes of Change Healthcare Corporation, HealthSparq Inc, Truven Health Analytics Inc, and ClearCost Health. CSLT also faces competition from large health plans that have created their own cost and quality tools, such as Cigna Corporation (NYSE:CI), Aetna Inc (NYSE:AET), and UnitedHealth Group Inc (NYSE:UNH).
Management: Strong Academic Credentials
Giovanni M. Colella has served as CSLT's CEO since co-founding the firm in 2008. Dr. Colella previously founded and served as the President and CEO of RelayHealth Corporation. He received an M.D. from the Universita Degli Studi di Milano in Italy and an M.B.A. from Columbia Business School.
Dr. Colella is joined by Chief Medical Officer Dena Bravata, who became a part of the company in April 2009. Dr. Bravata previously served as a Senior Research Scholar at the Stanford University Center for Primary Care and Outcomes Research and was an internist in private practice for nearly a decade. Dr. Bravata received a B.S. in Biology from Yale University, an M.D. from Columbia University and an M.S. in Health Research and Policy from Stanford University.
Explosive IPO, Declines Since
CSLT was the beneficiary of strong demand for tech at the beginning of the year, and priced its IPO well above the expected range of $9-$11 per share at $16 per share. The stock's first day of trading was also an explosive success, finishing up 148.8%; CSLT closed at $39.80 per share on March 14. However, CSLT was unable to take any momentum out of its exceptional start and declined steeply through the beginning of May before finding at least some equilibrium in the following two months between $13 and $17 per share. CSLT closed at $10.67 per share on August 26.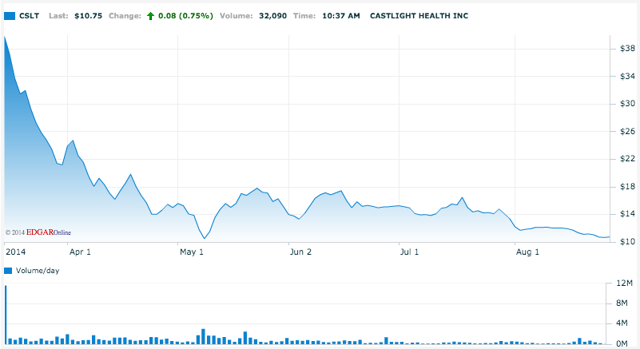 Click to enlarge
(Nasdaq.com)
Share Unlocking: 75.5 million
The expiration of CSLT's lockup period will free some 75.5 million shares for sale, most of which are held by venture capital firms. Many of these firms may elect to sell significant portions of their stakes in CSLT before the stock falls any further-as detailed below, companies with significant venture backing often lose the most ground as a result of the lockup expiration.
The largest stake in CSLT is held by Venrock with 15.6 million shares, followed by Oak Investment Partners XII with 11.9 million shares, Maverick Capital with 7.7 million shares, Fidelity Investments with 7.4 million shares, and the Wellcome Trust with 6.6 million shares.
CSLT's executives and directors may also be eager to sell their shares in CSLT to diversify their position and before the stock loses any further value.
Evidence That Lockup Expirations Offer Short Opportunities
Empirical studies published by Professors at the University of Kentucky, University of South Florida, and other institutions (Bradley, Jordan, Roten, and Ha-Chin Yi) have found that, on average, lockup expirations are associated with negative, significant abnormal returns; the sudden increase in the availability of public shares (a potential tripling, according to a 2001 NYU study) usually leads to a decline in prices. A joint study by Duke's Fuqua School of Business and Harvard Business School finds a price drop of 2%. Losses are often most concentrated in firms with venture capital (NYSE:VC) backing. In the Journal of Finance (2001), Professors Gordon Hanka and Laura Casares Field find the losses described above as three times greater in VC-backed firms.
Our own research, which sampled 242 companies with lockup expirations in 2013 and the first half of 2014, suggests that the most significant negative returns (-5.5%) occur within the Day (-11, +9) period surrounding the lockup event (Day 0). These negative returns occur for tech firms who have not completed a secondary offering and whose share price has increased from IPO to Day (-11) from the lockup expiration.
Thus, the lockup expiration event often creates a short opportunity for aggressive investors.
Conclusion: Significant Shorting Opportunity
Needless to say, not all has gone as planned for CSLT shareholders over the past six months, and we believe that the upcoming lockup period expiration will reflect a level of disillusionment among those shareholders in the form of a significant sell-off and a correspondingly significant drop in the price of CSLT shares.
Initial excitement in a tech-hungry market at the time of the firm's IPO, as well as media coverage on the day of the IPO, likely drove the price well beyond a reasonable level in the stock's early days on the market.
The continuing development of competition, continued losses on the part of the company, and significant overcompensation of some of its executives, along with the stock's perceived downward momentum, have likely led many investors to turn away from CSLT.
The expiration of the lockup period may create a significant short opportunity for aggressive investors.
We encourage readers wishing to join the discussion on IPO lockup expirations to click +FOLLOW above the title of this article - and those wishing for the latest updates to click +Get real time alerts.
Disclosure: The author is short CSLT.
The author wrote this article themselves, and it expresses their own opinions. The author is not receiving compensation for it (other than from Seeking Alpha). The author has no business relationship with any company whose stock is mentioned in this article.