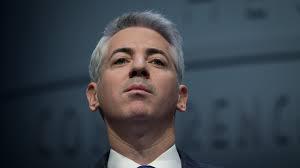 Picture: Hedge fund manager Bill Ackman. Source: Forbes.com
Herbalife, Ltd (NYSE:HLF) and hedge fund manager, Bill Ackman, have been engaged in 2014's most bitter feud, with Ackman calling the company a massive fraud. In the most anticipated earnings report of the year, Herbalife's Q2 revenue and earnings fell short of expectations. The stock sold off 11% after-hours to $60 per share; the stock now trades at $49.50, further assuaging Ackman. Below are the company's historical financial results: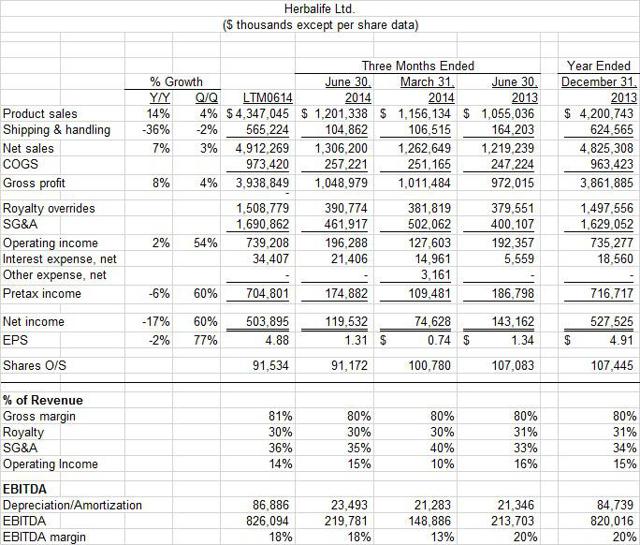 The Situation
Q2 revenue of $1.306 billion revenue grew 7% Y/Y, yet was below the $1.31 billion expected. Earnings per share ("eps") of $1.31 was below the $1.34 reported in Q2 2013.
Also dragging down eps was $21 million of net interest expense, up from about $6 million a year earlier.
In Q1 2014 Herbalife Herbalife engaged in substantial share buybacks in order to raise its stock price, and cause pain for short-sellers like Ackman. However, it raised $1.2 billion in convertible notes to do it.
In the first half of 2014 the company spent about $1.3 billion on share buybacks. Shares outstanding declined from 107 million in Q2 2013 to 92 million in Q2 2014.
However, net interest expense also increased from $6 million in Q2 2013 to $21 million in Q2 2014. In total, the company had about $1.7 billion in long-term debt at the end of Q2 2014.
The share buybacks which were designed to raise the stock price may have backfired as the stock sold off after Q2 earnings.
Cash Flows
In February 2014 Herbalife announced it was increasing its buyback program to $1.5 billion, up from the $653 million prior commitment. It also raised $1.2 billion in convertible notes to do it. The $1.3 billion in buybacks in the first half of 2014 implies another $200 million in buybacks in Q3 2014. Below are the cash flows for the company for the first half of 2014 and 2013.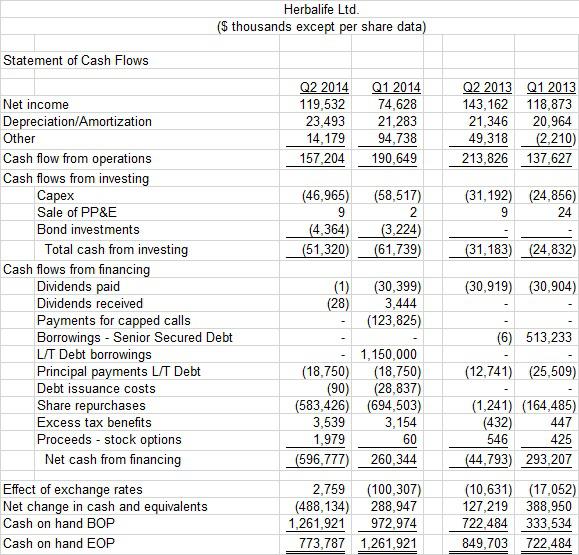 Of the four quarters, Q2 2014 had the second lowest cash flow from operations, second only to Q1 2013 results. Additional interest burden from the convertible debt offering did not help Q2 cash flow.
Q2 2014 also had the second highest cash out flow from investing of $51 million. Declining cash flow from operations and increasing cash burn from investing does not bode well.
After $597 million out flow from investing - mostly from $583 million in stock buybacks - Herbalife had $774 million in cash on hand at the end of Q2 2014. Cash on hand is almost equivalent to the $722 million at the end of Q1 2013.
Assuming an additional $200 million in stock buybacks in Q3 2014, cash on hand will continue to decline.
Convertible Bondholders Signaling Pain Ahead?
On my previous article I highlighted how Molycorp, Inc. (MCP) bondholders signaled trouble long before its equity holders caught on:
Bondholders tend to be more sophisticated than equity holders. They also tend to represent institutions and are more plugged in than your average investor. That said, bondholders' behavior - buys, sells and how they price bonds - may give you the first indication of what is actually going on with a company.
There was euphoria over Molycorp's Q2 earnings report after it announced a $400 million financial package from Oaktree Capital. Short covering sent the stock from about $2.00 per share to above $2.30. After digesting Molycorp's disappointing Q2 cash burn and the merits of a debt deal at near usury rates (12%), longs sent the stock back below $2.00. I now have a $1.35 price target on the stock. That said, what are bondholders telling us about Herbalife? Below is how Herbalife's $1.2 convertible bonds have traded since June 2014.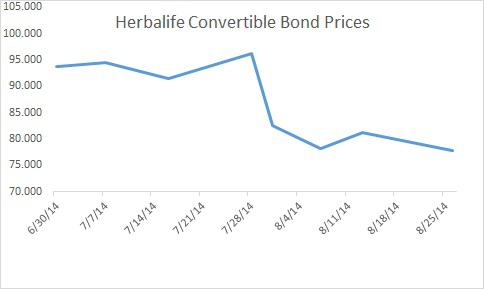 The bonds traded at 93.765 on June 30, 2014 and declined to 91.500 at July 16th. They spiked up to 96.179 on July 28th - the day before Q2 earnings were announced.
They declined immediately after the disappointing earnings results and finished the month at 82.481.
At August 26th they were trading at 77.750, a 22% discount. The immediate sell-off in the bonds after earnings was the first clue that Herbalife may be in trouble. A 22% discount to par value confirms that Herbalife cannot afford any missteps in maintaining revenue and cash flow.
Over $20 million of quarterly net interest expense has reduced cash flows. Another [i] $50 - $60 million in quarterly capital expenditures and [ii] $19 million of quarterly principal payments on long-term debt create a bogey that the company must hit in order to maintain cash balances.
All of this comes as the company's business model is under attack. Ackman has been clear that [i] Herbalife is a Ponzi scheme that only grows by recruiting more sales people and [ii] sales people are being manipulated into buying the product.
If recruits decline - a real possibility - revenue and cash flow could decline precipitously, and with it, the company's ability to repay its $1.7 billion in debt.
With an equity market capitalization of $4.7 billion and enterprise value of $5.7 billion (includes net debt of $970 million), the company trades at 9.3x net income through last 12 months ended June 30, 2014 ("LTM0614"), and 6.9x LTM0614 EBITDA. These valuations appear low, but may mask deeper problems with the company.
Conclusion
After a disappointing Q2 earnings report, Herbalife's convertible bonds sold off from 96 cents on the dollar to about 78 cents at August 26th. Raising $1.2 billion of convertible debt to buy back stock amid revenue declines and public attacks against Herbalife's business model could be the perfect storm. There is pain ahead for Herbalife - at least that is what its convertible bondholders are saying.
Disclosure: The author is short MCP. I own straddles on Molycorp.
The author wrote this article themselves, and it expresses their own opinions. The author is not receiving compensation for it (other than from Seeking Alpha). The author has no business relationship with any company whose stock is mentioned in this article.