As investors eagerly await the launch of Apple's (NASDAQ:AAPL) newest product - the iWatch, traditional watchmakers like the Swatch Group (OTCPK:SWGAF) are beginning to worry.
According to the Wall Street Journal, not long after the Swatch Chief Executive Nick Hayek dismissed the smartwatch as not having "the elegance of his company's high-end Omega and Breguet brands," Swatch announced that the watch company will be "introducing fitness functions, a key feature of smartwatches, to its Touch line of digital watches."
Why is the Swatch CEO now worried more than ever about the iWatch launch?
Samsung's (OTC:SSNLF) Galaxy Gear and Sony's (NYSE:SNE) SmartWatch didn't seem to concern Swatch Group's CEO. What makes Apple's iWatch so unique?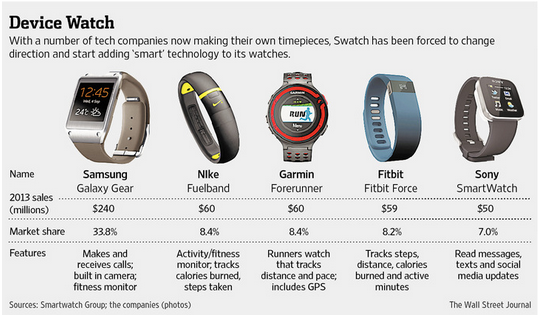 No, the iWatch will likely not compete directly with the Swatch Group's crème de la crème Prestige and Luxury Range, which features such brands as newly acquired Harry Winston, Breguet (below), Blancpain, and Jaquet Droz.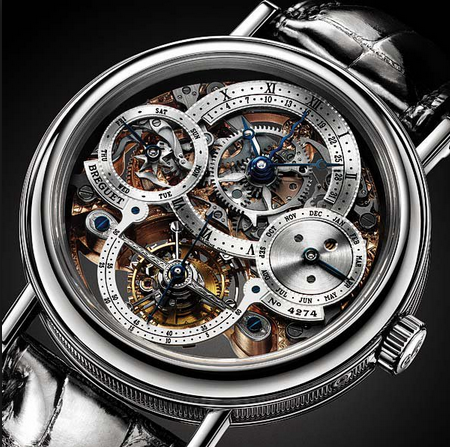 Those fetch tens of thousands, if not hundreds of thousands of dollars, each. At the same time, the Swatch Group also has a lineup of more affordable watches that include the High Range (Longines), the Middle Range (Tissot, Hamilton), and the Basic Range (Swatch, Flik Flak). It seems that much of the Swatch Group's strategic focus is to vigorously protect this basic, middle, and even high range of watches from would-be competitors like Apple. All could now come under a direct threat.
And with the Swatch Group's Asia segment representing more than 55% of their revenues (68% of Asia segment revenues come directly from Greater China), Apple's heavy expansion in China and its iWatch offering in its Asian segment certainly presents a significant and direct threat to Swatch Group's sales. LVMH (LVMH) Chairman of watch brand Hublot, Jean-Claude Biver, said he believed the threat of the smart watches has to be taken seriously by the Swiss watch industry. According to Biver, the iWatch will have the same status symbol as many other Apple products and he added that he believes this to be a potential threat to the industry.
But how important is the iWatch for Apple?
Nikkei reported that Apple has ordered an initial production of three to five million iWatch units per month. Using a baseline assumption that Apple will, on average, ship 4.5 million units per month, the iWatch maker could potentially ship ~55 million iWatch units during the first year (other analysts believe it could be closer to 60 million). Assuming a price tag of $350 per unit, that would translate to approximately $19 billion in additional revenue, or 10% of 2015 total sales!
With plateauing iPad revenues and a much needed introduction of a phablet (5.5 inch iPhone) that could potentially cannibalize already slowing iPad sales, Apple needs an answer in the form of a new product. As Exhibit 1 shows, without its smartwatch introduction, Apple could see sales slump in 2015. With the introduction of the iWatch, Apple would now have the potential to continue aggressively expanding its revenues while enjoying higher operating margins.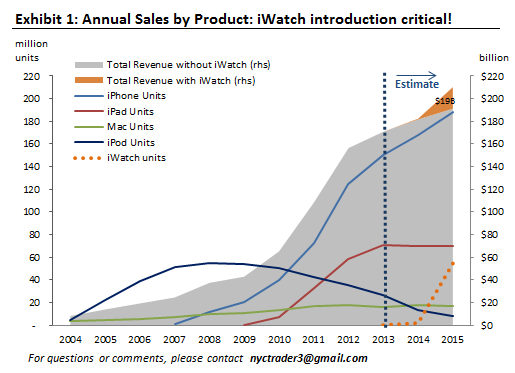 But why would 60 million consumers buy the iWatch in the first year?
The iWatch will not be just an ordinary Samsung or Sony smartwatch replica attached to your iPhone!
Apple has carefully built the smartwatch concept with the Dream Team of luxury retail. Last year, Apple hired the impressive Paul Deneve, former head of high-end fashion brand Yves Saint Laurent, to work on special projects rumored to be the iWatch. Burberry's (OTCPK:BURBY) ex-Chief Executive Angela Ahrendts joined in May. Last month, Apple hired Tag Heuer's Vice President of Sales, Patrick Pruniaux. This all spells - disruptive premium offering. If Apple can successfully set an aggressive iWatch trend and convince the mid-range to high-end consumer to dump their ordinary Seiko quartz [or any mass-produced watch in the $100 to $1000 range] for a fashionable, multifunctional, must-have, very attractive premium Apple iWatch, Apple could overwhelmingly disrupt yet another market.
With 424 retail stores around the world, Apple enthusiasts will likely line up the streets on the day of launch. Celebrities and athletes like Kobe Bryant are also rumored to be partnering with Apple. At this pace, one can only imagine just how quickly that trend will be set.
What does this mean for Apple's share price?
With an additional $19 billion in 2015 sales coming from the iWatch, Apple could turn their smartwatch, a high margin product, into an additional 16% of earnings per share, making Apple's fair price closer to $118 at the current undervalued multiple, which continues to trade at a discount to the industry.
Disclosure: The author is long AAPL.
The author wrote this article themselves, and it expresses their own opinions. The author is not receiving compensation for it (other than from Seeking Alpha). The author has no business relationship with any company whose stock is mentioned in this article.
Additional disclosure: This article represents my views only and not the views of any company that I am affiliated with. This article is intended for informational and educational purposes only and shall not be construed to constitute investment advice. Nothing contained herein shall constitute a solicitation, recommendation, or endorsement to buy or sell any security or private fund.