Gilead Sciences (NASDAQ:GILD) is on its way to becoming the second-largest pharmaceutical company in the US, perhaps even doing so this year. Gilead's growth has been nothing short of astounding, as it has transitioned in the past two years from a solid, medium-sized pharmaceutical company to one of the largest pharma companies in the world. Gilead is now a larger company ($160 B market cap) than many familiar pharma names, including Sanofi (NYSE:SNY), Lilly (NYSE:LLY), AbbVie (NYSE:ABBV), Bayer AG (OTCPK:BAYRY), Bristol-Myers Squibb (NYSE:BMY), GlaxoSmithKline (NYSE:GSK), AstraZeneca (NYSE:AZN), Novo Nordisk (NYSE:NVO), and Amgen (NASDAQ:AMGN). Gilead is rapidly approaching the market cap of the two largest US pure pharma companies, Pfizer (NYSE:PFE) and Merck (NYSE:MRK), as well as the Swiss heavyweights Roche (OTCQX:RHHBY) and Novartis (NYSE:NVS). Only Johnson & Johnson (NYSE:JNJ), which is a diversified conglomerate with large consumer health and medical device divisions, seems out of the near-term reach of Gilead's market cap.
The driver for this rapid growth for GILD was the acquisition of Pharmasset for $11 billion in late 2011, which seemed at the time to be an outrageous price for a company with no marketed drugs. The deal brought a late-stage HCV drug candidate, now known as Sovaldi, into the Gilead portfolio. Many observers were skeptical of the deal - The Wall Street Journal commented:
While Pharmasset's stock price soared in response to the news, Gilead's was down 9% Monday at $36.26 in 4 p.m. Nasdaq trading, in response to its acknowledgment that the deal would be drag on profits through 2014. Several analysts also commented that the price it paid for Pharmasset's portfolio was steep.
And a story the next day on Fierce Biotech noted:
Analysts quickly turned to a central question this morning: Is Pharmasset, which had a hefty market value of more than $5 billion on Friday, worth $11 billion to Gilead today? Some don't think so. "Pharmasset was an attractive company," noted the online site 24/7 Wall St, "but this one seems like Gilead is spending above and beyond a normal amount here to close this deal." A number of investors appeared to agree, driving down Gilead shares by 12% this morning.
Yes, the price was steep, but clearly the acquisition has been anything but a "drag on profits through 2014." Instead, Gilead executed flawlessly in rapidly bringing Sovaldi through Phase 3 studies to NDA approval in December 2013. In retrospect, the pricey acquisition of Pharmasset has turned out to be the most prescient deal in the pharma industry in recent memory, perhaps ever. Jefferies estimates total revenue of $200 billion to year 2030 - an average of $12.5B per year. The $11B price tag was an incredible bargain in retrospect. With the extraordinarily successful launch of Sovaldi, Gilead has become one of the most amazing stories in American industry. And the story is far from over.
The high interest in Gilead is reflected in the articles on Seeking Alpha, which have come fast and furious in 2014.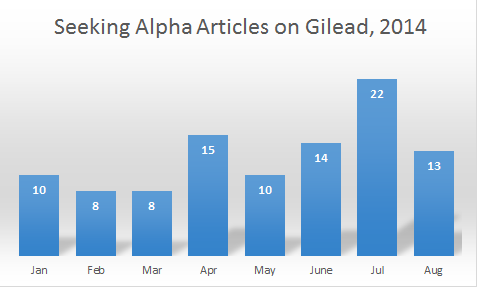 What is the bear thesis?
Nearly all the Seeking Alpha articles on Gilead over the past 6 months have been bullish (and so far accurate), although there are a smattering of neutral and even a few attempts at a bear thesis. In fact, the retail investors have been well ahead of most institutional investors in seeing the value of Gilead.
On a bearish article recently, one commenter by the name Dothemathman reflected my thinking:
I am long GILD, but I am not so negative or hostile to the bear opinions on the company. In fact, I have been wishing for a serious expression of bearishness on this stock so that I could try to understand exactly why the stock is not already at $200. As an investor, one cannot simply dismiss the bear case, one must understand it and assess it and decide strongly that it is wrong.
As a cautious investor, I also welcome bearish articles that challenge my thinking and offer insights I have not thought about. But, in agreement with the ultimate conclusion of the commenter above, I have yet to see a true bear case for Gilead based on fundamentals, and anticipate continued stock price appreciation.
The two main points of concern for Gilead are the IP for Sovaldi and the sustainability of revenues from the HCV franchise. In this article, I will touch briefly on the question of revenue sustainability from the Gilead HCV franchise and consider acquisition plans Gilead management may be developing to remain on a long-term growth trajectory.
How Do You Grow a $12 Billion Drug?
Sovaldi, and the combination with ledipasvir which should obtain FDA approval in October, has changed the paradigm in treating HCV, and will be a hugely successful franchise for Gilead for many years to come. While Gilead has other successful drugs, including an industry-leading HIV franchise, the HCV franchise will generate more than half of sales in 2014, and will be the dominant factor in determining the stock price of GILD in the years ahead. Based on the rapid uptake of Sovaldi in the first half of 2014, revenue for Sovaldi and the combo will be in the $12 billion range this year. The question is whether this franchise can continue to grow, or whether competition, pricing pressure, and a lower number of treatable patients will cut revenue in the years to come.
I provide two outlooks below. The first offers the best outlook for Gilead, with revenues in HCV likely strong for another 10-15 years. The second is more negative, predicting slowing revenues within 5 years. Gilead's forward thinking management may hope and expect scenario one, but are likely thinking and planning for a less optimistic scenario two.
Scenario 1. Continued growth of HCV revenue for 10-15 years
Merck presented its view of the worldwide HCV landscape in its Investor Day presentation last May. In the chart below, Merck predicts severe cases of HCV that result in liver damage will peak in 2020 and still be significant in 2030. Based on its analysis, only 50% of HCV-infected individuals in the US have been diagnosed, and only about 5% of infected patients have been treated and cured so far. This slide presaged Merck's recent acquisition of Idenix to obtain its nucleotide inhibitor to complement MK-5172/MK-8742. Its strategy is to develop a triple-combo, best-in-class, once-a-day treatment that will compete for at least the next 15 years. This appears to be the consensus view - that given the large numbers of HCV patients in the world, many of whom are not yet diagnosed, decades will be required to reach them all.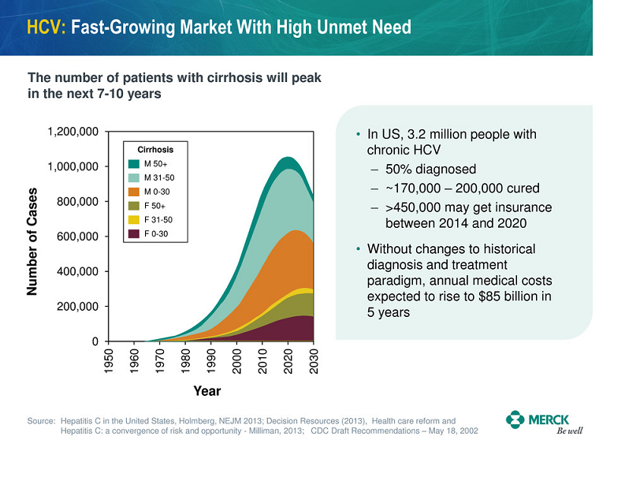 Source: Merck Investor Day presentation, May 2014
Scenario 2. Sales peak within the next 3 years, followed by a slow decline.
A December, 2013 report by Milliman, Inc. shows their estimates for the treatment of HCV in one state, Illinois, with the prediction that about half the HCV population will be treated and cured, under the best-case scenario by 2020. This suggests HCV treatment will be ongoing for many years to come, but the number of treatable patients will be diminishing substantially year-by-year, as many more patients are cured than new patients are diagnosed.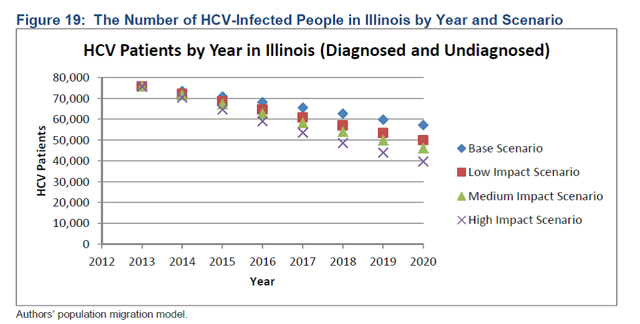 Source: Milliman, Inc. report, December 2013
It seems quite likely that treatment of HCV in the developed world will occur rapidly over the next few years, since access to excellent treatments from 5 companies will be available: Gilead, AbbVie, Merck, Bristol-Myers Squibb, and JNJ. The first 4 companies will have their own drug cocktails that will be marketed as a single combination pill (Gilead, Merck, Bristol-Myers Squibb) or a few pills per day (AbbVie). While we can debate which treatment will be best, all of the drug cocktails are easy to take (all-oral) and are highly effective, with >90% cure rates. Payers, including federal and state governments, will be making many of the choices regarding which patients are treated and what drugs they will take. They will attempt to play one company against the other to lower prices and/or obtain sizeable rebates. There have been many arguments based on precedent about why HCV drug prices will not come down, but the short-term cost impact is completely different from any previous situation. Large pharma companies traditionally have not competed on price, but this may be changing. GSK has decided to compete on price with its GLP-1 drug Tanzeum by launching with a 62% discount to Victroza. GSK realizes it will have to reduce its price to gain any reasonable market share in a crowded market. It is very possible that prices for the HCV drugs will come down in the US significantly in the years to come as ABBV, BMY, and MRK attempt to gain market share from Gilead and each other. In addition, further pressure will come from prescription drug budgets becoming overwhelmed as the demands for treatment from warehoused patients increase. Finally, the treatable patient population will slowly diminish as many more are cured than are diagnosed, meaning drug companies will be fighting over fewer patients.
Gilead will Hope for Scenario 1 but Plan for Scenario 2
Predicting revenues and earnings is difficult in the best of cases, but even more difficult with Gilead's HCV franchise, given the uncertainties of pricing, impact of competition, and rate of HCV cures. Within a few short years, however, the analyst estimates are that GILD revenues and earnings will decline as patients in the western world are cured, as significant competition enters the market, and as the focus shifts to the much lower-margin international markets. Consensus estimates gathered by Thompson Reuters reflects the slowing of revenues, with potential revenue decline in 2018, as shown in the graph below.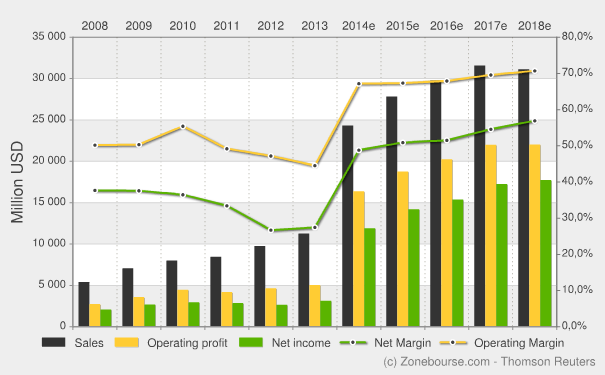 Source: 4-traders web page
While this revenue decline may not occur by 2018, Gilead's management is no doubt looking at all scenarios and making plans to address significant declines which may occur in 2018 or sometime soon beyond. In the past few years, GILD has made a number of excellent acquisitions in addition to Pharmasset, which, along with internal pipeline candidates, will help fill some of the revenue decline from the HCV franchise. Looking forward, management is likely considering acquisitions as a way to fill the anticipated revenue decline. Below, we examine some possible acquisition targets that Gilead may be considering.
Potential Acquisitions: Finding the Next Big Target
Before we launch into a discussion on potential acquisition targets, a brief note on finances is in order. The Gilead cash position was drawn down after the Pharmasset purchase, but is increasing rapidly this year, from $2 billion at the end of 2013 to $9B at the end of the 2nd quarter. Gilead is likely to have $15B or more in cash by the end of this year. If it does not institute a dividend and does not heavily buy back shares, it could have about $30 billion in cash by the end of 2015. It would make more sense for Gilead to wait another year or so to gain a better cash position for a major acquisition, but M&A is accelerating in the industry, so it may have to move quickly to secure an acquisition before the best companies are gone.
In any event, I think it could easily handle a $50-$60B acquisition. It could go after even bigger fish by borrowing at low interest rates and including a significant stock portion for the deal.
With dominant positions in HIV and HCV, what will be the next focus for Gilead? We see these as the main areas it would want to strengthen.
Liver diseases. With a dominance in HCV, it is also developing drugs for other liver disorders, and will be looking for any liver-related opportunities.
Oncology. We have seen Gilead begin to build out its oncology franchise with the purchase of Calistoga for $600 million, leading to the recent approval of Zydelig (idelalisib). It also has JAK and Syk inhibitors in the pipeline in oncology. Continuing to build an oncology franchise is a likely top priority for the company.
Cardiovascular. Gilead sells Letairis for PAH, and has a small internal pipeline. Cardiovascular disease is a huge market, so it should be interested in expanding.
Below, we briefly review potential breakthrough drug classes over the next decade that Gilead may want to pursue. These drug classes are also strategically aligned with Gilead's focus.
Four big targets for the pharma industry over the next decade
1. PD-1, PD-L1 and Immuno-Oncology
PD-1 and PD-L1 drug candidates are creating huge excitement for cancer patients, physicians, and the drug industry. By harnessing one's own immune system, these drugs have the potential to change treatment paradigms for cancer. As shown in the simplified cartoon below, a cancer cell expresses a ligand, PD-L1, which binds to a receptor on the immune system T-cell, resulting in inactivation of the T-cell and preventing its attack on the tumor cell (left side). The drugs under development work by either blocking PD-1 on a patient's T-cell or blocking PD-L1 on the tumor cell (right side of cartoon). In either case, the idea is to disrupt the PD-1 to PD-L1 linkage to allow the T-cell to attack and destroy the cancer cell.

Source: Curetech web page
The chart below presents the PD-1 and PD-L1 drug candidates in development. Analysts have predicted sales of this class of drugs could reach $30-$35 billion per year. Merck and BMY are well ahead of the other companies, with both filing NDAs this year based on very promising read-outs on small cohorts of patients. The first approval for Merck could happen any day, according to recent reports. Merck is far too large for GILD to consider to take over. Is BMY a consideration? It would be a real stretch, as BMY has a market cap of $83B and a buyout would be north of $100B. BMY has been hit hard by the patent expiry of Plavix, which accounted for one-third of revenue in 2011. The patent expiry for Abilify is coming up in the EU in 2014 and US 2015. Despite the loss of revenue and decline in earnings, the stock price of BMY has been very resilient, and the company now has an elevated P/E near 30. This would be highly unusual for a company with declining revenue and earnings, but reflects the optimism on Wall Street regarding its oncology portfolio, with its PD-1 inhibitor nivolumab as the centerpiece. If Gilead wants to quickly become a big-time player in cancer, acquiring BMY would be its only real chance to do so. Gilead could consider a 3-way deal by buying BMY and simultaneously offloading BMY's HCV franchise to another drug company (like JNJ, for example), which could bring in $10B, based on an NPV estimate based on $2B annual sales.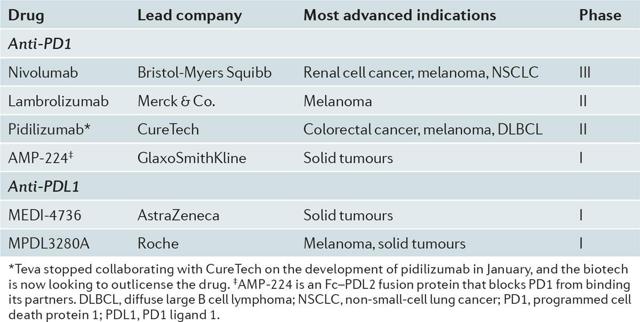 Source: Nature Reviews
On a smaller scale, Incyte (NASDAQ:INCY) looks like a promising candidate, although likely overvalued with a current market cap of $9 B. It only has one marketed product, Jakafi, a Jak1/2 inhibitor for blood cancer, which is expected to sell $350 million in 2014. The company believes this will be a billion-dollar drug based on current indications, and the company is studying the drug in a host of other cancers. The jewel in the pipeline may well be its IDO cancer program, which also works via an immunotherapy mechanism, but complementary to PD-1/PD-L1. Incyte is collaborating with all four PD-1, PD-L1 companies (MRK, AZN, BMY, and Roche), so acquiring Incyte would be a way for Gilead to become a significant player in the immunotherapy approach to cancer. The risk is that the IDO mechanism does not work and then Gilead would be left only with Jakafi and an interesting pipeline. In addition, Gilead has its own Jak1/2 inhibitor that it is studying in myelofibrosis (MF), and may in fact, be superior to Jakafi.
2. PCSK9
PCSK9 inhibitors for the treatment of high cholesterol could become hugely successful drugs given the large number of patients who still cannot control their LDL levels at target. For comparison, before Lipitor and Zocor went off-patent, statins garnered about $40B in annual sales. Statins work by upregulating LDL receptors, but they simultaneously upregulate production of PCSK9, which diminish the level of LDL receptors and limit the effectiveness of statins. Therefore, it is very likely that statins and PCSK9 inhibitors will have additive effects when used together, and will be effective in the treatment of high-risk patients.
Three companies have late-stage PSCK9 development candidates, each of which could generate annual revenues in the $5-$10B range at peak sales. Amgen (AMGN) and Regeneron (NASDAQ:REGN), partnered with Sanofi (SNY), are in the lead, with filings expected this year. Pfizer is farther behind, but is focused on being the first to report outcome studies sometime in 2017. Amgen is too large for GILD to consider for a buyout. REGN is the perfect size with a market cap of $33B, but is 20% owned by Sanofi. Buying REGN would therefore be complicated by having to buy out the portion that Sanofi owns, which may not be possible. This would be a very attractive deal for GILD, as the REGN drug would be growing in revenue at the time Sovaldi revenues might be decreasing. GILD may be doing some creative thinking on how to get this done.
3. NASH and NAFLD
NAFLD is a disease that is gaining more attention in recent years, and could be a significant opportunity. NAFLD stands for "nonalcoholic fatty liver disease", and is estimated to affect about 30% of the US population. A subset of this disease is termed NASH, or nonalcoholic steatohepatitis, a condition which can led to cirrhosis in 15%-20% of patients. NASH affects 2%-5% of the US population, being most prevalent in middle-aged and overweight individuals. As the name implies, it is a liver disease unrelated to alcohol consumption.
GILD is developing an internal candidate, simtuzumab (GS-6624), an anti-LOXL2 antibody obtained from Arresto Biosciences, and will get an interim Phase 2B read in NASH in mid-2015. In addition, to build a dominant position in this field, it would likely want more than one drug in its portfolio. Therefore, it could well be interested in an external candidate, since some analysts have predicted the market in the US alone could reach $25B in 10 years.
Intercept (NASDAQ:ICPT) has the most advanced clinical candidate with a positive read-out of a Phase 2 trial with obeticholic acid (OCA) earlier in 2014. ICPT stock has run up 3-fold already this year, despite dropping in the last few months due to worry about increased cholesterol LDL levels in its Phase 2 study. The company announced final results of this study in mid-August, revealing that liver scarring did not worsen in 46 percent of NASH patients who were given the drug, compared with 21 percent in the placebo group. One-third of patients saw liver scarring improve, about double the rate of patients taking placebo. Importantly, LDL levels peaked at week 12, then declined over the remainder of the study, helping ease worries about a safety signal with this drug candidate. Phase 3 is planned for early 2015, and NDA filing could occur in 2018.
The drug is also being tested as a treatment for primary biliary cirrhosis (PBC), an autoimmune chronic disease which primarily occurs in women. The company notes that "the disease is marked by abnormal blood levels of the liver enzyme alkaline phosphatase (ALP) and patients with persistently elevated ALP are at significant risk of progressing to cirrhosis." Intercept announced in March 2014 that it achieved the primary endpoint in the Phase 3 POISE study for PBC. The FDA has given Fast-Track designation for OCA in PBC. The company intends to file in 1H2015, and could obtain approval by the end of 2015. If approved, some off-label use in NASH patients might be expected. Intercept is an overvalued stock, but would be a good strategic fit for Gilead.
4. RNA Interference
When Merck purchased tiny Sirna Therapeutics in late 2006 for $1 billion, it seemed RNAi therapies would soon be revolutionizing medicine. Turns out it did not quite happen that way, and Merck never advanced a drug candidate into a clinical trial. The major problem with RNAi is figuring out how to deliver the oligonucleotide into the cell, which remains a knotty and largely unsolved problem. Merck finally threw in the towel in early 2014, and sold the remaining assets in RNAi to Alnylam for $175 million. My sense is that RNAi will transform medicine - it will just take longer than some expected to overcome the delivery and targeting hurdles. It took about 25 years from discovery of monoclonal antibodies to commercialization, so new discoveries take time to work through all the issues before becoming medicines.
Alnylam (NASDAQ:ALNY) is the clear leader in the field, and is focused on treating rare diseases of the liver at this time, because it does not know how to deliver RNA to other organs. For now, Alnylam believes there are enough liver diseases to keep it busy for a while, and its pipeline seems to support this assertion. Alnylam has developed lipid nanoparticle technology to deliver and release the oligonucleotide into liver cells. While there is much room for improvement, the company expects to have six to seven genetic medicine product candidates in clinical development by the end of 2015, including two programs in Phase 3 and five to six programs with human proof-of-concept. The two most advanced clinical development candidates headed into Phase 3 later this year are patisiran for Familial Amyloidotic Polyneuropathy (FAP) and ALN-TTRsc for cardiomyopathy. Phase Ib for ALN-AT3 for hemophilia is currently underway.
Buying Alnylam would strategically fit with Gilead's liver disease focus, and would enable Gilead to acquire the scientific leader in this exciting new area of medicine.
The Rest of the Field
The chart below shows the distribution of the 300+ biopharma companies with a market cap >$100 million traded on US stock exchanges. The sweet spot for acquisition is likely the 90 companies in the $500 million to $2 billion range. These are companies with either a marketed product or have highly promising late-stage development candidates. However, these companies are beyond the scope of the current discussion, due to the large number.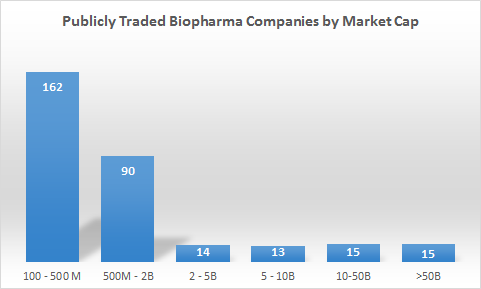 Source: Data from pharma and biotech company screen, Profitquotes.com
Below, I briefly summarize the US and a few ex-US companies with market caps in the $10-$50 billion range that could be takeover targets by Gilead. Other than Pharmacyclics, none appear to be potential targets.
Company

Market cap ($B)

Primary therapeutic area

Strategic fit with GILD?

Comments

Allergan (NYSE:AGN)

49

Opthlamology, dermatology, Botox

No

Valeant is trying to acquire. Gilead has shown no interest in outbidding Valeant.

Shire Plc (NASDAQ:SHPG)

48

Rare diseases

No

Agreed to acquisition by ABBV.

Merck KGaA

(MRGAY)

38

Cancer, fertility, CNS

No

$11B in revenue in 2013, 7 major products, slow to no growth. Has an immuno-oncology effort and late-stage cancer drugs, but not enough drivers to buy the company to obtain these assets. Other businesses besides pharmaceuticals (specialty chemicals) another downside.

Alexion (NASDAQ:ALXN)

34

Rare diseases

No

One drug, Soliris. Sales $2B in 2014.

Vertex Pharma Inc. (NASDAQ:VRTX)

22

Rare diseases

No

Focused on cystic fibrosis franchise. Excellent science. Sales could be $5B by 2020. Would be a bolt-on for Gilead, but acquisition price high.

UCB Pharma

19

Immune, CNS

No

Solid Belgian company, but no strategic synergies. Several older products. About $5B in 2014 sales.

Actelion (OTCPK:ALIOF)

13

PAH

Main products for PAH compete directly with Gilead's Letairis, and the market is not that big such that Gilead would want Actelion's drugs.

Endo International (NASDAQ:ENDP)

10

CNS and generics

No

Expect $2.8B in revenues in 2014. Large portfolio, including generics and medical devices.

BioMarin Pharma (NASDAQ:BMRN)

10

Rare genetic diseases

No

Focused on enzyme replacement therapy. Rare diseases not a focus of GILD. $550 million revenue in 2013.

Jazz Pharma (NASDAQ:JAZZ)

10

CNS, oncology

No

5 products. Expect sales of $1.2B this year. Major product, Xyrem for narcolepsy, could become a $1 B drug.

Salix Pharma (NASDAQ:SLXP)

10

Gastroenterology

No

Not an area of interest for Gilead. Expects $2B in revenue in 2015.

Phamacyclics

(NASDAQ:PCYC)

9

Cancer

Yes

Imbruvica, a BTK inhibitor for mantle cell lymphoma (MCL) and chronic lymphocyclic leukemia (CLL). PCYC obtains revenue from US sales and JNJ from ex-US. Analysts expect Imbruvica to be a blockbuster with sales topping out at $4 B per year. Gilead's idelalisib is also indicated for CLL, so the companies will compete for CLL patients once idelalisib is approved for this indication. Will Gilead buy a company with a competitive treatment? Will the drugs be complementary and capture a larger portion of the market? The pipeline is not compelling (HDAC and Factor VII in Phase 2)
Summary
Based on its strength in developing drugs to treat viral infections, Gilead has emerged as a leading pharmaceutical company with a market cap now rivaling Merck and Pfizer. The rapid growth of Sovaldi will double the company's revenue and quadruple its earnings in 2014 relative to 2013. This is both a blessing and a curse for the company. Establishing Sovaldi and the combo with ledipasvir as the first-in-class and best-in-class treatment has added tremendous value to the company. However, maintaining a growth trajectory for a $12 billion HCV franchise will be a challenge, given the pricing environment and a number of competitors entering the market with similarly effective drugs. To backfill potential revenue and earnings declines in the 5+ year time frame, the company may be considering a significant acquisition. I have not been able to identify any truly compelling large acquisitions - all have complications and significant downsides. BMY and REGN would be ideal candidates, but difficult to pull off - BMY because of its size, and REGN due to its partial ownership by SNY. In addition, the managements of BMY and REGN would likely not be thrilled by a takeover attempt by GILD. The two other up and coming biopharma companies, Celgene and Biogen-Idec, are possibilities, but I see no compelling reason for Gilead to try to come up with the necessary $100 billion to acquire these companies.
Companies with $10-$50 B market cap would be easier acquisition targets, and could provide substantial revenue in the desired 5+ year time frame. However, most of these companies do not appear to be a good strategic fit for Gilead, and several have very high valuations.
Smaller companies that are aligned with Gilead interests and are potential targets include Incyte, Intercept, and Alnylam. Many other small companies <$2B are likely targets but not included in this analysis due to a large number of possibilities.
Thanks for reading, and I appreciate your comments.
Disclosure: The author is long GILD, REGN.
The author wrote this article themselves, and it expresses their own opinions. The author is not receiving compensation for it (other than from Seeking Alpha). The author has no business relationship with any company whose stock is mentioned in this article.