Enerplus Corporation (NYSE:ERF) is among the companies which have been generating a strong growth in production. This is mainly due to the attractive asset portfolio that it has compiled over the past few quarters. The company has lucrative positions in Marcellus, Bakken, Three Forks and Fort Berthold. With the disciplined capital allocation strategy in place, it has been further enhancing its portfolio objectives by investing in its core assets. In the past quarter alone, Enerplus has invested a majority of its capital on its key assets including Bakken, North Dakota, Three Forks and Marcellus. It drilled 14 net horizontal wells in its four core areas and brought 19 net wells online at a lower cost of around 15% as compared to the past.
All these activities have led the company to generate a record level of production in its 28 year history. It has reached a production of 104,000 BOE per day in the second quarter of 2014. Its production increased by 15% over the past year's quarter and by 5% on a quarter over quarter basis. The growth in liquid production remains at 6% with 43,500 barrels per day with a growth of 14% from North Dakota leading the way. The company's liquid production will reach 44,000 barrels per day in the coming two quarters from 43,500 barrels per day at present with the investments in its core assets including North Dakota, Fort Berthold and Canadian oil waterflood portfolio. In the past quarter, the company has invested around $98.6 million at Fort Berthold and $28.1 million at Canadian oil waterflood portfolio.
In addition, the natural gas production is also growing and it is being led by a strong growth in the Marcellus. Enerplus has invested about $45M in Marcellus where it drilled and brought 5.9 net wells on-stream and production reached a record 189 MMcf per day. Going forward, the company anticipates sustaining its production level by investing in its four key assets. It has invested around $228 million in the Q1 and $204 million in the Q2 of this year, and is planning to invest around $400 million in the last two quarters of this year. The focus of investment will remain on its core key assets to sustain its production level by drilling and adding new wells.
Its consistent and smart operational execution is driving production growth and setting strong footholds for the future growth. Its strong operational execution can be seen in its forecasted lower administrative costs, operating costs and cash general. The company is expecting its operating costs to reach $10.10 per BOE as compared to $10.25 per BOE and administrative costs and cash general is expected to be at $2.30 per BOE as compared to the earlier guidance of $2.45 per BOE. This strong operational performance will definitely impact its margins and result in enhanced earnings.
The growth in production is enhancing its cash generating potential while its operating cash flows are providing a complete cover to its dividend payments. In the past quarter, its operating cash flows came at $229M whereas capital investments were at $204M. In the coming days, it is anticipating an investment of around $400 in the last two quarters on its core assets and I believe that the company has the potential to cover its capital requirements with the cash from operations. Additionally, with a focus of enhancing production, the company continues to hedge its future production volumes so as to protect a portion of its funds to flow along with supporting its dividend and capital spending plans.
In Conclusion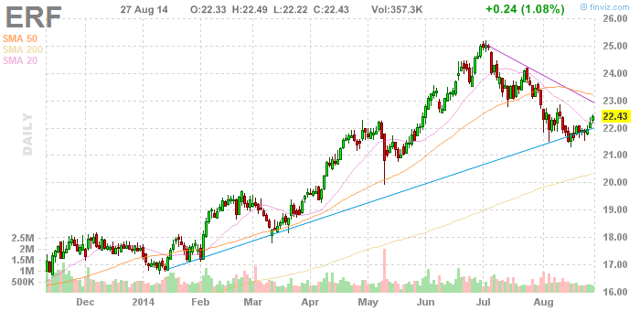 Click to enlarge
The company's continuous investments in its four key assets are growing its production. It is adding new wells and drilling more wells to sustain its production growth. The company's financial position is also stabilizing and its cash flows are providing cover to capital requirements thus reducing any risk of solvency. And, its initiative to hedge future production volume will offset any pricing pressure. Lowering cost per barrel and sustaining its production levels will give boost to its earnings and cash flows in the coming days. In addition, its focus on expanding liquid production will give boost to margins and earnings. I believe Enerplus is a good stock to hold as the company is well set to generate sustainable growth. In addition to that, with a recent market correction, its stock presents a buying opportunity. Presently, it is trading at $22.43/share whereas analysts have a target price of $29/share for Enerplus. Furthermore, all fundamentals are moving nicely and its very strong forward price to earnings ratio of 20 demonstrates that the company has very strong upside potential. Outlook for E&P companies appears to be strong as the need for energy sources is constantly rising and Enerplus is well set to capitalize on the rising demand.
Disclosure: The author has no positions in any stocks mentioned, and no plans to initiate any positions within the next 72 hours.
The author wrote this article themselves, and it expresses their own opinions. The author is not receiving compensation for it (other than from Seeking Alpha). The author has no business relationship with any company whose stock is mentioned in this article.