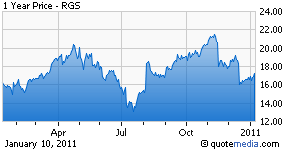 Based in Edina, Regis Corporation (NYSE:RGS) recently reported its second quarter 2011 revenues of $574 million, down 0.2% over the year in a pre-earnings announcement. Regis owns franchises or has stakes in more than 12,700 salons, hair restoration centers and cosmetology education services.
The same-store sales for the second quarter fell 1.3% year over year. However, this rate of decline was lower than the year-ago quarter's drop of 3.7% as well as first quarter's drop of 1.5%, implying a gradual improvement in the quarter's same-store sales. The decline was due to dampened sales trends in November and cold weather in the last twenty days of December that brought customer visitation to a near halt.
Retail same-store sales improved 1.5%, implying that the company is experiencing a rise in traffic. However, same-store sales from service dropped 3.2%. Domestic and International same-store sales dropped a respective 1.4% and 3.1% year over year. However, Hair restoration same-store sales upped 0.8% in the quarter.
Results remained weak in the company's relatively higher-priced, mall-based Regis Salon division but relatively stronger in value salon concepts due to a shift in consumer behavior amid the economic uncertainty. MasterCuts (around $21 average ticket) and Supercuts (located in strip centers; around $17 average ticket) posted a respective 0.2% and 0.3% rise in comparable-store sales while higher-end Regis salons (87% located in malls; around $41 average ticket) posted a decline of 1.6%. SmartStyle salons, which are located exclusively in Wal-Mart Stores Inc. (NYSE:WMT) Supercenters, also recorded a decrease of 1.6%.
Outlook
For fiscal 2011, Regis will focus on top-line growth and expects same-store sales to improve, with positive comps expected in the second half of the year. Regis also maintained its modest growth plan of building 160 new corporate locations and 80 franchise locations by fiscal 2011.
Although sales declined in the quarter owing to wavering consumer behavior, the magnitude of fall has however been lower. Moreover, management remains committed to restructuring and cost-cutting plans through overhead reduction as well as shut-down of underperforming stores, cut-back in bonuses, profit sharing and enhancement in brand image through charitable donations. We believe all these initiatives should result in higher margin and earnings.
The company is slated to release its second quarter earnings on January 26, 2011. The Zacks Consensus Estimate for second quarter earnings is 28 cents, representing an annualized growth rate of 1.59%.
Regis currently retains a Zacks #2 Rank, which translates into a short-term Buy rating. We are also maintaining a long-term Neutral recommendation on the stock. However, one of Regis' close competitors, Ulta Salon, Cosmetics & Fragrance Inc. (NASDAQ:ULTA), recently announced its holiday sales results, which surged 18.4% to $310.4 million from the prior year's holiday period, owing to its significant holiday merchandising and marketing initiatives. Ulta currently retains a Zacks #1 Rank, which translates into a short-term Strong Buy rating.
Disclosure: No position