Whether by design or by market forces, giant media companies are transforming their business models in order to rely less on advertising revenue and more on predictable and sustainable revenue like retransmission fees, licensing, syndication and subscriptions, among other revenue streams, according to a report by SNL Kagan cited by Mediapost.
It has been clear for some time that advertising revenue would be under pressure for years, as digital advertising, which is far less lucrative than traditional advertising, would be the future growth segment of the marketing industry.
Understanding that all that could be done would be to attempt to slow the process, large media companies have been working hard at developing new revenue streams to counteract the growing advertising losses they're all experiencing.
Disney Leading the Way
As it has been doing for years, The Walt Disney Company (NYSE:DIS) is leading the way again, this time in its aggressive strategy to shrink it dependence on traditional advertising revenue.
In its latest earnings report, CEO Bob Iger said this: "We've made a conscious decision as a company to essentially not be as reliant on advertising as we were in the past." He mentioned that advertising as a part of overall revenue is only a little over 20% at this time. He added that "you're going to see basically continued pressure on traditional advertising platforms."
That means of course that any company that has a large percentage of its revenue tied up in advertising is going to struggle to offset that with other revenue streams.
As for digital advertising, while it's growing, it's only accounting for a small part of Disney's revenue, coming in at $270 million in the second quarter of 2014. While that's over a $1 billion business annually at this time, it isn't close to what advertising contributed in the past, and it will never reach that plateau again. Digital will grow, but it won't make up for the migration of advertising to non-traditional platforms, as it simply doesn't command the price broadcasting and cable have enjoyed in the past. Live television is an exception to that rule because content can't be time-shifted to disrupt the ads placed against it. Sports and specials are the primary drivers of live content success.
Some reality TV shows would also be considered similar to live TV in the sense that if it includes an award or time-related event it would have to be seen in the time slot or it would be all over social media, which would result in viewers seeing the results without having watched the show. That's why so many tune in to watch results so the surprise factor isn't eliminated. Survivor and American Idol are an example of that type of reality TV show. The problem there is advertisements could still be bypassed, even though certain popular shows may attract millions of viewers weekly.
The bottom line is even with the inclusion of a limited number of shows and events that are exceptions to the general rule, the overall traditional advertising revenue will continue to shrink.
Investors need to consider the current ratio of advertising versus other revenue streams when analyzing big media companies, along with the steps they're taking to change that ratio. The more exposure to advertising revenue as a percentage of overall revenue, the more a company could take a big hit.
(click to enlarge) source: StockCharts.com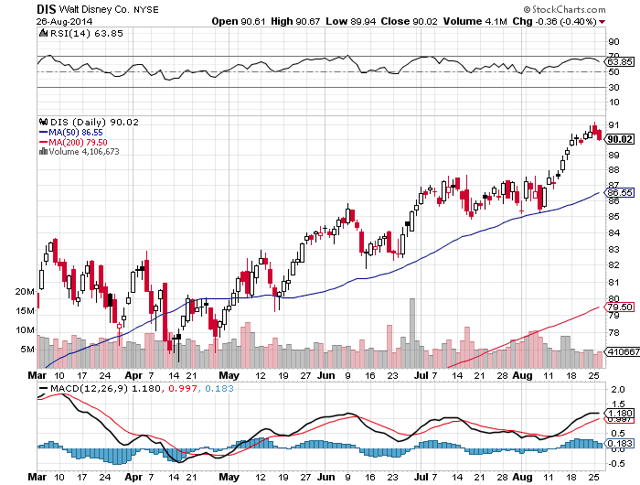 CBS and its Content Focus
CBS Corp. (NYSE:CBS) is much more exposed to advertising than Disney is, as it is still the dominant form of revenue, although it is getting closer to about 50/50, according to CEO Les Moonves. A major reason for that improvement is the spinning of its CBS Outdoor business. Even so, it could struggle as advertising revenue continues to fall.
When talking about advertising investors need to understand there is an obvious strength during certain cycles, such as this year with the hotly contested races that will determine whether or not the Democrats will hold the Senate or Republicans take it over. This means there will be billions spend over the last half in an effort to sway undecided voters.
So at certain times, such as now, CBS and others with advertising as a higher percentage of overall revenue will do very well. That's also true in presidential election years.
Disney will obviously not do as well during these cycles as it did in the past (as measured by a percentage of revenue), but neither will it suffer as much when those unique advertising seasons are over.
For CBS, this year should be a good one because of its stronger exposure to advertising revenue, but it will also plunge in the second quarter of 2015 because of the loss of that revenue. Large media companies are working on finding a balance to these huge swings and the effect on their share price.
Also consider that even though political spend can give a general revenue and earnings boost, advertising is still declining overall, and that won't change in the slower times. This will cause a huge discrepancy in the performance of huge media companies, which is why they're looking to increase the variety of revenue streams they have.
As for the goal of CBS to increase non-advertising revenue, it is looking for a combined $2 billion in revenue from affiliates and retransmission fees by 2020.
CBS has been in the forefront of changing the way viewers are counted, and to that end it has been adding to the number of C7 deals, meaning live plus seven days to count how many people are actually watching the show. This is one way to help not only get a more accurate count of viewers, but to battle the decline in overall viewers, which would be seen as much worse if it wasn't for the extended number of days to count viewers.
One thing CBS has going for it is it has a strong lineup, which allows it to do better than its competitors in advertising at this time; although it's obvious this is a fluctuating trend, so CBS will have to navigate these waters carefully while it remains on top. It doesn't want to move too quickly and lose out on some major ad revenue, even in a declining market.
(click to enlarge) source: StockCharts.com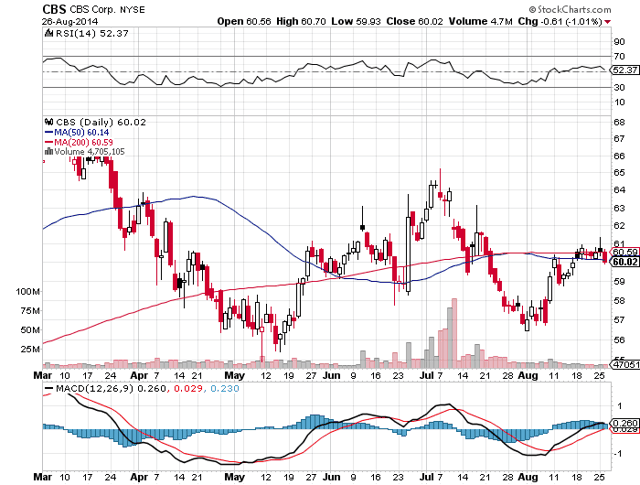 Value of Content
No matter which major media company it is, content is still extremely important, and it provides potential for back-end revenue beyond advertising.
With that in mind, it's important to dig deeper into media companies as to what they have complete ownership of in regard to content. Those companies retaining ownership and putting their fully-owned shows on the prime time schedules, have a chance to generate ancillary revenue for years. Not owning content eliminates the potential for its full value. It also makes a company more reliant on advertising.
We're likely to see a growing number of media companies retain ownership of content in order to make lucrative deals with their peers. As of this writing CBS owns slightly above 70% of the overall TV lineup, with 80% of the new shows it's introducing in the fall owned by the media giant.
Content in the context of what's being talked about in this section of the article doesn't include specials, sports or other live events. I'm specifically talking about scripted series or non-scripted reality TV shows media companies retain ownership of.
Other Companies and Revenue Streams
Time Warner (NYSE:TWX) has also taken steps to shrink reliance on advertising, as has 21st Century Fox. Time Warner spun off its magazine publishing unit, while Fox (NASDAQ:FOXA) spun off News Corp.
Both companies will focus primarily on generating revenue from its film divisions, cable and various fees. Time Warner of course will continue to produce well with its HBO juggernaut, which gives it subscription pricing power if it needs to raise prices. Disney has the same pricing power with its ESPN franchise.
(click to enlarge) source: StockCharts.com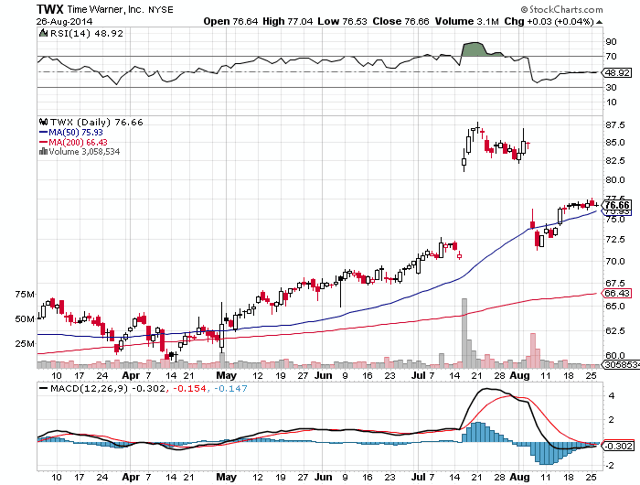 Retransmission and licensing fees have also helped NBC Universal (NASDAQ:CMCSA) to offset a decline in broadcast advertising revenue, as it dropped 1.7% in the latest quarter, while revenue in the overall broadcast segment of the company was up 4.9%.
That was also reflected in its cable ad performance, with ad revenue dropping 2.2% and overall revenue up 2.6% in its cable business. This simply confirms focusing on alternative revenue streams by the major media companies is more than offsetting the weakening advertising market.
(click to enlarge) source: StockCharts.com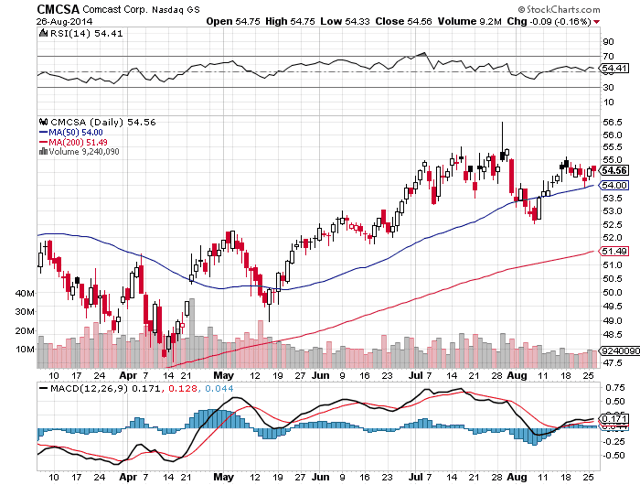 Conclusion
Big media companies sometimes throw out the growth rate of digital advertising because it is a growth market at this time, yet it will never make up for the broadcast advertising being lost by the majors, which is why they are looking outside of advertising as a whole to significantly boost revenue and earnings.
Where the long-term challenge lies is in how much pricing power do these large companies have before they may possibly price themselves out of the market. Young people aren't as concerned about cord connections, and are quick to cut the cord, or never even buy one in the first place.
If high prices from rising fees result in the market getting out of reach of the consumer, that is the time when some serious challenges will have to be faced and answered.
It's one reason why a company like Disney is so strong, as it has so many secondary revenue and earnings streams, that if one falters another can pick it up. Think of consumer products and theme parks as the more obvious businesses.
As far as the giant media companies go, we're likely to see them gravitate more towards a Disney model as far as revenue streams go. On a smaller scale some are already doing that, but it's likely to expand in the future.
However this all plays out, advertising revenue will become less and less important over the years, which means the entertainment industry will continue to evolve in ways we probably can't see at this time, concerning the specifics, but we can see there will be a lot of experimentation in different verticals to find new revenue streams to grow the companies. That's where investors will need to look for future potential. Advertising revenue is no longer the key to growth for them.
Disclosure: The author has no positions in any stocks mentioned, and no plans to initiate any positions within the next 72 hours.
The author wrote this article themselves, and it expresses their own opinions. The author is not receiving compensation for it (other than from Seeking Alpha). The author has no business relationship with any company whose stock is mentioned in this article.