Eurobank Ergasias (OTCPK:EGFEY) is a fourth largest Greek bank and I first wrote about Eurobank Ergasias couple of months ago at the time when value investors Prem Watsa and Ross Wilbur together with other consortium partners acquired c. 30% of this bank through rights offering. I have likened this investment to their investment in Bank of Ireland back in July 2011, which turned out to be a three bagger for these guys in less than three years.
Share price currently trading at the levels of the rights offering (eur0.33/share vs eur0.31/share at the offering). Q2 results will be announced this Friday (29th August). Below I provide some thoughts on what to look in Q2 results as well as how to think about Eurobank in the longer term.
Significant performance improvements are expected going forward
Eurobank has made material losses over the last few years (like all other Greek Banks), however, the financial results are very likely to improve going forward due to a number of reasons:
1. Eurobank is profitable in its core activities and the losses are caused mainly by loan loss provisions. Even at currently depressed levels profit from operations before loan impairments and non-recurring losses was eur0.5bn and eur0.7bn in 2013 and 2012 respectively. Latest quarterly trends point to even better results going forward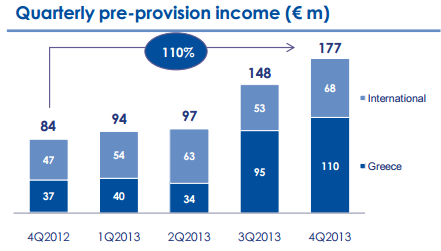 Source: Eurobank's presentation, Mar 2014
2. Cost to income ratio is still elevated looking from historical perspective, however the trends seems to have reserved recently (see quarterly trend chart below).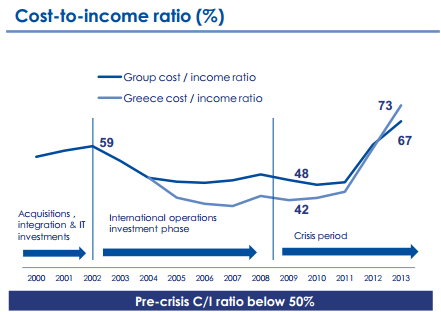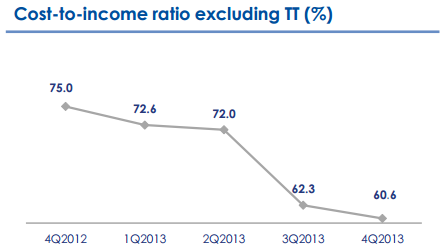 Source: Eurobank's presentation, Mar 2014
3. Loan loss provisions have been the main cause for overall losses. Loan impairments amounted to eur2bn and eur1.6bn in years 2013 and 2012 respectively equivalent to c. 5% of loan portfolio. However, over the last few quarters a positive development was evident in 90 days past due formation. Looking at this chart it is likely that going forward annual loan losses would return to a more normalized 1%-2% of the loan portfolio. The bank already has loan loss reserves of eur7bn compared to total loan portfolio of eur45bn.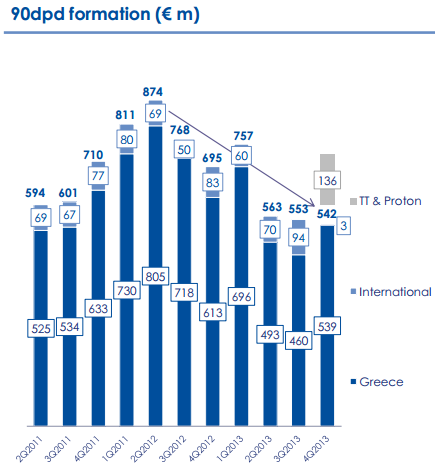 4. Eurobank's portfolio quality improved with the 2013 acquisitions of TT and Proton, which have been acquired as "clean" banks following carve out of non performing loans. Integration of these two businesses is expected to produce additional pretax earnings of eur200m within couple of years.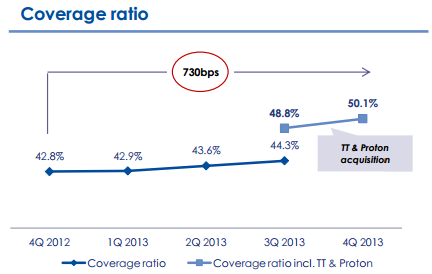 Source: Eurobank's presentation, Mar 2014
5. During the crisis banks in Greece have been struggling for liquidity and competed fiercely for customer deposits. This has pushed the interest rates on deposits upwards. However, the spreads on deposits together with net interest margin have been improving recently, and results of this improvement should already be evident in 2014. 100bps change in cost of time deposits would cause pretax gain of eur200m.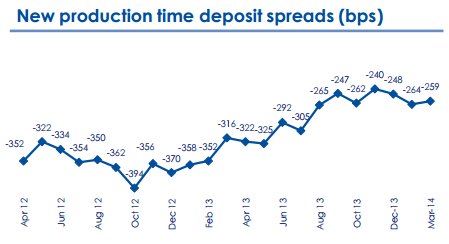 Source: Eurobank's presentation, Mar 2014
6. Banks' performance over the last few years was affected by decreasing net fee and commission income, which went from 0.92% to 0.35% of the assets. However, the cycle seems to have bottomed out. 25bps improvement in net fee yield would cause pretax gain of eur200m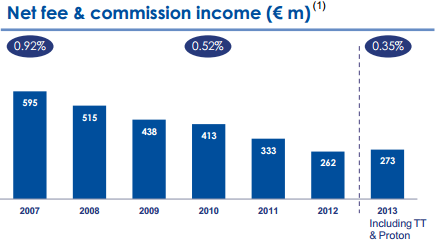 Source: Eurobank's presentation, Mar 2014
What is the potential upside?
At current prices Eurobank has market cap of c. eur4.9bn and tangible book value of common equity equal to eur7bn. Thus the bank is trading at 70% of the tangible book value, a discount that might be deserved for a company that made a loss of eur1bn in 2013. But as I have shown financial performance is likely to improve going forward. Also the bank has been recently recapitalized with additional eur2.9bn through rights offering and further equity dilution is unlikely.
In a normalized state Eurobank should reach asset efficiency of at least ROA=1%, which would mean a net income of eur0.8bn on total assets of eur80bn. Banks with ROA=1% tend to sell at PE=12 to PE=15, which would indicate market cap of eur10bn-eur12bn or an upside from current prices or an upside of more than 100%.
How likely is 1% ROA?
1% ROA is a relatively low level of asset efficiency for a well functioning bank, but the obvious question is how feasible 1% ROA would be for Eurobank and how soon it can be reached. To achieve this level of asset efficiency the bank would need to turn current eur1bn loss into eur0.8bn of profit a total improvement of eur1.8bn. I believe this is feasible and could be achieved in the following way:
Reduction in loan loss provisions to a more normalized level of 2% of loan portfolio - annual savings of eur1.0bn;
Improvement in cost to income ratio to 55% - annual savings of eur0.2bn;
25bps improvement in net fee and commission income - additional annual income of eur0.2bn;
100bps improvement in time deposit spreads - annual savings of eur0.2bn;
Synergies from integration of TT and Proton businesses - savings of eur0.2bn;
Total savings eur1.8bn
Thus ROA=1% seems to be a conservative estimate for Eurobank as all of the cost saving initiatives and trends outlined above are already ongoing and management puts strong emphasis on them (table below). This estimate does not include any further potential from the growth of the balance sheet, which is very likely when the Greek economy starts recovering.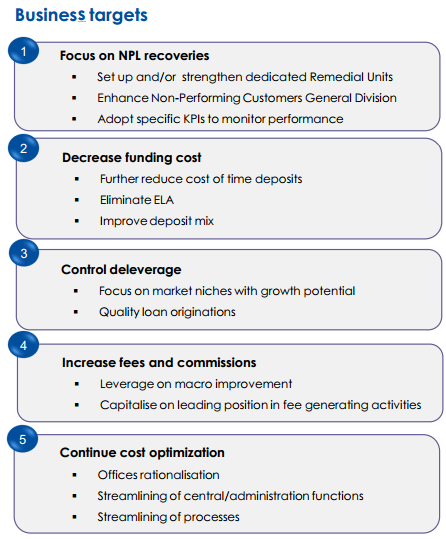 I would expect the bank to reach asset efficiency of 1% already in 2015, which would mean at least 100% upside within two years. Going forward banks financials will improve further with recovering economy indicating an even higher upside for investors.
Catalysts
The main catalyst for share price in this case will be the reflection of improving trends and managements' cost saving initiatives in the financial results of Eurobank. This is likely to be first seen in with the results of H1 2014.
Also active involvement of Prem Watsa and Ross Wilbury is likely to bring some positive changes to the company.
And lastly, Greece has likely finally emerged from a 6 year long recession in 2014 and growth in overall economy tends to be first reflected in the share prices of financial company's and their improving financial performance.
Disclosure: The author is long EGFEY.
The author wrote this article themselves, and it expresses their own opinions. The author is not receiving compensation for it (other than from Seeking Alpha). The author has no business relationship with any company whose stock is mentioned in this article.
Editor's Note: This article covers one or more stocks trading at less than $1 per share and/or with less than a $100 million market cap. Please be aware of the risks associated with these stocks.