The US equity markets are trading at record highs and consumer confidence is at its highest level since the financial crisis. The economy is resilient and there are talks of an increase in interest rates as the Fed seems more confident about economic recovery. The crisis in the Euro zone also seems to have abated as indicated by bond yield curves. Amidst all these positive factors, there are some gloomy factors that need to be closely watched. This article discusses these factors and their probable impact on the economy and asset markets.
I have always voiced my concern related to leveraging and I am sure that everyone will agree that the financial crisis of 2008-09 was primarily due to leveraging. Nearly seven years into the crisis, it would be interesting to check the global debt level. It would be comforting to see debt levels lower than that of 2007 and it would be a big concern to see debt levels much higher than that of 2007.
According to the latest annual report from BIS, global debt at the end of 2007 was 106.7% of global GDP. In advanced economies, household debt was 82.5% of GDP and in emerging economies; household debt was 22.5% of GDP. Clearly, the household sector was over-leveraged in the advanced economies.
As of end-2013, household debt in advanced economies was 75% of GDP and household debt in emerging economies was 30.8% of GDP. Therefore, the advanced economy households have done well to de-leverage over the last six years and this seems to be a move in the right direction. For emerging economies, the household leverage is still not a concern at 30.8%.
Also, non-financial corporate debt in advanced economies was 90.4% as of end-2007 and it has marginally increased to 91.7% as of end-2013. Therefore, non-financial corporate debt has also remained around the same level and corporate debt is not a big concern with the corporate sector being the dynamic sector of the economy.
I mentioned above that total debt to GDP was 106.7% as of end-2007. As of end-2013, the total debt to GDP increased to 150%. So what is the factor for an increase in debt when households have de-leveraged and non-financial corporate debt remains at same levels?
There is no prize for guessing - The government sector.
This is a big concern and this concern will get bigger in the future as governments continue their expansionary monetary policies. The government was there to bail out households and the financial corporate sector in 2008-09, but who will bail out the government?
This question needs to be asked and my opinion is that there is no way out for the government sector. The only possible ways are - default or inflation. I am sure that the government will chose the second path.
My point is not that equity markets will crash tomorrow and the world economy will tumble. My point is that the stage is being set for a much bigger crisis and it is being ignored amidst market euphoria.
I know for a fact that many analyst and investors are happy that the volatility in US equities is near record lows as indicated in the chart below.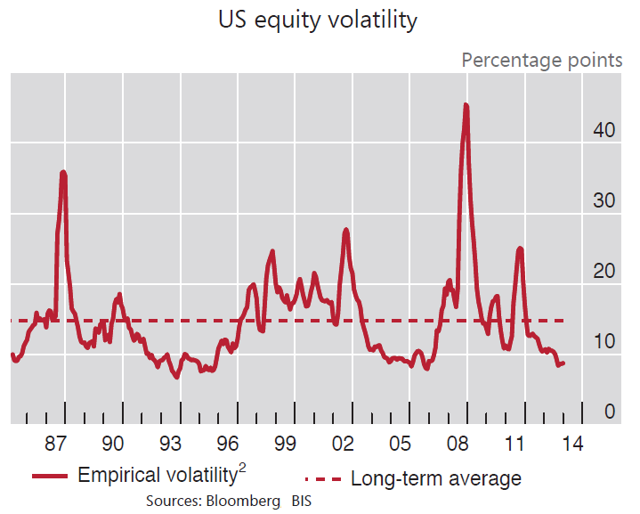 I am concerned as equity markets tend to show increased volatility after period of record low volatility. In my recent article, I discussed the probability of a 10%-15% correction. Going by the volatility index, that correction might come sooner than later.
The debt factor is a long-term gloom factor and the equity market volatility factor is a short-term gloom factor.
I think what markets are also ignoring or underestimating is the level of geo-political tensions globally. ISIS is creating nuisance in the Middle-East and they are getting increasingly dangerous. The news that Iran is sending troops and aid to fight ISIS is a concern as it can result in war spilling into Iran. There also seems to be no immediate solution to the Russia-Ukraine crisis. The key point here is that these conflicts have the potential to take oil & gas prices much higher. In turn, the economy will be impacted as inflation goes through the roof. Unfortunate as it might sound, I see the whole Middle-East crisis getting bigger. Markets still need to discount these geo-political issues.
I have so far spoken of near-term and long-term risks related to the developed markets and the Middle-East.
I believe that the economic and financial risk related to emerging economies (particularly China), still needs to play out. The chart below gives the global financial stability map from the IMF.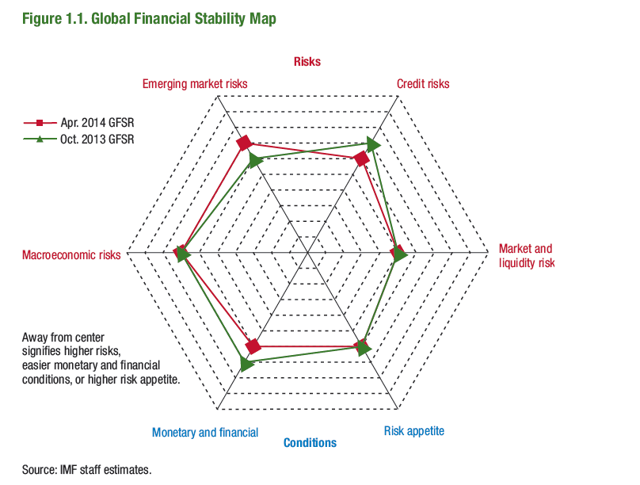 According to IMF, all other risks are at same levels or have declined in April 2014 as compared to October 2013. However, one risk factor has increased - Emerging market risk.
I certainly believe that the economic or financial crisis in China can still get bigger. The country is still struggling between managing GDP growth and managing credit. I expect a significant credit crisis in China and equity markets globally will be impacted by this event. I think this can be a potential negative surprise investors need to brace themselves towards.
Therefore, the risk to global financial markets and the global economy is significant. The risks have been over shadowed by optimism related to asset markets and the economy. From an investing perspective, my opinion is to be as diversified as possible in different asset classes and in different regions.
I would consider exposure to Gold (NYSEARCA:GLD) at current levels and also consider exposure to the S&P (NYSEARCA:SPY) if the markets correct by 15%. Further, Indian equities are attractive for the long-term and iShares India 50 ETF (NASDAQ:INDY) and iShares MSCI India ETF (BATS:INDA) look interesting. I strongly believe that India will overtake China's GDP growth in the next few years to become the fastest growing economy in the world.
In conclusion, the current market sentiments are way too positive and the markets might be ignoring some not so great factors. Investors need to exercise caution in such a scenario and keep their investments as diversified as possible.
Disclosure: The author has no positions in any stocks mentioned, and no plans to initiate any positions within the next 72 hours.
The author wrote this article themselves, and it expresses their own opinions. The author is not receiving compensation for it (other than from Seeking Alpha). The author has no business relationship with any company whose stock is mentioned in this article.