Burger King Worldwide (BKW) is pursuing an opportunity to acquire the Canadian doughnut-and-coffee chain, Tim Hortons (THI). The acquisition would be structured as a tax inversion and relocate Burger King's headquarters to Canada, where it would benefit from lower corporate taxes.
Both companies are working on a sale that would create a new company. The merger would produce the third-largest fast food restaurant in the world.
Insiders familiar with the purchase said the deal could be completed soon. The market value of Tim Hortons hovers around $8.4 billion, and Burger King's market value is approximately $9.6 billion. Combined, the new company will be worth close to $18 billion.
Inversion Deals: Growing in Popularity
Inversion deals have gained in popularity among American companies recently, and Washington regulators and legislators have indicated they intend to find a way to stop them. The current relocation of Burger King most likely will increase criticism of inversion deals, especially since the company represents such an iconic American brand.
By relocating to lower corporate tax jurisdictions, inversion deals allow a corporation to save money on overseas earnings and cash held abroad. In some cases, the companies have succeeded in lowering their total corporate tax rate. While many of the newsworthy deals recently have centered around European firms, Canada has had its fair share, especially with its close proximity to the U.S. In 2012, Canada lowered its federal corporate tax rate to 15 percent.
For example, California-based Valeant Pharmaceuticals International merged with Biovail in Canada and moved its headquarters there in 2010. Currently, the company has a corporate tax rate lower than 5 percent.
Recently, many of these deals have been between healthcare companies. The deal between Burger King and Tim Hortons indicates that inversions have a wide appeal across many industries as executives look for methods to become more profitable and competitive using tax codes.
Recent tax inversion deals have also included AbbVie's (NYSE:ABBV) acquisition of Shire in Ireland, and Medtronic's purchase of Covidien of Ireland.
Unlike some inversion deals, Burger King has not included a provision in its acquisition proposal that would let the company walk away from the deal if regulations are created that lessen the tax benefits of an inversion.
Both Companies Bring Their Strengths To The Table
Burger King began in 1954 in Miami with one restaurant. Currently, the company is still headquartered there. Today, Burger King is the second-largest hamburger fast food chain, with over 13,000 locations in almost 80 countries. It serves over 11 million people every day.
While still trailing rival McDonald's Corporation (NYSE:MCD), BKW commands a powerful market share.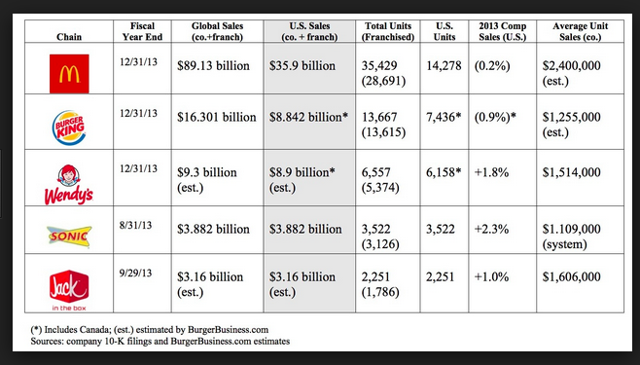 Click to enlarge
(Source)
Based in Oakville, Ontario, Tim Hortons is famous for its coffee, a high-profit margin segment that American fast food leaders have lagged in gaining market share in. Burger King has added coffee drinks and various flavors to its line-up in an effort to catch up to McDonald's by partnering with Seattle's Best Coffee, which is owned by Starbuck's (NASDAQ:SBUX).
Strong Q2 Results for BKW: Fuel For The Move
For the second quarter, Burger King reported strong sales for comparable stores and more restaurants opening. Total sales increased 5.4 percent, and global comparable sales increased by 0.9 percent. Adjusted EBITDA grew 13.3 percent, and adjusted diluted EPS grew 19.1 percent.
The company added 131 additional restaurant locations, an increase of 4.8 percent over last year.
In addition, Burger King will increase the dividend to $0.08 per share for the third quarter in 2014.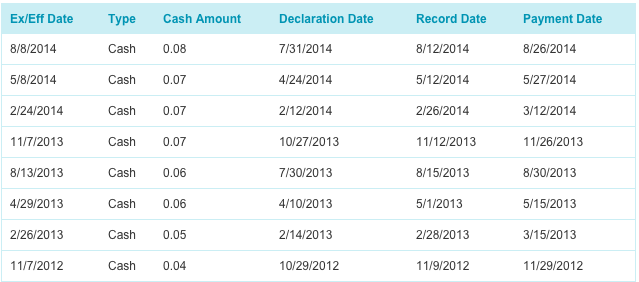 (Nasdaq.com)
Outlook For Hungry Investors
BKW and THI shares both jumped significantly on the merger announcement (see below). BKW rose to $32.40, an increase of almost 20%. The company increased its market value to an estimated $11.4 billion. Meanwhile, THI stock rose to C$82.03, an increase of almost 19%. The company increased its market value to an estimated C$11 billion (US$10 billion).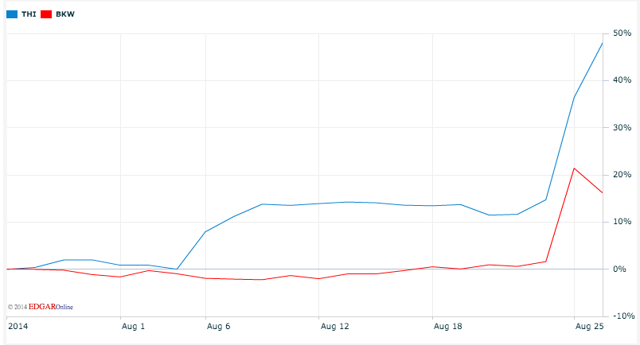 Click to enlarge
(Nasdaq.com)
While Obama may not be thrilled that Burger King's big backer, Warren Buffet (NYSE:BRK.B) is helping the company avoid US taxes - this additional financing from one of the world's leading billionaires could give shareholders an additional boost of confidence.
BKW has already beat analyst estimates for earnings for the past seven quarters; with this strong foundation, we see further upside ahead for those investors wishing to chow down on the new goods.
We encourage readers wishing to join the discussion on fast food giants to click +FOLLOW above the title of this article - and those wishing for the latest updates to click +Get real time alerts.
Disclosure: The author has no positions in any stocks mentioned, and no plans to initiate any positions within the next 72 hours.
The author wrote this article themselves, and it expresses their own opinions. The author is not receiving compensation for it (other than from Seeking Alpha). The author has no business relationship with any company whose stock is mentioned in this article.