This is a series of articles to assess risk for the 26 BDCs that I cover and a follow up to my other "BDC Risk Profile" articles. There are many reasons why assessing risk for BDCs is important, including expected returns, valuations, and the potential loss of capital during an economic downturn or general business cycle. I use 'relative risk rankings' in many of my articles for valuation purposes, because I believe BDCs should be measured on projected risk vs. return. This series will take into account new metrics, and I will be adjusting my rankings accordingly, as well as updating my suggested 'risk averse' BDC portfolio.
The following are some of the indicators of risk and portfolio quality that I will be discussing in this series:
General portfolio mix and yield
Portfolio debt-to-EBITDA
Average investment size and portfolio concentration risk
BDC leverage vs. portfolio mix
NAV growth vs. declines
Fair value of investments as a percentage of cost
Dividend coverage and the need to reach for yield
I consider PennantPark Floating Rate Capital (NASDAQ:PFLT) to be one of the safer BDCs with a better than average risk profile for many reason including much higher quality investments and excellent management as discussed in my "PFLT Articles". On the recent earnings call, Art Penn the CEO of PFLT and PennantPark Investment (NASDAQ:PNNT) mentioned "We continue to set a high bar in terms of our investment parameters and remain cautious and selective about which investments we add to our portfolio. Our focus continues to be on companies or structures that are more defensive, have low leverage, strong covenants and high returns. As a result of our focus on high quality companies, seniority in the capital structure, floating rate assets and continuing diversification, our portfolio is constructed to withstand market and economic volatility. The cash interest coverage ratio, the amount by which EBITDA cash flow exceeds cash interest expense continued to be a healthy 3.5 times. This provides significant cushion to support stable investment income, additional at cost the ratio of debt to EBITDA on the overall portfolio was 3.7 times, another indication of prudent risk. We currently have no non-accruals on the portfolio."
Debt-to-EBITDA measures the weighted average portfolio debt as a multiple of EBITDA. Ratios greater than five times usually indicate that a company is likely to face difficulties in handling its debt burden, and is less likely to be able to raise additional loans required to grow and expand the business and it can result in a lowered credit rating. At 3.7 times, PFLT's portfolio has one of the lowest debt-to-EBITDA ratios in the industry indicating higher credit quality of the underlying portfolio companies. As a comparison, PNNT's ratio is 4.6 times.
PFLT works with PNNT and may invest in the same opportunities but seeks the lower yielding, lower risk, and secured portion of the lending ladder leaving the rest for PNNT as shown in the chart below.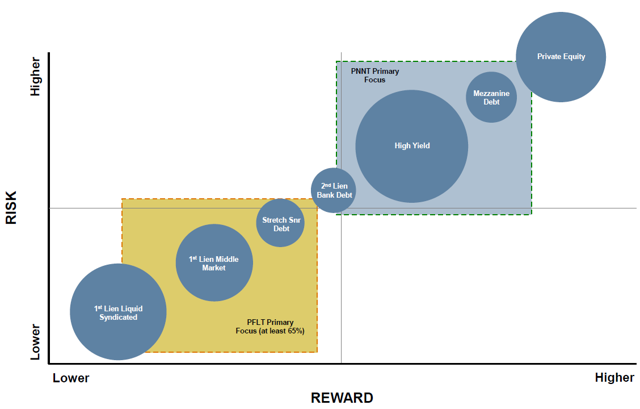 Over the last six quarters, PFLT has increased the amount of first and second lien secured debt from 93% to 96%.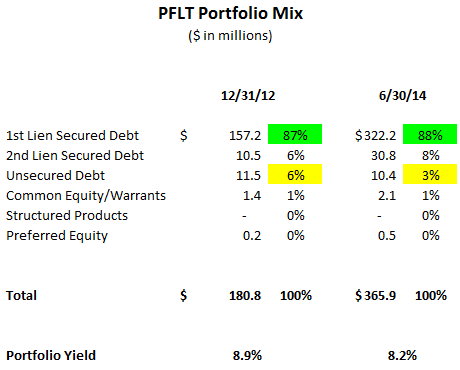 PFLT has been able to maintain its discipline both around credit as well as stable portfolio yields over the last five quarters, as discussed in "PFLT: BDC Dividend Coverage Part 11".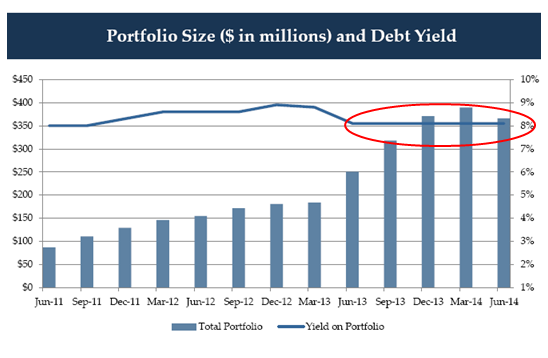 Currently, the top ten portfolio investments for PFLT account for 26% of the portfolio with the largest investment only accounting for 3.4%. When asked about loan repayment risk management pointed out: "as you can see our portfolio is really well diversified so there is no one single credit that we are worried about repayment or one single credit that we're worried about default, since the portfolio is so well diversified so we feel like repayment levels in general are slowing down."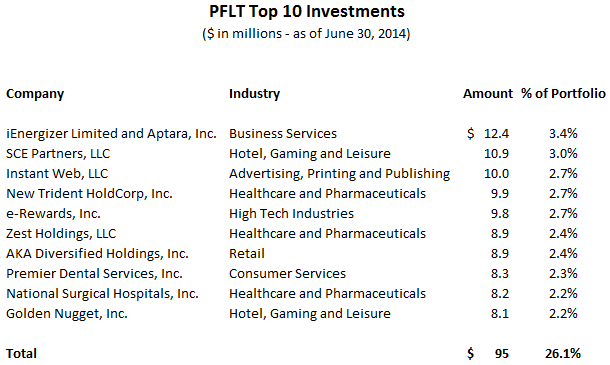 SCE Partners is an investment in a company that is developing the Hard Rock casino in Sioux City and was the only larger investment that had a slight decline in its fair value for the quarter. When asked specifically about this Mr. Penn mentioned "Sioux City Hard Rock, as you may know we've -- gaming is one of our industry verticals we've done very well on. This is a project financing to finance to Sioux City Hard Rock it's been in ramp mode, it just actually opened a few days ago, there was a little softness in the quote because there was some litigation from a competitive casino that was trying to stop the opening of the Sioux City Hard Rock, that litigation appears to be going away and the Sioux City Hard Rock is opened for business and its operating and we don't really see any credit risk there. In our estimation that would be a par asset over time."
Side-by-Side Comparison:
I will be updating the following table to include the other BDCs, as well as new risk-related metrics throughout this series. The goal of using a side-by-side comparison is to show an 'apples to apples' view of each BDC in an attempt to clarify my revised relative risk rankings. I have included the results for Apollo Investment (NASDAQ:AINV) discussed in "AINV: BDC Risk Profiles" and as you can see, PFLT has a much safer risk profile due to its mix of investments, lower debt-to-EBITDA ratio, lower portfolio yield and lower concentration level in its top ten investments.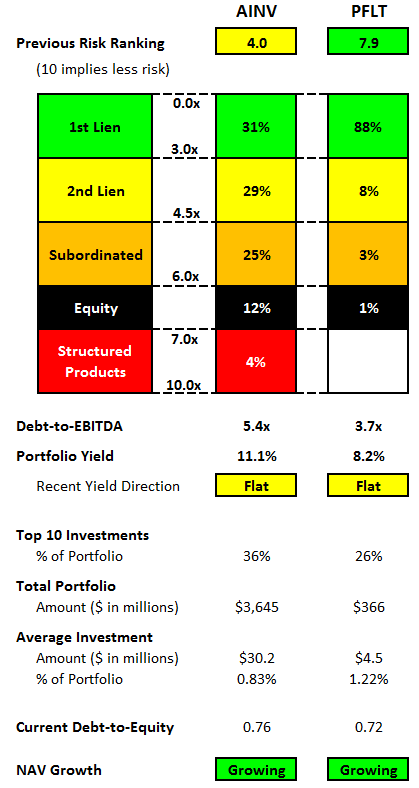 For more information about this series, please read "BDC Risk Profiles: An Introduction", and I will be adding my 'vintage analysis', as well as including information about BDCs with 'recession-resistant investments'. For updates to this series and links to previous risk-related articles on Seeking Alpha, please check my "BDC Risk Profile" page, as well as the "BDC Research Page" that I will continue to update as well as my "Index to BDC Articles" for more information on specific BDCs.
Disclosure: The author is long PFLT, PNNT.
The author wrote this article themselves, and it expresses their own opinions. The author is not receiving compensation for it (other than from Seeking Alpha). The author has no business relationship with any company whose stock is mentioned in this article.