Market Vectors launched the ChinaAMC SME-ChiNext ETF (NYSEARCA:CNXT) in late July, an ETF that provides exposure to a mix of stocks from the SME board and the ChiNext board in China.
SME Board
The SME Board of the Shenzhen exchange has 722 companies as of August 26. The board has a market capitalization of 4 trillion yuan (all figures in yuan also noted) and an average P/E approaching 37. In order to list on the exchange, firms must show a profit for at least three years, with additional criteria such as 30 million in net profit, 50 million in cash flow from operations and 300 million in sales over the three-year period. Firms must not have significant debt levels or rely on tax benefits, and show sustainable profitability, as is the case with ChiNext.
ChiNext
ChiNext has about 2 trillion in stock market capitalization spread across 387 companies, with an average P/E of 60. The criteria for the ChiNext board are less stringent than for the SME board. Firms must have been profitable in the past two years to list with at least $10 million in profits, or have 5 million in profit on at least $50 million in sales in the last year.
Performance
Although this Market Vectors ETF is new, ETFs tracking both indexes trade in China. ChinaAMC has had an SME ETF listed since 2006 under the symbol 159902 in China.
To give an idea of the relative volatility of the two boards, along with the ChinaAMC ETF is the China-listed E Fund ChiNext Price Index ETF (159915) for comparison.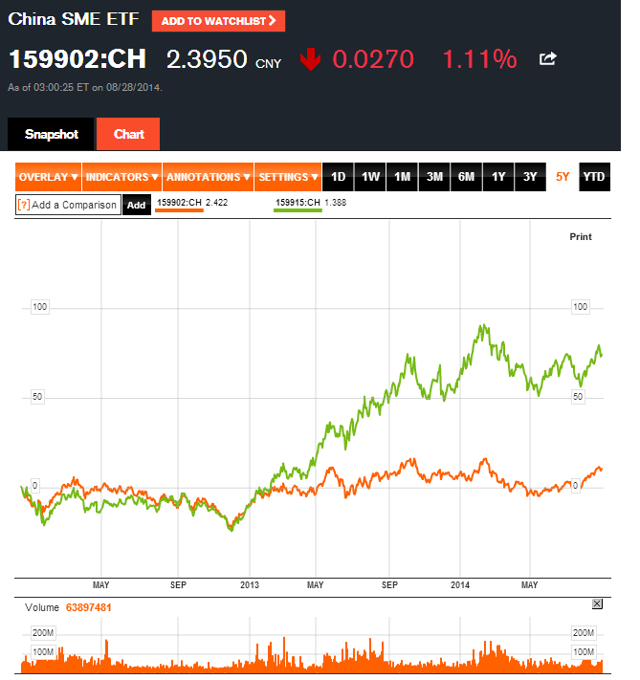 Historically, the SME board has traded much more in line with the broader A-share markets in Shanghai and Shenzhen. In contrast, the ChiNext has a mind of its own. Investors looking for direct exposure to the volatile ChiNext board will have to wait, but CNXT should be more volatile than the broader A-share market ETFs, such as Market Vectors ChinaAMC A-Share ETF (NYSEARCA:PEK) or db X-trackers Harvest China ETF (NYSEARCA:ASHR) due to the ChiNext exposure.
Portfolio
When it comes to China ETFs, one of the funds we prefer is Guggenheim China Small Cap ETF (NYSEARCA:HAO), due to its exposure to more privately owned firms and consumer industries. CNXT offers even more exposure to these sectors than HAO, making it an even more attractive option for investors who do not want to own state-owned enterprises (SOEs).
Private companies will benefit greatly from market reforms currently being unleashed in China. Many SMEs face borrowing costs well above 10 percent, with costs above 20 percent very common. Financial reforms aimed at letting the market set interest rates and ease credit access, as well as reforms that will open up SOEs to competition from private firms will all be good news for SMEs.
Even though reforms will lead to higher long-term growth, the Chinese economy could slow in the months and years ahead due to a credit bubble bursting and economic rebalancing. This is yet another reason to like smaller firms in sectors such as consumer industries and technology. A rebalancing of China's economy away from state-directed investment could involve very slow growth or even an outright recession in some sectors tied to property and infrastructure development, but the smaller sectors of the economy could grow rapidly in this environment as disposable incomes rise. Income growth is still rapid in China, and a collapse in the property market, while it would damage the headline GDP number, would leave Chinese households with far more disposable income thanks to lower housing costs. (Additionally, Chinese stocks are already becoming more attractive to Chinese investors as the drop in property prices sends investors out of the real estate market.)
The largest sector in CNXT is information technology, with 23.4 percent of assets at the end of July. Recently, Zhang Xin, CEO of real estate developer Soho China (OTCPK:SOHOF), said that technology firms have strong demand for commercial rentals in Beijing. The technology sector will benefit greatly from anti-monopoly reforms designed to open up competition in the Chinese economy. Already, some technology firms have moved into financial services. Investors looking for more technology exposure can check out PowerShares Golden Dragon China Portfolio ETF (NASDAQ:PGJ), which has over 50 percent of assets in tech, or Guggenheim China Technology ETF (NYSEARCA:CQQQ).
The second-largest sector in CNXT is consumer discretionary, with 20.6 percent of assets. One of main goals of the current leadership in China is a doubling of incomes. The early stage of financial reforms has already put more money into the pockets of Chinese savers by raising interest rates, as Chinese savers take money out of their bank savings and put them into money market funds offered by firms such as Alibaba, Tencent (OTCPK:TCEHY) and Sina's (NASDAQ:SINA) Weibo (NASDAQ:WB). Chinese savers also save less when the interest rate rises, because they require less capital to reach their savings goal.
The number of new entrants in the labor force is already declining due to the one-child policy, and even if the economy slows, there is still plenty of development that will require Chinese workers. The Chinese government is promoting reform of the nation's hukou system, which will allow more residents to move from the countryside into the cities, where the wages are higher. Even in a slowdown scenario, wage pressure will remain.
The third-largest sector in CNXT is industrials, with 16.9 percent of assets. China remains an industrial powerhouse, and the massive investment in property and infrastructure makes it impossible to avoid exposure to these sectors. Since CNXT owns SMEs, the main issue is what happens with its SOE competition. SMEs that have survived until now have dealt with massive overcapacity, competition from government-protected SOEs and restricted access to capital. If China has an economic crisis, or even a more serious slowdown, SOEs in the industrial sectors will be in trouble due to high debt levels. Already, the government has pulled financial support from some coal producers, but steel and other sectors are also at risk. SMEs may benefit in the long run, but their stock prices could suffer in the short run.
The fourth-largest sector is healthcare, with 9.9 percent of assets. China is aging along with the developed world, and it will age much faster due to the government-directed drop in fertility in the early 1980s. Pension reforms and old age care are two issues drawing attention in China, and these issues will remain for decades. The growth of this sector is all but inevitable.
Valuation
Although the P/E for the ChiNext and SME Board are very high, CNXT has a trailing 12-month P/E of nearly 30, lower than the average of either exchange. Still, this is nearly triple the P/E of Market Vector's other A-Share ETF, PEK, which has a P/E that rounds to 10. On June 30, HAO had a P/E similar to that of PEK at 10.5. The large cap China funds have heavy exposure to low-P/E industrial, financial and utility sectors. HAO also has far less technology exposure, and it owns many Hong Kong-listed shares (H-shares) that often trade at discounts to mainland prices. The opening of Shanghai and Hong Kong stock markets to cross-border trading later this year will equalize valuations across the two markets, but small caps will not be included in the initial opening.
While the small cap ETF looks pricey, there are a few reasons not to be too concerned. First, sector exposure will lead to a higher P/E. Technology-heavy PGJ has a P/E of 25, and the technology sector fund CQQQ has a P/E of 18. CNXT still looks expensive at 30, but adjusted for its smaller market caps, it doesn't look wildly overvalued.
The return on equity for the ChiNext and SME Board has been consistently high since 2011. This is despite the higher costs faced by SMEs. As China reforms various sectors of the economy, SMEs will become more profitable, not less. Growth is also higher for ChiNext companies, where the average rate of growth is nearly 16 percent.
Risk
The Chinese stock market is not without risk, and it may pay for investors to wait until after September and October to buy into Chinese shares. First, the start of cross-border trading will begin. Recently, the Chinese stock market enjoyed a sharp rally as investors position for the opening. Shares could decline if this is a "buy the rumor, sell the news" scenario.
The property market also continues to cool, and the slowdown is worse than both 2011 and 2008. Expectations for a government bailout are more hope than reality: moves to ease the market have thus far failed, and the central government has repeatedly refused to engage in a major monetary easing or stimulus. A "mini stimulus" worked in Q2, but it pulled growth from Q3 and Q4. Without monetary and credit easing, a repeat is unlikely. Credit growth plunged in July, and it has not yet picked up in August.
On top of that, the government crackdown on corruption is now extending to land sales, which strikes at the heart of China's government-directed growth model. China's growth model (which the leadership wants to move away from) relies on infrastructure development by local governments, who pay for it with land sales and debt backed by those land sales. A prior audit has already revealed some violations by local governments, but a strict national audit is now underway.
Conclusion
CNXT gives investors the opportunity to invest in mainland Chinese small caps. Valuations are high, but not at nosebleed levels, while SMEs stand to benefit from many of the major reforms that are underway or coming in the next few years. These firms aren't cheap, but they're also battle-tested by China's uneven playing field which favors state-owned companies.
More broadly, investors should keep a close eye on the property market and wait to see if the recent rally is a blip or a larger move. In a couple of months, we'll know if concern about the real estate market is unwarranted, and if it isn't, we'll also know if the government will go back on its word and launch a massive stimulus.
Disclosure: The author has no positions in any stocks mentioned, and no plans to initiate any positions within the next 72 hours.
The author wrote this article themselves, and it expresses their own opinions. The author is not receiving compensation for it (other than from Seeking Alpha). The author has no business relationship with any company whose stock is mentioned in this article.