My regular readers on Seeking Alpha and Real Money Pro know that the biggest position in my portfolio is Gilead Sciences (NASDAQ:GILD) which has been a rocket since the stock's dip into the mid-$60s in March in a quick and brutal shakeout in the biotech sector. Since then, the stock has been on fire and should continue to rise based primarily on the blowout results from its blockbuster Hepatitis C (HCV) drug Sovaldi.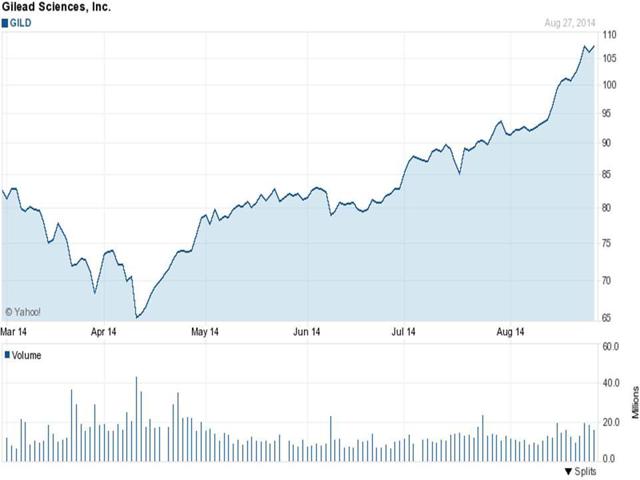 Yesterday, Roche acquired InterMune (NASDAQ:ITMN) in an over $8 billion deal with an almost 40% buyout premium. The main attraction for Roche of acquiring InterMune is the company's drug for idiopathic pulmonary fibrosis, a disease that causes tissue deep in the lungs to become thick and scarred over time. M&A activity has been strong throughout 2014 in U.S. equities and is approaching 2007 peak levels and I doubt this is last buyout in the sector this year.
This got me to thinking on when a large player is going to take a shot at the Hepatitis C arena given Sovaldi's blowout sales, high price tag ($84,000 per 12 week regiment domestically) and huge international market. Gilead is definitely the largest position I have addressing this market. However, recently I also took positions in two other small, speculative plays that are developing products to address this huge market.
I have out of the money covered calls sold against a good portion of these positions given the huge premiums available on these stocks' options and I find it is a good way to lower my portfolio volatility as well.
I acquired Achillion Pharmaceuticals (NASDAQ:ACHN) when the stock sold at around $7.50 a share earlier this quarter. Earlier in August, Achillion announced that in a small, phase II proxy study, its lead HCV product (a second generation NS5A inhibitor) used in conjunction with Sovaldi had positive results in 12 out of 12 patients in the study. This compound will now move on to further studies. Both Deutsche Bank and UBS have recently came out and stated Achillion makes perfect sense as a takeout target given Sovaldi's massive success.
In addition, Achillion has several other multiple, direct-acting antiviral candidates with complementary mechanisms of action for the treatment of HCV in early stage development. Given the current interest large in the hepatitis C market and the success of Sovaldi since launch, Achillion's promising early-stage products could draw significant interest. Even with a 50% buyout premium, this would be less than a $1.7 billion acquisition.
I also own Conatus Pharmaceuticals (NASDAQ:CNAT). The company's lead product is Emricasan, which is focused on interrupting a variety of liver diseases. The company has four Phase II clinical trials for Emricasan underway to assess its safety and efficacy in acute-on-chronic liver failure, chronic liver failure, post-liver transplant HCV clearance with unresolved fibrosis and nonalcoholic steatohepatitis.
The stock posted a large rise in trading on Wednesday on the takeout of InterMune as it also makes a logical acquisition candidate. Even with yesterday's rally, the stock remains significantly under its IPO price of around a year ago. The company has just over a $100 million market capitalization of which some $45 million is net cash. The shares sell for just under $7 a share. The three analysts that cover the company have price targets ranging from $13 to $16 a share on Conatus.
Like most small early stage biotech concerns, both of these selections are highly speculative. The prospects for both depend both on how their drugs do in trials. However, given the interest in the HCV market; I expect at least one of these companies to also attract significant buyout interest by the end of 2014.
Disclosure: The author is long ACHN, CNAT, GILD.
The author wrote this article themselves, and it expresses their own opinions. The author is not receiving compensation for it (other than from Seeking Alpha). The author has no business relationship with any company whose stock is mentioned in this article.