When a company has the leading website for a business and many people use the site to find things they deeply need, you have classic competitive advantages that a traditional major newspaper would have had fifty years ago. Even Warren Buffett knew the value of media businesses for their advertising dollars and virtual monopoly on classified ads and local business ads. You could set the prices, and people would still be coming because you were the only show in town.
Technology may have changed since then, yet the principles are still there.
Seek Limited (OTCPK:SKLTY) operates the job search website seek.com.au which is number one amongst job seekers and career changers in Australia. According to the company, it is involved with about 22% of total Australian job placements, which is many times more than its closest competitor. About 30 million viewers visit the site monthly and its brand name recognition is high.
Employers and recruitment agencies consider it the best place to place a job ad, and job hunters gravitate to the site, looking for the best source of available jobs.
Since listing on the ASX in 2005, revenues have gone from A$69.6 million ($64.9 million) to $713 million ($665.2 million) in financial year 2014 (12 months ending June 30, 2014). Over the same time, net profits rose a compound 29.3% annually with FY 2014 net profit at A$195.6 million ($182.5 million) . In its most recent full year results, net profit excluding significant items was up 27%. Its reported EBITDA margin was up 2% to 41% and net profit margin was about 25.8%.
Even with those very healthy numbers and clearly more room to grow market share domestically in Australia, the company has already on its way with major international expansion plans. It has businesses and investments in ten countries from Asia all the way to South America and Mexico.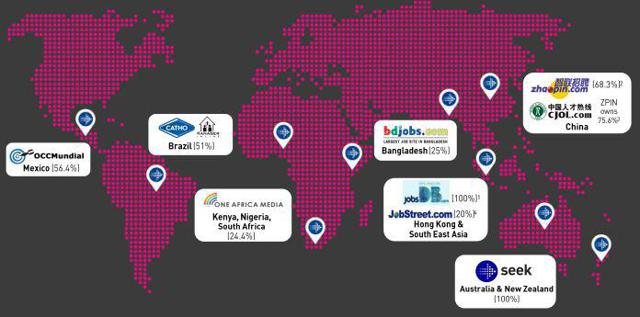 Source: SEEK Limited FY 2014 Results Presentation
Seek can see that overseas growth is the direction it must take to maintain high growth rates. Its international businesses generate around 37% of total reported EBITDA, rivaling its main breadwinner domestic market business. Much of the earnings growth in FY 2014 actually came from the international division.
It has two businesses in South East Asia, 100% owned JobsDB and 20% owned JobStreet.com that together service Singapore, Malaysia, Vietnam, the Philippines, Indonesia and Hong Kong. Seek also has a 68.3% stake in Zhaopin (NYSE: ZPIN) that listed in June this year. Zhaopin is the leading job search website in China.
These will be the main growth drivers outside of Australia for now, but the next tier will be from business investments in Bangladesh, Brazil, Mexico and southern Africa- all highly populated, developing economies where Seek can apply its marketing and technological know-how.
As an investor, I can see how the business model is being successfully transplanted into new regions, yet Seek is smart because it is joining up and investing in existing local companies of each region. It's not reinventing the wheel, and can draw upon the local business market knowledge and culture. As the business grows, Seek also incrementally increases its ownership stake, like a good investor who accumulates a stock position in good companies.
I think Seek can continue its fast grower status, and could be a rewarding growth stock for international investors wanting exposure to the Asian economic development story.
Disclosure: The author has no positions in any stocks mentioned, and no plans to initiate any positions within the next 72 hours.
The author wrote this article themselves, and it expresses their own opinions. The author is not receiving compensation for it (other than from Seeking Alpha). The author has no business relationship with any company whose stock is mentioned in this article.
Editor's Note: This article discusses one or more securities that do not trade on a major U.S. exchange. Please be aware of the risks associated with these stocks.