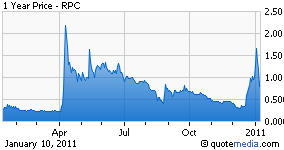 On Friday, "All Eyes were on Radient Pharmaceuticals" (RPC) as the company was set to announce whether officials at the NYSE Amex would approve the company's ambitious debt-for-equity swap. What happened next left the market and those who have been following the stock more than a little confused.
As the markets were set to open, during pre-market trading session shares of the company had begun to rise dramatically on heavy volume. Message boards, news sites and trading rooms were buzzing in anticipation of the good news. It didn't hurt that the CEO of the company had just verified that the company was aboout to start ramping up to meet the demands for the biggest order to date of their flagship, early cancer diagnostics test kits. Efforts by new management over the past two years had laid the groundwork for the full commercialization and distribution push- now underway across the globe.
The company had risen in value dramatically from lows in the thirty cent range to highs near $1.70 during the previous two weeks- following the announcement that debt holders, shareholders and the company's board of directors had all come to agree that the debt which was strangling and weighing down the company should be converted to equity. A bewildering number of naked-short positions were suddenly caught in the trade and many of them had already begun to cover, sending shares higher, faster as they did.

By the time the opening bell rang, over a million shares had traded and the stock looked primed to run higher. Then something no one had anticipated occurred. Trading was halted at the opening bell, as officials at the NYSE Amex announced that news for the company was pending. During a few tense moments, panic and confusion set in. Did something go wrong? Was the company getting de-listed?

It's hard to say what may have happened if trading had not been halted, but on Wall Street when a stock is halted pending news, a vast majority of the time things have a tendency to turn ugly ... fast. Exchange officials sometimes let markets go to "time-out" so that shareholders, traders and others can all "get on the same page" about big news. The news here had been not only anticipated, but was the same news that caused so much stir in pre-market hours. The company had officially received their "good news."

The moment trading resumed, shares dropped then bounced off session lows to find some strong stability and support right along the 200-day moving average as the trading day played out.

Could so many have been so wrong? The re-balancing of the company's capitalization had just given Radient Pharmaceuticals the equivalent of a new lease on life. Debt holders didn't want to keep hurting the company. They saw the signs and wanted, instead, a bigger stake in the company for the ride back up.

Analysts, reporters and message boards alike agreed the company's future looked much brighter than it had ever looked. Price targets had been adjusted to reflect even higher marks after the company showed substantive progress and positive sales efforts.

Perhaps most importantly, without bias or a sudden case of mypoic vision, officials at the Amex who carefully reviewed the debt-for-equity details agreed that once they stamped their approval for the deal and re-capitalization set in, company shares would be able to absorb any dilution and still be priced to meet the exchange's minimum listing requirements. Surely the exchange officials were assured by the company that any additional shares that might be issued as part of the swap would be issued in such a manner that would not be disruptive to those listing requirements. That so many tens of millions of naked shorts had to purchase shares has also played into the equation here. (See chart which outlines those requirements here.)

While Radient officials had been telling the market that they had expected to eliminate $33 million in debt and turn liabilities into $22 million in equity. Amex officials let the company eliminate even more debt - thus giving shareholders even better than anticipated news.
"RPC is in a position to have up to approximately $27 million in debt and $14 million in other liabilities eliminated," said company officials after the Amex approval. "As a result, we anticipate an increase of approximately $41 million in total shareholder's equity."
For those who have not seen or been through a debt-for-capitalization, there is an excellent video which outlines the process and explains the details of capital structure using a simple, yet effective analogy here.



Their interpretation holds up in other ways here as well. At $.30 per share, Radient was a sick patient who needed only a dose of oxygen to breathe and survive. At $.80 Radient is a vastly improved athlete running a marathon. What happens next will dictate just how far and quickly the new pair of shoes takes him though the race and whether the stock will start trading at more appropriate levels as well.

Key progress and communication with shareholders about pending news developments and milestones is critically important now. For better or worse, Radient has more investors and traders watching the stock than ever before. What started as a great short squeeze trade has now uncovered an intriguing story about a real diagnostics company, with real products, growing revenue and tremendous upside on multiple fronts.

First on the horizon are preliminary data results from a critical validation study that the company has been conducting for the FDA approved version of their cancer test kit. In August, the company released detailed news about the study; indicating that 1,000 colorectal patient samples with various disease stages were to be tested in parallel by RPC and Mayo Clinic clinicians to directly compare the results of the Onko-Sure test with the current industry standard- the $300 million market leading Carcinoembryonic Antigen (CEA) test. That test was first approved in 1982 but not achieve commercial success until 1989. Now off-patent and manufactured by multiple companies, the test is out-dated and doesn't detect cancer until Stage III. The Radient Pharmaceuticals test costs the same, but detects as many as fourteen different cancers at Stage I- sooner than any other test anywhere.

Why is this important?

The industry - as proven by the CEA test's journey to market itself - is slow to adopt new technologies. These results are being watched by multiple labs and partners who believe that Radient's Onko-Sure test is in position to capture much of the CEA test market. Given the FDA approval, they already know the test works, now they want to see that it works flawlessly no matter which lab or technician happens to be handling the test. In addition, the CEA test has been reported to misdiagnose a disproportionate number of early stage cancers. The head-to-head study was scheduled to be completed in the fourth quarter, but has taken longer given the amount of data generated.

Remember that Radient's pathway for garnering physician acceptance involves being able to present an understanding of the value proposition associated with the test. Physicians do not change their behavior quickly and despite clinical evidence supporting the benefits of employing the Onko-Sure test kit, many members of the medical community are unaware of Radient's technology. When complete results are announced the data will be provided to Mayo physicians and investigators for publication in medical journals. In addition, last week Johnson & Johnson (NYSE:JNJ) announced that they would be developing their own early detection cancer test. Vast industry and media attention was focused on the fact that the company will be spending upwards of $30 million to develop the test. Look for Radient to help call attention to their own already developed, and ready to market product, but they'll need good solid data and this validation to help present their case to skeptics, the media and clinicians alike.

Why else is this important?

A world leader in diagnostic laboratory testing is waiting for final data from the Mayo study. Unbeknownst to most is the fact that one publicly traded diagnostics lab has reached out to the company. They not only have great interest in marketing the test as an early dection lung cancer test, they want to start using it immediately without FDA approval under a Clinical Laboratory Improvement Amendments waiver. Radient is already cleared by Health Canada to detect and monitor lung cancer from its earliest stages. Talks and negotiations have reportedly been underway for some time and a final agreement should be announced after the final Mayo study data is presented.

Currently, if there's reason to think that a patient may have lung cancer, doctors can order a number of tests to look for cancerous cells in an attempt to rule out other conditions, These include:
Imaging tests like X-rays which may reveal an abnormal mass or nodule. A CT scan can reveal small lesions in your lungs that might not be detected on an X-ray.
Sputum cytology- which calls for clinicians to looking at sputum under a microscope in hopes that it may reveal the presence of lung cancer cells.
Tissue samples (biopsy). A sample of abnormal cells is removed in a procedure called a biopsy; performed in a number of ways, including bronchoscopy, mediastinoscopy and needle biopsy, in which doctors use X-ray or CT images to guide a needle through the chest and into a suspicious lumps or nodules to collect cells. The problem with most of these tests is that by the time the are conducted, the patient's cancer has already spread to neighboring lymph nodes.
Radient's technology looks ready to change all of that right now.

We'd look for the same markets who traded a whopping 41 million shares of the company on Friday to absorb any official news and data released by the company in the coming days and react accordingly. Many European traders and investors purchased shares at much higher prices in recent days and they are likely double down early in the trading day as markets in Europe come to a close. That buying pressure alone is likely push stock prices higher as soon as trading kicks-off Monday morning.
Disclosure: Long RPC