Bloomin' Brands (NASDAQ:BLMN) just cannot get any love. What caught my attention was when Deutsche Bank removed the restaurant operator from its short-term buy list. It only took shares to drop almost 32% for Deutsche Bank to notice that it should not be on its short-term buy list. Deutsche Bank followed in the footsteps of Tigress Financial and Jefferies Group, which did the same earlier this month.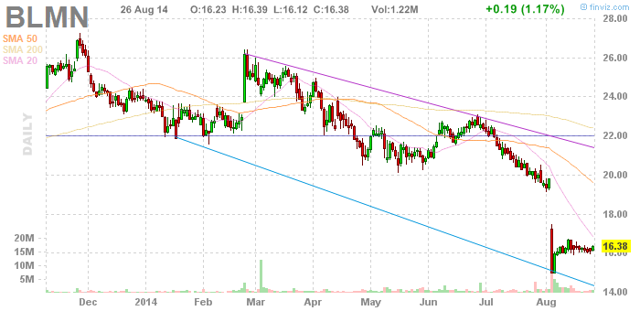 Q2 results
Bloomin' Brands reported EPS of $0.27 in Q2. This missed estimates by two cents, but did beat the $0.25 per share number that the company earned last year. Revenues grew 8.8% y/y to $1.11 billion and were $20 million higher than analysts had anticipated. Comparable sales for domestic company-owned restaurants increased just 0.6%. While the market wasn't happy with the comparable sales numbers, things could be worse. They could have been negative.
In terms of its various concepts, the standout performer was Fleming's Prime Steakhouse and Wine Bar, which saw comparable sales increase 3.6% in Q2. Outback Steakhouse managed a 0.9% increase and Bonefish Grill posted a 0.3% increase in comparable sales. The weak spot was Carrabba's Italian Grill, which posted a 1.2% decrease.
Where the problems lie
Mr. Market punished shares after the earnings report because of light earnings guidance. Bloomin' Brands was originally forecast to earn $1.23 per share this year. Now, the expectations are for the company to earn $1.05 to $1.10 per share. This is quite a drop and the market rightfully sold off. This is also below the $1.11 per share Bloomin' Brands posted last year.
Domestically, Bloomin' Brands is having problems with its dinner business. Its sales mix has shifted from dinner to lunch. This is a problem as average checks are lower during lunch hours and the lunch hour is heavily promotional with lower-priced menu items. Bloomin' Brands is not getting the dinner crowd like it was and that's a problem.
At Carrabba's, it looks like the company miscalculated with its menu re-launch. The new menu items lacked lower-calorie fare and variety during the weekday. The result was a decrease in traffic and comparable sales.
Internationally, its business in Korea is struggling due to macro issues there. Consumer discretionary spending is down in Korea and that's impacting the casual dining industry as a whole. Making matters worse is that the number of new casual dining restaurants has almost doubled from six years ago.
The company's answers to its problems
On the earnings call, it was clear to me that the company does not have an exact answer as to how to boost its dinner traffic. In Q1, the company blamed the weather for weakness in dinner traffic and expected a full recovery in Q2. That did not happen.
Right now it looks like Bloomin' Brands is hoping for a turnaround in the back half of this year. At Outback, the company is planning new steak limited time offers, new plate presentations and new advertising to boost sales. At Carrabba's, the company is counting on new lighter fare and more variety to boost sales. At Bonefish, the restaurant operator refreshed the menu, which marked the first menu refreshment since 2008. It's safe to say that after six years, the menu had gotten a little stale. In today's competitive environment, customers are looking for change to keep them coming in the door. In terms of Korea, Bloomin' Brands has hired a 10 year veteran of Yum! Brands (NYSE:YUM) to turnaround its struggling Korean operations.
The bright spots
Where Bloomin' Brands sees opportunity is in Brazil and China. Outback Steakhouse operations are performing better than expected for Bloomin' Brands in Brazil. The company plans to double the number of Outback Steakhouses in Brazil over the next three years. Due to the success of Outback in Brazil, the company will be launching Carrabba's in Brazil. Two site locations have already been identified and the first will open early next year. In China, the company has opened three restaurants in Shanghai over the last 18 months and plans to open two more in the fall. The company also has eight restaurants in Hong Kong. On the earnings call, the company said that they see China as a big opportunity and that its existing restaurants are doing very well.
Bottom line
Shares of Bloomin' Brands are looking quite cheap at just 13.3 times next year's earnings. They're also trading at just 10.5 times this year's earnings and 0.48 times sales. Its ROE is an impressive 31%.
One of the main problems that I see is that the restaurant conglomerate model does not appear to be working anymore. There are just too many moving parts and companies like Bloomin' Brands and Darden Restaurants (NYSE:DRI) cannot keep everything moving in the same direction. I own Darden Restaurants because I think activist hedge fund Starboard Value has a good chance of getting control of the board next month and will split up the company. I think there's the potential to do that with Bloomin' Brands as well. For instance, sell or spin off Carrabba's and Bonefish and keep Outback and Fleming's.
While I don't expect a dramatic improvement in Bloomin' Brands and its operations in the next quarter, I think shares have gotten cheap enough to warrant dipping my toe in the water with a position. I think there's value in the stock and it might just attract the attention of an activist investor. Or maybe PE firm Bain Capital decides to implement some shareholder friendly moves to boost the value of its 29% stake in the company. And finally, with sell-side analysts bailing on the company, now just might be the time to go long with all the bad news being already baked into the share price.
Disclosure: The author is long BLMN, DRI.
The author wrote this article themselves, and it expresses their own opinions. The author is not receiving compensation for it (other than from Seeking Alpha). The author has no business relationship with any company whose stock is mentioned in this article.