By Patrick Crutcher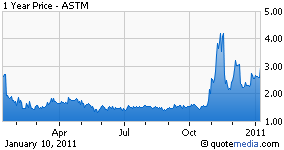 In many ways, 2011 should be a transformative year for Aastrom Biosciences (ASTM). To start off the year, they will be presenting Phase 2 Surgical-DCM six-month results sometime this month, followed up by several (3-5) other key catalysts that investors should be looking for in 2011. We think they have the potential to become the clear leader in stem cells for cardiovascular diseases.
Aastrom's Tissue Repair Cell (TRC) technology is an autologous based platform, meaning they use a small sample of a patient's bone marrow. Their TRC platform then expands the number of stem and progenitor cells many times (49 times) what would otherwise be obtained from patients and these cells are then delivered directly to the damaged tissue. They are currently focusing their efforts on critical limb ischemia and dilated cardiomyopathy (DCM).
Let's take a minute to focus on DCM. DCM is a condition in which the heart becomes weakened and enlarged, and it cannot pump blood efficiently. The decreased heart function can affect the lungs, liver and other body systems. As we said, we are anticipating Phase 2A Surgical-DCM six-month results sometime this month, based on guidance given by management. At the American Heart Association in November 2009, Aastrom presented positive interim results from a small-subset of patients. They demonstrated that their TRCs showed clinically meaningful improvements in NYHA function class for patients on therapy. After 6 months, 4 of the 5 patients receiving cell therapy demonstrated improvement NYHA functional class; while 4 of the 5 in the control group either did not improve or deteriorated. NYHA function is used to assess the stage of heart failure; this system relates symptoms to everyday activities and the patient's quality of life. See the data here.
Back in mid-July, Aastrom released news about the extension study in the DCM indication; this could be potentially indicative of the TRCs positive effects. The extension study is designed to offer control group patients from the IMPACT-DCM trial the opportunity to receive treatment with an expanded mixture of their own bone marrow-derived stem and progenitor cells after completing at least six months of follow-up. They are most likely offering the control patients the TRC treatment because of the significantly more positive results in the treatment arm and very poor survival in the control. (This came after a positive review of safety and efficacy data by the IMPACT-DCM data safety monitoring board) for the first 20 patients who participated in the IMPACT-DCM trial. Independent approval of the amended protocol and initiation of the extension study has also been granted by all institutional review boards affiliated with the clinical study sites.
Investors should read/watch this local news story on how ASTM's treatment has helped out several patients. Dr. Patel is the lead clinical investigator for that study. There was also another recent news story broadcast about Aastrom's technology in DCM and how it has really helped out one of their treated patients. See the video here. Hopefully these positive stories about DCM patients treated with TRCs are a precursor to overall positive results in the study. The company intends on announcing Phase 2 Surgical-DCM 12 month results sometime in Q2/Q3. We are also expecting some data from their Phase 2 Catheter DCM trial sometime in Q2.
In November they presented positive and consistent results in critical limb ischemia (CLI) from their Phase 2b RESTORE-CLI trial. Their TRCs demonstrated statistical significance in the primary endpoint, time-to-treatment failure, which includes death, amputation, de novo gangrene and doubling in wound size. They also saw extremely favorable trends in the secondary endpoint, amputation-free survival, but did not see statistical significance due to unusually low event rate in the control arm. For example, they saw no zero (0) events in the control group between interim analysis 1 and 2, which historically speaking is highly unlikely given the historical event rate of 50%. The 12-month data on the RESTORE-CLI data could potentially show changes that reflect the TRCs differentiation over the control arm over the long-term. (Note, the trial was not designed to show significance in the secondary endpoint.)
Going forward in 2011 with CLI, we are awaiting several catalysts on this front that should have a positive impact on their value. In October, Aastrom announced plans to initiate a Phase 3 CLI clinical development program under special protocol assessments with a Fast Track designation by the FDA. We expect to hear more about the SPA negotiations for Phase 3 in CLI with FDA sometime over the next month or so. Additionally, Aastrom will be presenting the Phase 2b CLI 12-month results in Q2. They are also in active discussion with potential partners for CLI in the EU; these are currently early conversations, but certainly indicative of interest in the program.
They recently raised $22.5 million($20.5m after fees) in December, which should certainly carry them through most of 2011. This was on top of cash on hand of $10.5-11 million at the end of 2010. Both Roth Capital and Zack's have them rated as a "BUY" with $5 price targets. We like the potential Aastrom has in 2011 and believe positive results could really differentiate them from the competition in this space.
Related:
Disclosure: Long ASTM