I can't help but think of this line quote as I watch and analyze TAL International (TAL).
"How did you go bankrupt?" Bill asked.

"Two ways," Mike said, "Gradually and then suddenly."

The Sun Also Rises, by Ernest Hemingway
TAL's dividend coverage and earnings prospects have "gradually" weakened. I expect them to deteriorate "suddenly" in the next twelve months forcing the company to cut its dividend.
Weak Dividend Coverage
Investors appear to be attracted to TAL's dividend yield which is approximately 6.3% -- not bad in a low interest rate environment. However, investors seem to be ignoring the risk of a dividend cut which is becoming increasingly as its dividend coverage deteriorates.
TAL has consistently provided a table in their investor relations presentation that shows how management thinks about the dividend coverage. Below is the most recent example: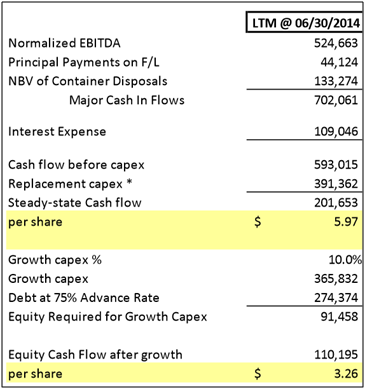 Below is an additional example, which highlights results for 2013: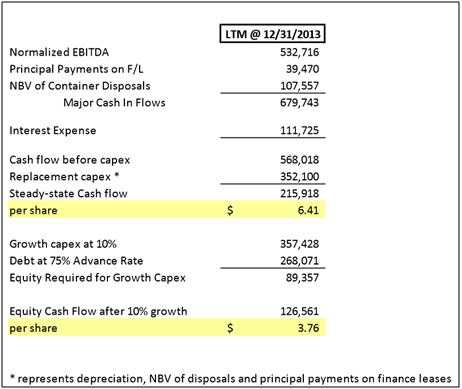 The table below shows TAL's disclosures of this metric over time (examples of which are provided above).
Click to enlarge
Notably, TAL's "Steady-State" cash flows have started to decline. However, even more concerning is the weak and rapidly deteriorating dividend coverage ratio (which also ignores taxes).
At a dividend coverage ratio of just 1.13x (and rapidly declining), it is clear that TAL will be forced to decide whether to cut the dividend or slow growth in the near future. However, it gets worse...aka "suddenly" is coming.
Deterioration Set to Accelerate
As disclosed in their most recent 10-Q, the decline in TAL's average lease rate will accelerate
"We expect our dry container lease rates will continue to decrease in 2014 and if market lease rates remain near their current low level for an extended period of time, we expect the decrease in our average dry container lease rates will accelerate in 2015 and 2016 due to the large number of leases with high lease rates that are scheduled to expire in those years."

Source: TAL Q2'14 10-Q
TAL provided additional details in their recent analyst day on June 10, 2014 where they disclosed that unless lease rates improve significantly, lease revenues (which fall straight to the bottom line) will decline by $60-70 million in the coming years.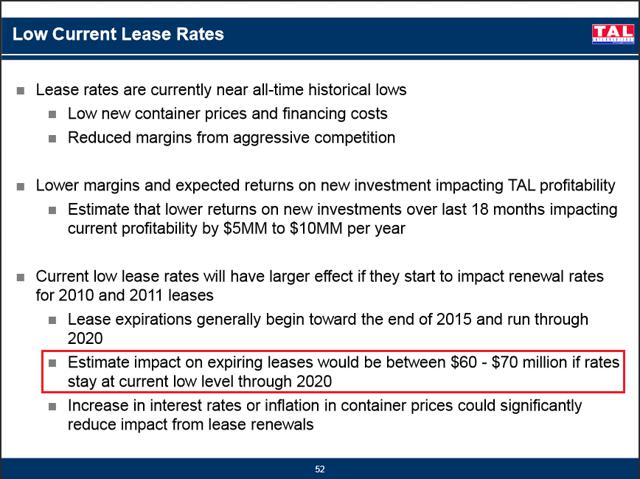 Click to enlarge
Approximately $40 million of the $60-70 million decline will be felt by the end of 2016: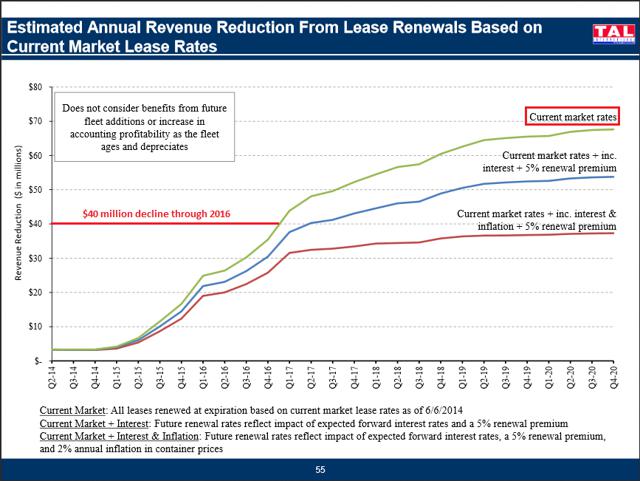 Click to enlarge
The combination of currently weak dividend coverage and an imminent decline in results due to negative rent roll will put TAL's dividend coverage to fall significantly below 1.0x.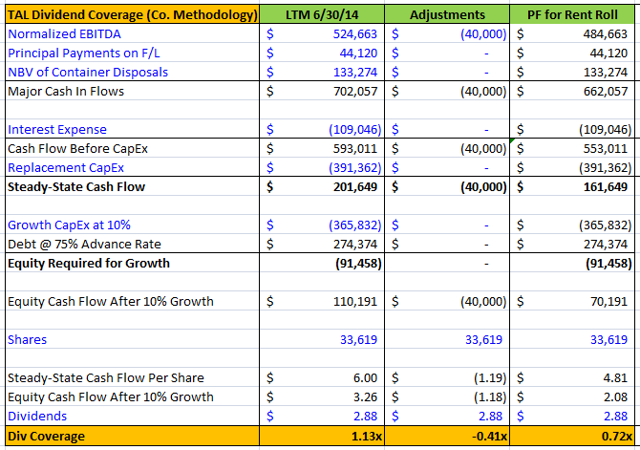 Click to enlarge
Given the visibility TAL has of these imminent problems, it's likely the company will cut the dividend before it gets to this point, particularly because there would still be further declines ahead (~$25 million using their mid-point). As such, TAL would likely needs to reset their dividend to a level that equates to 1.5x-2.0x coverage of "Equity Cash Flow", adjusted for the $40 million decline discussed above ($2.08 per share).
Using those estimates and apply a 6.25%-6.75% dividend yield implies a stock price of $18.80 per share, or a 59% decline.

Click to enlarge
Peers: Textainer Group (NYSE:TGH) & CAI International (CAP)
Disclosure: The author is short TAL.
The author wrote this article themselves, and it expresses their own opinions. The author is not receiving compensation for it. The author has no business relationship with any company whose stock is mentioned in this article.