By Chris McKhann
MGM Resorts (NYSE:MGM) pushed higher against resistance this morning but has already fallen below Friday's close, and with that comes some selling of the upside in options.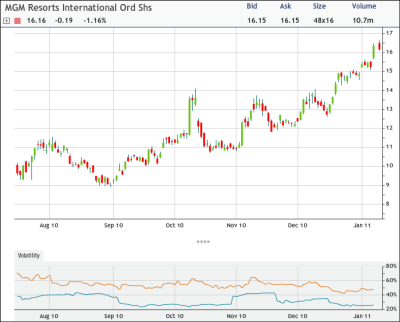 MGM trades at $16.16, down 1.16 percent after peaking at $16.65 earlier this morning. This level is just below the April highs and is resistance going back to September 2008. Shares have run up from support at $9 in late August.
This morning sees strong action in the February 17 calls, with more than 10,000 trading against open interest of 1,585. It appears to be almost entirely selling, with the largest block of 7,097 going for $0.90. That price has now fallen to $0.80 with the pullback in the stock.
The calls may have been traded against a hedged stock position, as there was some heavy activity in MGM shares in the first 10 minutes of trade. So it appears that this is a short volatility play that is looking for MGM to be range bound through that February expiration. The implied volatility is pushing higher off of 52-week lows, but there is a substantial gap over realized volatility.

Disclosure: No position