Reportedly, BHP Billiton (NYSE:BHP) will spin off a number of assets into a new company, the aptly-named NewCo. Headquartered in Perth, NewCo will list on the Australian stock exchange, as well as in Johannesburg.
Things are certainly looking positive for BHP. Recent news of restructuring has at least partly vindicated this mining company's vision and strategy. The world's largest mining corporation, BHP, has managed to do well even as world commodity prices have fallen. The company is a yet another testament to Australia's impressive culture of business innovation.
Promising Results
The numbers certainly to point to a promising future for BHP. According to the mining company's press release, its net profit for the last full year is up 23 percent over the previous year. In 2014, BP has upped its cash flow by over $8 billion. This performance was achieved through a willingness to cut costs with tenacious consistency. Boldly, BHP cut its exploration budget substantially. For a smaller company getting its feet wet, a move like this could signal short-sightedness. For an organization as mature and well-established as BHP, this move seems fairly confident and decisive.
De-Merging into NewCo
U.S businesses are famously caught up in an atmosphere that favors mergers. Interestingly, BHP is convinced it can achieve a more vibrant future through demerging assets that aren't performing well. Reportedly, BHP will spin off a number of assets into a new company, the aptly-named NewCo. Headquartered in Perth, NewCo will list on the Australian stock exchange, as well as in Johannesburg.
NewCo will take charge of businesses that simply aren't seen as essential to BHP's future. Far from a stopgap measure, the demerger is intended to refocus BHP, while also creating a new company with a fighting chance for success. Signaling the fact that it is a serious venture, NewCo will feature Graham Kerr as its first CEO. Currently BHP's chief financial executive, Kerr is an experienced manager who has earned much respect in his industry.
BHP's Streamlined Business: "Unlocking Value For Shareholders"
As NewCo forms and takes its own path, BHP will have a simpler situation and can focus on its core operations, including iron ore, copper and potash. Like many companies before it, BHP is tinkering with how it balances diversification with the deep potential that only arises from institutional focus.
BHP chief Andrew MacKenzie makes a convincing case that BHP Billiton's bold new plan could easily unlock a lot of value for shareholders. By separating its most productive businesses from thornier operations, BHP can certainly improve its financial performance with greater speed and fluency.
Risks of New Strategy
Some would argue that BHP is taking a risk with its new change in direction. Despite any risk, the company seems confident and determined to continue restructuring for greater profitability. Currently, BHP is still mulling the fate of Nickel West, BHP's nickel business based in Western Australia. Though not all of the details are filled in yet, there is plenty of potential in the broad outlines of BHP's action plan.
Further demonstrating its confident and capable posture, BHP has increased its dividend by a respectable 4 percent, bringing the dividend to $1.21 per share.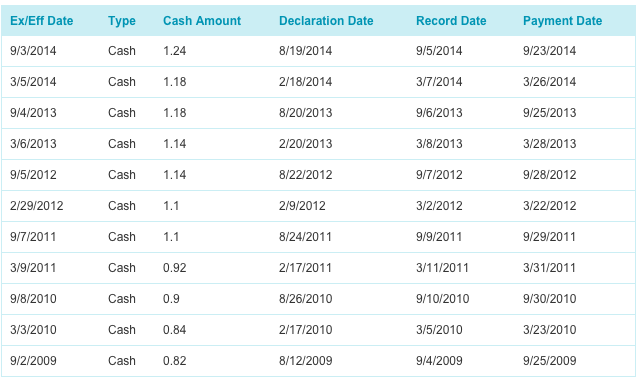 (Source)
This is in line with an ongoing trend that sees resource companies wooing investors with ever-increasing determination. Ultimately, the new face of BHP may prove fairly familiar. The company grew into a veritable behemoth when it merged with Billiton 13 years ago. That South African company brought a host of African assets to the table, including coal mines and aluminum smelting plants.
Though BHP Billiton is now reverting to a simpler structure, one can hardly blame the company for continued experimenting-making complex changes necessary to continue its profitable career.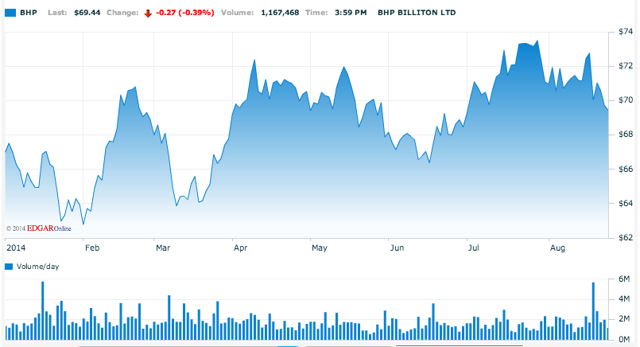 We invite readers wishing to join the discussion on BHP Billiton and the greater mining industry to click the +FOLLOW button above the title of this article-and those looking for the latest updates to click +Get real time alerts.
Disclosure: The author has no positions in any stocks mentioned, and no plans to initiate any positions within the next 72 hours.
The author wrote this article themselves, and it expresses their own opinions. The author is not receiving compensation for it (other than from Seeking Alpha). The author has no business relationship with any company whose stock is mentioned in this article.