Blackstone Backs Distressed Fund
In August of 2014, Blackstone (NYSE:BK) announced the company would a distressed Brown's Arkkan Capital Management, Ltd. The fund was started by Jason Brown, former global head of Goldman Sachs Group's (NYSE:GS) Special Situations Group.
This move is the second time Blackstone has put its influence behind an Asia-based hedge fund, signaling its confidence that 2008 global financial crisis is well over. In 2009, Blackstone backed a Hong Kong-based hedge fund, Senrigan, headed by Nick Taylor, with $150billion.
Blackstone Group (NYSE:BX) is an American private equity investment firm with multinational ties. The firm is divided into four divisions: corporate private equity, investment banking, marketable asset management, and real estate. In each of these areas, the company has shown itself to have remarkable strategies that have weathered some of the most challenging conditions of the current global economy.
Blackstone History
The firm began in 1985 as a mergers and acquisitions company, founded by Lehman Brothers alums Steven A. Schwarzman and Peter G. Peterson. Together, the two built the company into one of the world's largest private equity investment firms with offices in London, Tokyo, Paris, Dusseldorf, Beijing, Hong Kong, Mumbai and other financial capitals around the globe. With a 2012 market capitalization of $37.77 billion, the company continues to show solid growth in relation to its peers.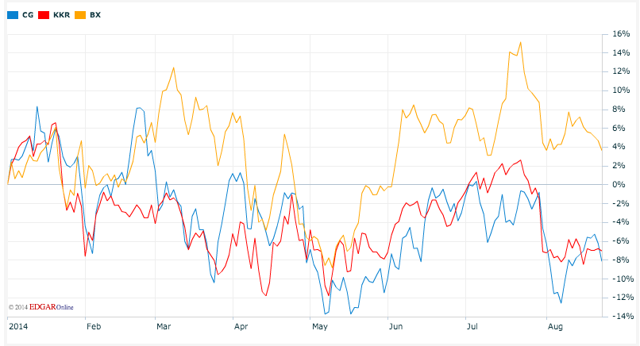 Click to enlarge
(Nasdaq.com)
Asian Interests
In recent years, Blackstone has focused a considerable amount of its attention on Asia, with the continent's growing middle class and burgeoning real estate opportunities. Earlier in 2014, Blackstone announced an $800 million investment in Asian company Tamarind Energy, a new entry in the gas and oil market on the continent. This move is in addition to the significant real estate investment Blackstone has made since 2013. It's clear that Blackstone has set a course of going where the growth is, and Asia continues to be an expanding global player on a number of fields.
Stellar Second Quarter 2014
During the second quarter investor call, Blackstone's CEO Steve Schwarzman reported Blackstone earnings at $4.3 billion over the previous 12 months, a record for any publicly listed asset manager worldwide over a 12-month period. The figure included $62 billion in gross inflows for the past year. The Global Flagship Fund alone rose $2 billion. The Asia-focused Real Estate Fund is also growing, leaving the company in a good position to continue its growth under current economic conditions for some time in the future.
Blackstone Outlook
Over the past five years, the company's stock has seen a steady upward trend. With the foresight of its top executive, the company is likely to continue its forward march toward financial growth.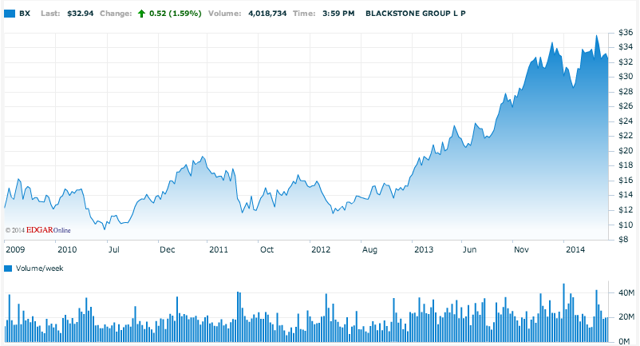 Click to enlarge
(Nasdaq.com)
We invite readers wishing to join the discussion on Blackstone and other major private equity firms to click the +FOLLOW button above the title of this article-and those looking for the latest updates to click +Get real time alerts.
Disclosure: The author has no positions in any stocks mentioned, and no plans to initiate any positions within the next 72 hours.
The author wrote this article themselves, and it expresses their own opinions. The author is not receiving compensation for it (other than from Seeking Alpha). The author has no business relationship with any company whose stock is mentioned in this article.