In a recent analytical piece, Capital Ladder Advisory Group (for which I am employed) explored some concerns surrounding the launch of the Keurig Green Mountain (NASDAQ:GMCR) Keurig 2.0 product line. In just the last weekend, consumers have been able to purchase the Keurig 2.0 at various retailers and through various e-commerce sites. Costco (NASDAQ:COST) is offering the Keurig 2.0 K560 on the firm's website for $149.99 while the world's largest retailer, Wal-Mart (NYSE:WMT) is offering a limited time promotion for the Keurig 2.0 K300 for $119.99 as shown in the photograph below.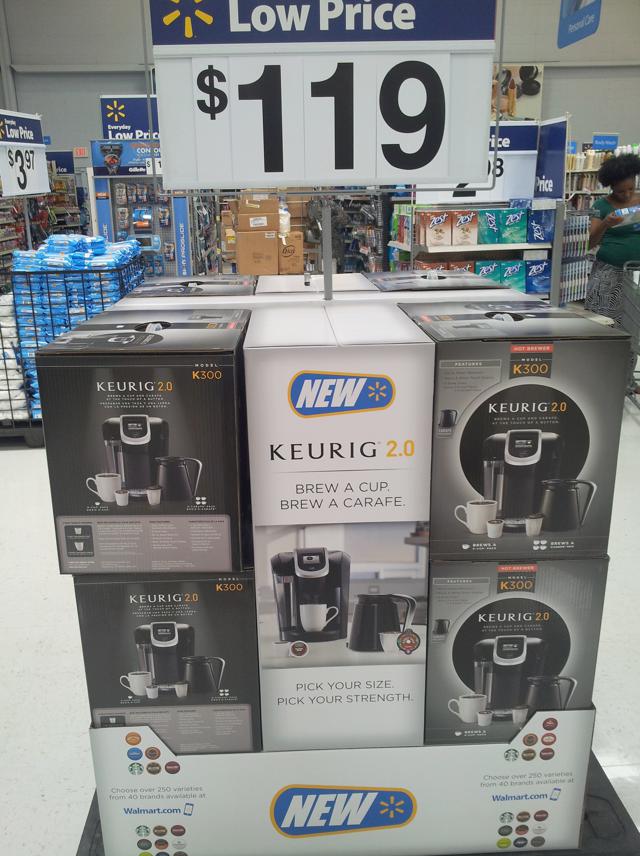 Over the last 6 weeks, Capital Ladder has been tracking the Bill of Lading (BOL) from 2 key distribution partners for Keurig Green Mountain in the United States. It does appear, based on the numerous BOLs we've been privy to, the sell-in for the Keurig 2.0 machines was rather strong over the last 30 days as main distribution centers for various retailers accepted receipts of the product line. We gauge the strength of these receipts with YOY inventory comparisons for Keurig brewers. Moreover, as only a few retailers are currently selling the Keurig 2.0 brewer in brick and mortar stores presently, BOL receipt tracking indicates that several other retailers are currently shipping the brewers, including Bed Bath & Beyond (NASDAQ:BBBY) and Target (NYSE:TGT) to their retail stores as we speak. Investors should recognize that as far as sales and earnings are concerned for Keurig Green Mountain, the company only reports sell-in results, but gives color as to how well or poorly the sell-through (customer take-away) is doing on quarterly conference calls as needed.
In a previous article, "The Keurig 2.0 Comes With A Bevy Of Risks For Keurig Green Mountain", I highlighted some key concerns and risks with the Keurig 2.0 product line. I laid these concerns out as follows:
Impending margin impact
The closed system format of the product line
Cost increase per unit to consumer
Total functionality of the Keurig 2.0.
For each risk surrounding this product launch and innovation cycle I detailed some key points and emphasized the possible impact they could have on Keurig Green Mountain. While this may be a warranted analytical exercise for investors to consider, none of the aforementioned points of emphasis resonated more fervently, since the product began actual sales, than the closed format of the brewer system.
Keurig gave investors a substantial peek into consumer sentiment regarding the Keurig 2.0 product on its Facebook and Twitter pages as hundreds of fans and detractors made comments on the product. There were dozens of individuals who disliked the closed system and being forced to use Keurig licensed K-cups. There were also dozens of individuals who appreciated the new, sleek design and additional carafe function. There were dozens of individuals who indicated they intend to upgrade to the Keurig 2.0 from the Keurig 1.0 brewers. Lastly, but not least, there were dozens who did not like the understanding of the price increase for the brewers and impending price increase for K-cups. To put it more succinctly, it hasn't been since the Vue product launch that I had seen so many comments directed onto the Keurig Facebook page. Additionally, it has been equally as long since I have seen the amount of negative comments directed at a Keurig product and product strategy.
Investors should not encapsulate a weekend's worth of product sales and consumer comments into a conclusive investment decision; that would be the worst thing to do in my opinion. Having said that, I would continue to monitor channel sales data and these comments as the quarter develops. Another avenue/source for which investors can consider finding consumer sentiment and comments would be through product reviews on QVC, Amazon (NASDAQ:AMZN) or Wayfair.com. In the past, I mentioned that consumers would possibly be disenfranchised by the closed system format. QVC displays this concern in the question portion of the Keurig 2.0 K300 product page where a consumer asked this very question: "With this new 2.0 coffee maker can I still use my own brand of coffee with k-cups"?
As sales continue to develop over the coming months, retailers like Target, Kohl's, Sam's Club, Meijer etc. will all have product reviews as well. For now though, if we take a snap shot of the most current Keurig 2.0 product reviews via amazon.com we come to see that with 10 product reviews performed as of 8/27/14, the Keurig 2.0 rates below average and carries 2.5 stars. We certainly expect these results to improve as more and more consumers write more reviews and if they find the product favorable.
On another note, as it pertains to Keurig Green Mountain's most recent product initiatives, the Keurig Rivo continues to see sequential sales declines. Most recently, retailers have initiated a new pricing strategy for the product line that includes a price reduction from $229.99 down to $199.99. Amazon, the low price leader it aims to be, has discounted the Keurig Rivo down to $194.99 and recently included the product in an upcoming "flash sale" event to be announced. Investors should recognize the Keurig Rivo is a niche product in a specialty appliance category and doesn't amount to any significant portion of annual sales for Keurig Green Mountain. For the most part, Keurig behaves in a distributor manner for the Keurig Rivo that was co-developed and produced by Luigi Lavazza.
In conclusion, the biggest takeaway is that concerns surrounding the Keurig 2.0, the closed system format, the pricing increases and overall functionality of the brewer system remain valid. In the coming months, investors will have an opportunity to review larger sample sets of data for which to draw better conclusions with regards to future investing decisions in shares of GMCR.
Disclosure: The author is long BBBY.
The author wrote this article themselves, and it expresses their own opinions. The author is not receiving compensation for it (other than from Seeking Alpha). The author has no business relationship with any company whose stock is mentioned in this article.
Additional disclosure: With respect to the recent appreciation in GMCR share price, I took the opportunity to short shares at $136.50. This position has since been covered prior to the publication of this report. I am long BBBY through stock grants dating back to 2003 in an inactive portfolio.