Markets are behaving in odd ways these days, with bond and equity prices elevated and foreign bond yields moving below US yields in countries which are not nearly as safe for capital. Granted, we have seen a flock to safety with recent geopolitical events but it is a bit troubling with the way the rate environment has played out. We continue to watch the US Dollar Index, even though it failed to move through the 82.75 level and towards 83 and there is more on that in the Chart of the Day section.
While talks between Ukraine and Russia continue we would expect little in regards to rhetoric from the West, but if those talks end with little to nothing accomplished paired with a Russian offensive into Ukraine's southeastern territory then we would not be surprised for the West to find this an unacceptable result. If this is how talks are to end, then expect the West to increase sanctions and potentially begin to saber rattle under the banner of NATO. Russia has shown that they are not afraid to butt heads with major players on an individual basis, however when NATO is on the other side of negotiations Russia gets a bit squirrelly and is usually more open to diplomatic overtures. This will be something to watch over the next week.
Chart of the Day:
We are watching the US Dollar Index intently as it might be set to consolidate recent gains before heading higher. A move higher creates a more difficult environment for commodity producers, but it also shows the relative strength in the US economy versus others. One can only hope for a 'Goldilocks scenario'; a scenario where the rise in the dollar does not outpace the economic gains made.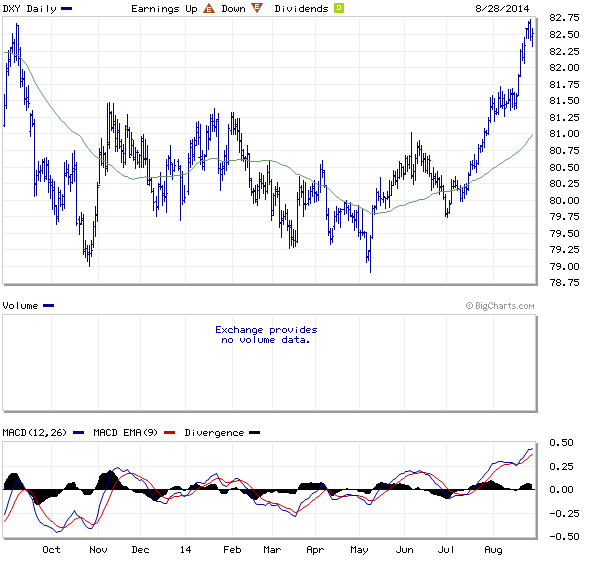 Source: BigCharts
Commodity prices are as follows (at time of submission):
Gold: $1,290.90/ounce, up by $7.50/ounce
Silver: $19.545/ounce, up by $0.14/ounce
Oil: $94.50/barrel, up by $0.62/barrel
RBOB Gas: $2.7548/gallon, up by $0.0089/gallon
Natural Gas: $4.024/MMbtu, up by $0.021/MMbtu
Copper: $3.1255/pound, down by $0.0525/pound
Platinum: $1,427.80/ounce, up by $7.90/ounce
Momentum In Energy Stocks
Yesterday we had a friend ask us what happened to all of the momentum in the energy sector, going on to state that they thought that the market was rotating out of energy stocks and that one might have to wait before the market delivered fresh 52-week highs for names in the sector. The friend is not too far off base with the recent performance of energy stocks, however it is rare that everyone is a loser in the market. We pointed out to this individual that they needed to look no further than two names with energy exposure; US Silica Holdings (NYSE:SLCA) and Cheniere Energy (NYSEMKT:LNG).
Both of those companies' shares were hitting fresh 52-week highs yesterday, and actually hit new highs again today in early trading. While energy prices have been falling as supplies continue to pile up in North America, the shale boom has continued to require vast amounts of sand from US Silica and their competitors. In fact, if one looks at the other companies that supply sand for fracking, both of those companies are also doing well. Emerge Energy Services, LP (NYSE:EMES) hit fresh 52-week highs this morning and Hi-Crush Partners, LP (NYSE:HCLP) is not that far from its yearly highs.
Sometimes one has to venture outside of the obvious options for their portfolio and the current market requires this for energy stocks.
A Falling Hawk?
In another conversation we had yesterday we were asked about how we were treating Halcon Resources (NYSE:HK) which has corrected significantly after seeing a sharp rise in the price of its shares from March to July. The simple answer is that we are still long, attributing much of the recent weakness to the market and profit taking after a strong quarter where the only thing investors could complain about was exploration efforts in the Tuscaloosa Marine Shale, or TMS.
From a short-term perspective we would not be concerned about Halcon so long as it can remain above the $5.50/share level. If it breaks below that level and heads to $5/share, then we would start to worry. Readers need to remember that this is still an event driven stock and should take a long-term view when buying shares.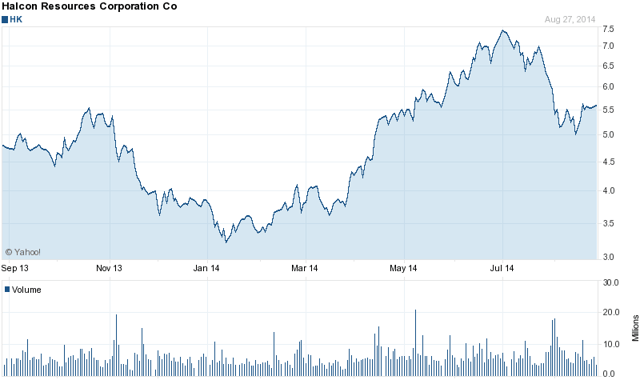 Source: Yahoo Finance
Sticking with Goodrich Petroleum (GDP) paid off for investors as that company finally cracked the TMS geology and have had success in placing wells while also driving down the cost per well in the process. The same shall happen with Halcon Resources, a company which has experience developing plays and has a team with experience successfully developing projects in different types of rock. Long-term we are still bullish and think that if the company can show success in the TMS in the next quarter or two that the shares could approach $10/share.
Disclosure: The author is long HK.
The author wrote this article themselves, and it expresses their own opinions. The author is not receiving compensation for it (other than from Seeking Alpha). The author has no business relationship with any company whose stock is mentioned in this article.