Acquisitions and partnerships have been extremely important in the growth of 3D Systems (NYSE:DDD) - the company has been able to complement its organic growth with acquisitions and partnerships. These acquisitions have later played a role in maintaining a healthy organic growth rate for the company, which has made it one of the most attractive and rapidly growing companies in the sector. Most of these acquisitions have created value for 3D Systems in terms of profitability and product portfolio expansion. The company is continuing with its strategy, and it has made further strategic alliances which are likely to expand its reach.
One of the most important developments is the use of 3-D printing technology by Department of Defense. 3D Systems' SLS and Direct Metal printing will be used for some war games and rapid response units. The company will be assisting the Department of Defense in development and repair of Warfare equipment. Under this partnership, 3D Systems will be working with the Department of Defense to design and print components used in T-Hawk™ MAV unmanned micro air-vehicle and Joint Strike Fighter.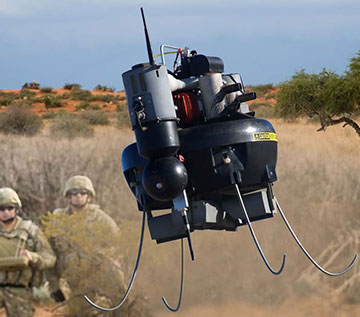 Source is linked above
3D Systems will initially be providing the Marine Corps with 3-D printing, inspection technology and scanning for its Annual U.S. Marine Corps Expeditionary Logistics Wargame. This event is used to reflect the current logistics response capabilities and to figure out new ways to enhance it. All the new technologies are used in the prototypes presented which are implemented in simulated operations in order to test endurance and viability. The T-Hawk and Joint Strike Fighter are both extremely light-weight machines, which gives them a number of advantages. However, being light-weight also makes them vulnerable to damage.
This year, the engineers are required to use 3D Systems scanning and metal printing technology to repair the damaged equipment on site in minimal time period. The engineers will be using Geomagic Capture systems of the company, which is basically a 3D Scanner. Using it, teams will repair a multipurpose robot which has been used for getting rid of obstacles and debris in an area to make room for a helicopter to land. Using the Geomatic Capture System, engineers can precisely scan the damaged parts of the robot and develop thorough CAD models to produce a duplicate part using selective laser sintering, fab-grade and direct metal printing technologies of 3D Systems.
Although the project is in its initial testing phase, this particular application of 3D printing will likely result in opening another dimension for the sector. The importance of 3-D printing for military and defense purposes will be high because when a military operation is in process, the damaged components of key equipment need to be shipped quickly for repair. In many cases, the whole equipment needs replacing due to limited resources and time. This results in increased cost. Most importantly, time of shipping is the main concern in such operations. Having thorough 3D scanning and precise 3D printing could increase the efficiency.
At the moment, it is difficult to determine the economic potential of the opportunity to a certainty as the 3-D printing equipment is currently in the testing phases for Department of Defense - however, the new segment can be worth billions of dollars as the military spending is escalating. The image below shows the military spending by ten countries.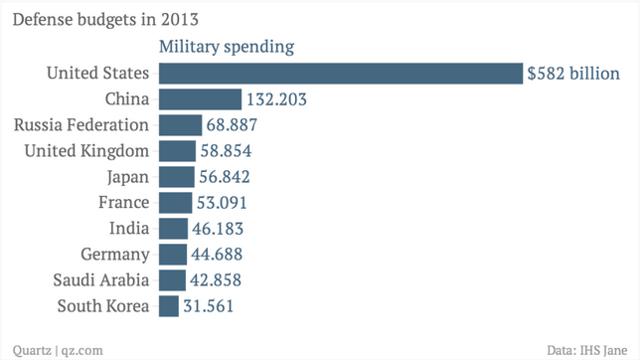 Source
These ten nations spent over a trillion dollars during the last year on defense. Most of the spending is usually done on the purchase of equipment and salaries - however, as war games are an important part of the overall military strategy of a nation, the spending on these war games is also substantial. As we mentioned above, the advantage of 3-D printing will be in terms of efficiency - the ability to repair the equipment on site and print the needed parts will be hugely important for these war games. It will allow the war games to go on without any delay. Furthermore, if the technology is feasible in the war games; it will also result in playing a vital role in the real operations and battles. Even if the 3-D printing industry is able to take about 0.5% from the overall global spending on defense; I believe it will be a massive opportunity for the sector.
Another example is XStat, which is a syringe that stops bleeding from a bullet would within 15 seconds so that the medical attention can be delayed until the victim reaches a medical facility. It is now being used in warfare to save many lives. The use of 3-D printing in war games and real warfare can result in increasing the efficiency of operations.
Bottom Line
The 3-D Printing industry is still in the early stages and we are seeing more avenues open for the industry. Defense industry can be a massive addition to the 3-D printing industry's target market as the global defense spending is huge. Even on a smaller scale, the application of the technology can result in a considerable increase in revenues for these companies. 3D Systems has an advantage with this recent partnership with the Department of Defense as the success of this experiment will put 3D Systems in pole position to gain business from the Department of Defense. Furthermore, 3D Systems recently opened a 22,000 square feet software development facility and innovation center. This place will support the company's Geomagic software products. Research and development will continue to be a major expenditure for these companies and 3D Systems' commitment shows that the company does not intend to sit on its hands.
Additional Disclosure: This article is for educational purposes only and it should not be taken as an investment recommendation. Investing in stock markets involves a number of risks and readers/investors are encouraged to do their own due diligence and familiarize themselves with the risks involved.
You can subscribe for real time alerts by clicking on the button at the bottom of this article, and you can also follow us on twitter here: twitter.com/IAEResearch
Disclosure: The author has no positions in any stocks mentioned, and no plans to initiate any positions within the next 72 hours.
The author wrote this article themselves, and it expresses their own opinions. The author is not receiving compensation for it (other than from Seeking Alpha). The author has no business relationship with any company whose stock is mentioned in this article.