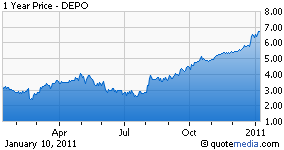 Depomed (NASDAQ:DEPO) – based in Menlo Park, California, engages in the development of enhanced pharmaceuticals to improve the efficacy, convenience, and safety of existing treatments. Utilizing their proprietary AcuForm technology, the company aims to leverage this platform to provide enhanced therapeutics. Essentially, the company attaches its proprietary polymer to the drug which allows it to remain in the GI tract longer than before, thereby slowly releasing the compound into the bloodstream. As a result of the smoother delivery, side effects are reduced, efficacy is improved, and the dosage frequency is lowered. Consequently, DEPO targets well-established, orally available drugs with large patient populations that currently suffer from nasty side effects, and inconvenient dosing (multiple times per day).
Attention is currently focused on the drug candidate DM-1796 which has been submitted to the FDA for approval and currently has a PDUFA date of 1/30/11. DM-1796 is an extended release formulation of the FDA-approved immediate release pharmaceutical gabapentin for the treatment of partial epilepsy and management of postherpetic neuralgia (PHN). PHN is caused by nerve damage after affliction with shingles (herpes zoster virus) and affects approximately one in five patients diagnosed with shingles (~ 150,000 individuals) in the US. The incidence of PHN increases in elderly patients, with 75 percent of those over 70 years old who have shingles developing PHN. The phase III data was very promising, with pain reduction scores similar to the competition (neurontin, lyrica) but with a vastly improved tolerability profile. Therefore we view FDA approval as likely. For a lively discussion of DEPO and potential approval risks arising from some of the phase III data see this discussion. Due to the vast improvement in side effects, we believe that DM-1796 has the potential to gain significant market share and with its licensing partner, Abbot Laboratories (NYSE:ABT), potential sales in the hundreds of millions are within the realm of possibility.
Potential milestone payments to DEPO from Abbott include 35 mm for US approval, and an additional payment of up to 25 mm depending on the labeling. In addition, DEPO will receive between 14% and 20% royalty payments in North America. No agreement has been reached for outside North America, but we expect that in the near term a partner will be lined up for ex-North American distribution (most likely Abbot).
To date, the company has two products currently on the market: Glumetza and ProquinXR. Glumetza, an extended release formulation of metformin used in the treatment of type II diabetes, is by far the larger of the two by revenue, accounting for approximately 9-12 mm a quarter. ProquinXR is an extended release formulation of the antibiotic Ciprofloxacin, and current quarterly revenue is a relatively insignificant < 1 mm. A lot of attention has recently been focused on the supply interruption of the 500 mg Glumetza (1000 mg remained uninterrupted), however that issue has been recently resolved and doesn't appear to have hurt the company's bottom line. Furthermore, due to the improved tolerability profile of Glumetza over immediate release metformin formulations, we believe Glumetza will continue to make gains in the type II diabetes market, aided by the full-court press of Santarus (marketing partner in the US).
Pipeline: While the main candidate, DM-1796, has been submitted for FDA approval, the pipeline currently consists of various stage compounds. Notably, Serada is undergoing a new, revised phase III trial (BREEZE-3), with the results expected later in 2011. While we view Serada's potential market (menopausal hot-flashes) positively, given that hormone replacement therapy has fallen out of favor, DEPO has encountered placebo response issues in previous trials (will be discussed in subsequent articles). Further down the road, the company has several candidates in phase I trials relating to extended release formulations of Levodopa/Carbidopa for Parkinsons, and Prilosec for acid reflux.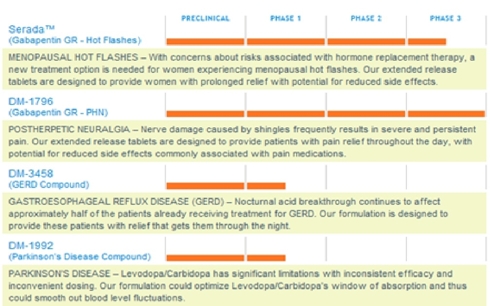 (Click to enlarge)
Fundamentals and Financial Position: Unlike many of the companies we cover, DEPO already has a (relatively) stable revenue source from sales of Glumetza. In addition, the company engages in the licensing of its technologies to larger pharmaceutical players. With potential milestone payments from Abbott upon the expected approval of DM-1796 (35 to 70 mm), and continued sales of Glumetza, we expect the company to be profitable in 2011. Further, but less probable profit engines include licensing of Serada (currently exclusively owned by DEPO) and licensing of additional formulations (similar to previous Merck (NYSE:MRK), J&J (NYSE:JNJ), and Covidian (COV) deals).
The company's financial position is currently strong with approximately 76 mm in cash and securities on the balance sheet at the end of q3. Even with unforeseen delays in approval of DM-1796, the company's operating expenses of approximately 18-19 mm a quarter imply that DEPO can survive well into 2011 without dilution.
Insider Transactions: Neutral. No transactions reported in 2010. (Insider ownership is 7%)
Analyst Opinion: 2 strong buy rating, 1 buy rating.
Other Concerns: According to the most recent 10-q, in 2009 DEPO initiated a lawsuit in district court against Lupin for infringement of patents related to Glumetza, regarding their intent to market 500mg and 1000mg generic versions. Additionally, in 2007 DEPO initiated a lawsuit in Canada against Apotex, regarding their intent to market generic versions of Glumetza as well. Adverse outcomes in these cases could seriously weaken their intellectual property. (In the spirit of full disclosure, I have only limited knowledge of patent prosecution so I can't really comment intelligently on these cases, so if anyone has some insight, please share!)
Conclusion and Future Directions: In the long term, we have a favorable opinion of DEPO's proprietary technology and believe that current blockbusters coming off patent will be a source of growth for DEPO. Furthermore, we view the commercial success of Glumetza favorably and believe it will continue to gain market share, providing a stable revenue source. In the short term however, given the impressive run-up over the last 6 months we believe the market is correctly anticipating FDA approval of DM-1796 and would recommend adding to positions on dips.
Disclosure: No position