Note: The stock is not an active trader in the US. It trades approximately US$ 24.82 million a day on the Oslo Stock Exchange (DNO NO; ISIN: N00003921009).
DNO International ASA (OTCPK:DTNOY) is an international exploration and production company engaged in the acquisition, exploration, development and operations of oil and gas properties. DNO is a public limited company incorporated and located in Norway and its shares are listed on the Oslo Stock Exchange, ensuring reliable investor protections (financial reporting and trading). The groups operating activities are mainly in the Middle East and Africa, including Kurdistan Region of Iraq (Iraqi-Kurdistan), Oman, Yemen, UAE, Tunisia, Somaliland and others.
Operations in Iraqi-Kurdistan account for 92% of reserves & resources. DNO's assets in Iraqi-Kurdistan have high quality fields (Tawke single well flow rate of 25,000-32,500; extraction cost as low as $2 per barrel) and are located close to pipeline infrastructure.
DNO is an owner-operated company; its Chairman, Bijan Mossavar-Rahmani, is also its largest shareholder, owning 43% of the outstanding shares. Mossavar-Rahmani is a graduate of Princeton (AB) and Harvard Universities (MPA). He also serves on the Visiting Committee of the Harvard University John F. Kennedy School of Government, as well as on the Board of Trustees of the New York Metropolitan Museum of Art.
The Kurdistan region of Iraq
Iraqi-Kurdistan is an autonomous region in Northern Iraq bordering Iran to the east, Turkey to the north, Syria to the west and the rest of Iraq to the south. The green section of the map below shows the location of Iraqi-Kurdistan, which along with adjoining areas in Syria, Turkey and Iran has a majority Kurdish population. After years of violence, Iraqi forces left Iraqi-Kurdistan in October 1991. The region is officially governed by the Kurdistan Regional Government (KRG). The KRG estimates untapped resources may total 45 billion barrels of oil, more than all remaining reserves in the US. Iraqi Kurdish President Massoud Barzani's administration says output may jump from 400,000 barrels a day in 2014 to 1 million barrels a day next year, and twice that much by 2019.
Iraqi-Kurdistan is in dispute with the federal Iraqi government based in Baghdad on issues of territorial control, export of oil and budget distribution. In 2014, the situation has reached a boiling point with the federal government stopping payments to Iraqi-Kurdistan and Iraqi-Kurdistan directly exporting oil via Turkey. The federal government in Baghdad, responsible under the Iraqi constitution for managing oil shipments and revenues, has tried to block Iraqi-Kurdistan from exporting oil on its own. This is the primary reason that Iraqi-Kurdistan oil is sold at a ~30% discount to the price of similar oil in the world market.
DNO was the first international oil company to start exploration in Iraqi-Kurdistan, when it started operations in 2004. DNO has a participating/working interest in three licenses: Tawke Production Sharing Contract (NASDAQ:PSC), Dohuk PSC and Erbil PSC. DNO is the operator in all three licenses and has a participating interest of 55%, 40% and 40% respectively.
DNO's total 2P reserves and 2C contingent resources on a company working interest (CWI) basis, as at December 31, 2013, were 641.3 million barrels of oil equivalent (mmboe), with 590.8 mmboe (92%) from its operations in Iraqi-Kurdistan.
DNO's oil fields in Iraqi-Kurdistan, on CWI basis, produced 71,215 barrels of oil per day (bopd) in the second quarter of 2014 (2Q2014), up from 24,682 bopd in 2Q2013. DNO is targeting wellhead, facilities and pipeline capacity of 200,000 bopd (110,000 bopd on a CWI basis) in 2014.
DNO's most valuable asset is its 55% participating interest in the Tawke license, which accounts for ~84% of its total reserves in Iraqi-Kurdistan. The Tawke field produces heavier crude (API ~27 degrees) than the Brent blend (API ~38 degrees); the heavier the crude the lower the API and the wider the discount it sells at relative to Brent prices. Oil from Canadian Oil Sands have an API of 6-12 degrees and currently, West Canada Select prices are at a ~15% discount to West Texas Intermediate prices. DNO is also the operator of the Tawke license. Genel Energy (OTCPK:GEGYF) (Devon Shire has a good Seeking Alpha article on Genel - click here)and KRG have a 25% and 20% participating interest in the Tawke license. The Tawke license contains the producing Tawke field and the Peshkabir field/structure still to be appraised. DNO's Tawke production wells have historically achieved very attractive flow rates of 25,000-32,500 bopd, however, two recent wells in the eastern section have been relatively disappointing. As a reference, just 4.9% of all wells in the most productive part of the US Bakken have a flow rate of more than 3,000 bopd. Extraction costs at the Tawke field are estimated to be as low as $2 a barrel, which was in line with 2Q2014.
As seen in the map below, the Tawke field is located at a very attractive location, in the context of regional pipeline infrastructure. The field is close to the Iraqi city of Fish Khabur, which is the key transit point into the Turkish pipeline that links to the Turkish port city of Ceyhan in the Mediterranean Sea. The new pipeline (in green) links the Tawke field with the pipeline infrastructure at Fish Khabur.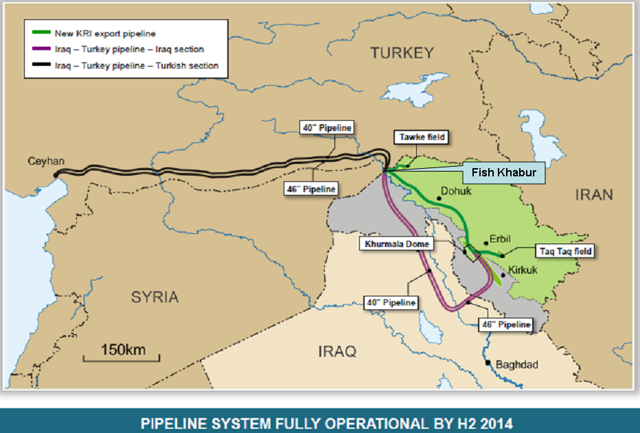 The other two licenses in Iraqi-Kurdistan, Dohuk PSC and Erbil PSC are also located along the new Iraqi-Kurdistan pipeline. The Dohuk license contains the Summail gas field with appraised heavy oil below. The Erbil license contains the Benenan and Bastora fields.
Iraqi-Kurdistan oil is sold at a significant discount to world prices: this gap will narrow faster than anticipated
As detailed earlier, the dispute between Iraqi-Kurdistan and the federal government in Baghdad is the primary reason that Iraqi-Kurdistan oil is sold at a ~30% discount to the price of similar oil in the world market; given that Tawke oil is heavier than Brent oil, it should trade at ~15% discount, however, it currently trades at a ~40% discount.
A recent US Court ruling, while not a final resolution, is a significant positive for Iraqi-Kurdistan and DNO. A U.S. district judge in Houston ruled that the semi-autonomous Kurdistan Regional Government can take 1 million barrels of crude ashore in Texas even though Iraq's central government claims ownership of it.
The dramatic and rapid success of Islamic State (IS) fighters has both increased short term risk for DNO and accelerated the ability of Iraqi-Kurdistan (and DNO) to export oil in the world market in significantly greater quantities and at prices comparable to similar oil. To reverse the gains of IS fighters, many of whom have passports of European countries, there has been a global move (US, many European countries, Iran and others) to provide the Iraqi-Kurdish government with military equipment. The Iraqi-Kurdish government has already had success in reversing some of the gains that IS fighters have made. It is highly likely that global governments will also directly and indirectly ensure that the Iraqi-Kurdish government can quickly monetize their prolific oil fields to fund the war effort, which is likely to be long and expensive.
The Iraqi-Kurdistan government and its military force (Pershmerga) have been allies of the West for decades (actively from the time of the first Gulf War in 1990-91). They have a reputation of being more organized and cohesive, especially in contrast to the Iraqi government, which is dysfunctional and unreliable due to the Shia-Sunni clash and Iranian influence. Now that the Kurdish government will get significant weapons and training, they are likely to become even more autonomous (and separate from the central government in Iraq) and accelerate the development of oil fields and pipeline infrastructure (under Iraqi-Kurdish control) into Turkey, which, as detailed below, is a critical partner for Iraqi-Kurdistan.
Turkey is playing a critical role
As detailed in the map above, pipeline infrastructure from Fish Khabur, Iraq to the Turkish port city of Ceyhan is the only way that oil from Iraqi-Kurdistan can be exported economically to world markets.
Iraqi-Kurdistan and Turkey have had a long and troubled history due to the 30-year conflict between the Kurdish population in Turkey (represented by the Kurdistan Workers Party or PKK) and the central government in Turkey. The PKK, which is listed as a terrorist organization by the EU, the US and other countries, uses Iraqi-Kurdistan as its base, creating a difficult relationship between the governments of Iraqi-Kurdistan and Turkey.
With the 2013 ceasefire between the Turkish government and the PKK, withdrawal of PKK fighters from Turkey and the 2014 Presidential election in Turkey (won by Recep Tayyip Erdoğan, who is in favor of a peaceful settlement with the PKK), the head of the PKK (Abdullah Öcalan) said this month that "this 30-year war is -- through a major democratic negotiation -- at the stage of coming to an end" .
Turkey is energy starved and Iraqi-Kurdistan needs a conduit to export its oil. With the PKK conflict nearing an end, Turkey and Iraqi-Kurdistan signed a multi-billion dollar energy package in November 2013. Turkey would get reliable access to a large amount of oil and gas energy at favorable prices and Iraqi-Kurdistan would get Turkish support for critical pipeline infrastructure to transport Iraqi-Kurdistan oil and gas to global markets. Turkey, under Erdogan has actively supported the sale of oil from Iraqi-Kurdistan, ignoring strong protests by the federal government of Iraq. The latest news is that the Turkish government and the Iraqi-Kurdistan government are working to at least double the capacity of a pipeline that allows Iraqi-Kurdistan to export crude oil, Turkish Energy minister Taner Yildiz said.
DNO will be a direct beneficiary of Iraqi-Kurdish oil getting easy access to world markets.
Valuation
Since current production and sales are not representative of production and sales over the life of DNO's resources, KL's valuation is focused on a multiple of reserves.
Relevant data:
Exchange rate (price of 1 USD in Norwegian Krone (NOK): 6.17
Current stock price: NOK 18.95
Number of shares outstanding: 1,023 million
Net cash: US$ 19 million
2P developed assets and assets under development: 541.9 mmboe (this is different from and lower than the total 2P reserves and 2C contingent resources 641.3 mmboe)
Enterprise value / 2P Reserves (EV/Reserves): The average for 24 companies largely operating in low regulatory and security risk environments: US$26 (range of US$12 to US$53; depending on attractiveness of the production sharing contract, expected growth, extraction costs, transportation costs, quality of oil etc)
Upside: Risk adjusted NOK 40.63 (+114%); Un-risked NOK 85.21 (+350%)
Assuming that the assets were located in a low geo-political risk area, it would be conservative to say that the reserves would be valued at US$26 per boe (the average of a large basket of "clean" companies). It would be conservative given the prolific flow-rate, the extremely cheap extraction cost and the significant potential for growth in 2p reserves from further exploration in this very fertile field. At US$26 per boe, DNO would be valued at NOK 85.21 per share (+350% from the current price)
To adjust for the risks detailed in this note, we have used a 28% pa. discount rate for 3 years. This is a subjective risk-adjustment due to the unique and volatile nature of the situation in Iraqi-Kurdistan (this results in a 52% risk-discount)
It is not unreasonable to say that DNO would trade at higher than the average EV/Reserves multiple given the quality and growth potential of the reserves. In this case, KL's NOK 40.63 upside would be conservative.
There are 26 analysts covering DNO. 14 (54%) have a buy recommendation, 5 (19%) have a sell recommendation and 7 (27%) have a hold recommendation. The average, median, low and high targets are NOK 24.84, NOK 25, NOK 14 and NOK 30.
Downside: NOK 9.93 (-48%)
If any one or more of the risks (flare up in the Turkey-PKK conflict, central Iraqi government conflict, IS fighters getting control of any of the oil fields/ oil field infrastructure etc) materialize, the stock would justifiable trade at an ultra-deep discount of US$3 per boe.
Risks
Delay in selling oil in international markets at market prices or delay getting cash due to a flare up in the Turkey-PKK conflict, central Iraqi government conflict, IS fighters getting control of any of the oil fields/ oil field infrastructure etc may cause a cash flow problems for DNO.
Conclusion
DNO's operations in Iraqi-Kurdistan have high geo-political risk, but the risk-adjusted upside (114%+) is very attractive. DNO has a 55% interest in a very high quality oil field that is located close to Turkish pipeline infrastructure. Potential resolution of the Turkey-PKK conflict is a game changer. While the dramatic and rapid gain of Islamic State fighters has increased short term risk, it has also accelerated the long term opportunities for DNO. Low risk exploration assets in a high risk area should not be valued worse than high risk exploration assets in a low risk area.
Disclosure: The author is long DTNOY, GEGYF.
The author wrote this article themselves, and it expresses their own opinions. The author is not receiving compensation for it. The author has no business relationship with any company whose stock is mentioned in this article.
Additional disclosure: KL Investment Partners may change or exit its position (buy or sell shares) without updating this article and without informing the Seeking Alpha community. KL's articles, blogs and comments are not an offer to sell or a solicitation of offers to buy any securities. Securities of the Fund are offered to selected investors only by means of a complete offering memorandum and related subscription materials. There is the possibility of loss and all investment involves risk including the loss of principal.
Editor's Note: This article discusses one or more securities that do not trade on a major U.S. exchange. Please be aware of the risks associated with these stocks.