Workday (NYSE:WDAY) is the fastest growing public SaaS company today. Workday shares, together with those of leading SaaS companies, have sold off heavily this year mainly due to valuation concerns. Workday shares sport a price-to-sales ratio of about 30, compared to 9.3 for Cornerstone OnDemand and 13.9 for NetSuite.
| | | |
| --- | --- | --- |
| Company | Revenue (millions of dollars) | % Revenue Growth |
| Workday | 468.9 | 71% |
| Oracle | 1,100 | 24% |
| NetSuite | 414.5 | 34% |
| Cornerstone OnDemand | 185.1 | 57% |
| Salesforce | 4,070 | 33% |
|   |   |   |
Despite its stratospheric valuation, Workday is a good long-term investment. Given its robust revenue growth, it will only take about 6 quarters for the valuation to be in line with its peers in the industry, assuming the price remains unchanged over that period of time.
High marketing expenses
A major characteristic of many SaaS companies is that most sport unusually high marketing expenses as a percentage of revenue, which makes it hard for them to turn a profit. Splunk's sales and marketing expenses currently sit north of 70% of its revenue, Salesforce's clocks in at 53%, while Workday's comes in at 42% of revenue.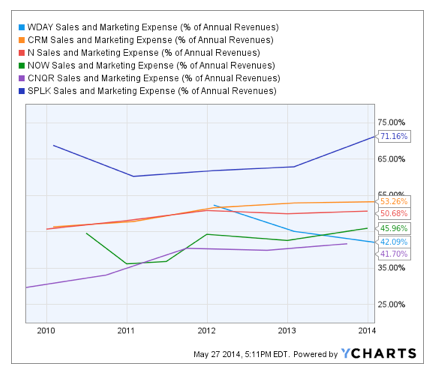 Major difference between SaaS and traditional software companies
The core business models of traditional software companies such as SAP and Oracle centers around selling a perpetual license for their software, and then selling upgrades later. Customers pay a license fee upfront, and a recurring maintenance fee about once every year (roughly 15%-20% of the license fee). Traditional software companies are lucky because the timing of their revenue inflows and expenses tend to be almost perfectly aligned. SaaS companies like Workday are not so lucky. SaaS customers ''rent'' their software since they sign up to use it on an ongoing basis and pay as they go. Revenue for a SaaS company comes in gradually as the months roll on. Yet the company incurs all costs, especially customer acquisition costs, upfront. Thus the timing of income and expenses tends to be misaligned. Bearing this in mind, to get a more accurate idea of Workday's true state of business, we would have to look at its deferred income. A good proxy that we can use here is the company's billings, which is usually calculated by taking the revenue of one quarter and then adding the change in deferred revenue between the current quarter and the previous quarter. Workday invoices customers for cloud application contracts using annual and multi-annual installments.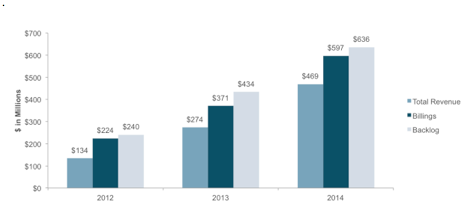 Source: Workday 10-Ks
In the current fiscal year, Workday billings exceed revenue by $128 million. Workday's billings in fiscal 2014 have been growing at a healthy pace of approximately 60%. This suggests that the company still has plenty of growth potential as it continues to win even more market share. That is perhaps the biggest reason why investors are willing to pay a big premium for the shares.
Spending heavily on sales and marketing expenses
SaaS companies such spend heavily on sales and marketing, as well as customer management functions because they know once a SaaS company has generated enough cash from its installed customer base to cover the cost of acquiring new customers, these customers tend to stay for long. SaaS businesses are sticky by nature because customers essentially outsource running of the software to the vendors which makes it easy to model and very likely to yield high cash flows.
Once a SaaS business matures and all the costs of customer acquisitions were incurred upfront and charged to the balance sheet long ago, the company can now sit back comfortably and harvest most of the incoming cash flow as profits.
To get an idea of how much Workdays spends on customer acquisition costs, we take its quarterly sales and marketing expenses and divide it by the number of customers it acquired during the quarter.
We also need to know the quality of customers that the company is getting onboard because the higher the customer quality, the more money that the company can earn from them. The amount of revenue that can be realized from a customer is known as the customer lifetime value. Ideally, a SaaS company should have a customer lifetime value not less than three times the customer acquisition cost.
Workdays does not typically disclose its customer lifetime value, so we work on the assumption that the company spends 70% of its sales and marketing expenses on customer acquisition costs.
Workdays also does not also disclose its customer lifetime value, as well as its annual recurring revenue or contract value. We can therefore use the average subscription revenue per customer as a good proxy.

Source: Workday 10-Ks
At the current rate, Workday will, therefore, eventually realize revenue of $6.30 for every $1 it spends to acquire customers. Moreover, this figure is growing rapidly, which is good. The absolute amount that Workday spends on sales and marketing might be large, and is partly to blame for its continued losses, but it's money well spent, and will eventually start paying off before long.
Bottom line
Workday is spending lots of money on sales and marketing expenses, but the money is well spent, and will eventually start paying off in the form of profits for the company. The company also has a big backlog of business, which is a good sign of rapid growth. Workday shares, therefore, are good long-term investments. Investors can use the selloff to gain fresh entry points.
Disclosure: The author has no positions in any stocks mentioned, and no plans to initiate any positions within the next 72 hours.
The author wrote this article themselves, and it expresses their own opinions. The author is not receiving compensation for it (other than from Seeking Alpha). The author has no business relationship with any company whose stock is mentioned in this article.