In my previous article I explored the potential for Tesla (NASDAQ:TSLA) in grid storage. However, there were many commenters who doubted the ability of Tesla to produce a compelling product at a compelling price without meaningful competition, both for electric cars and for energy storage.
However, most people fail to grasp the scale of Tesla's ambitious factory or even just the scale of their current battery requirements. Take the Nissan (OTCPK:NSANY) Leaf, the current leader in EV sales. Nissan is on track to sell about 54,000 Leafs this year globally. 54,000 Leafs require about 1300MWh of batteries. That's 1.3GWh. Tesla is on track to sell 35,000 cars this year and requires about 2.9GWh of batteries, more than double those of the Leaf.
Also, Tesla is growing its battery requirements a lot faster than Nissan or any other peer as it expands electric vehicle production faster and with bigger batteries than the competition.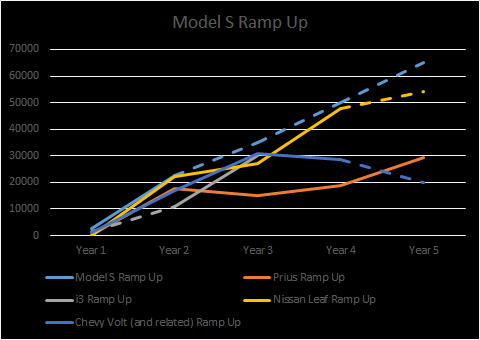 Source: My estimates, manufacturer statements and Wikipedia.
This is what the ramp looks like as far as the production of Batteries goes: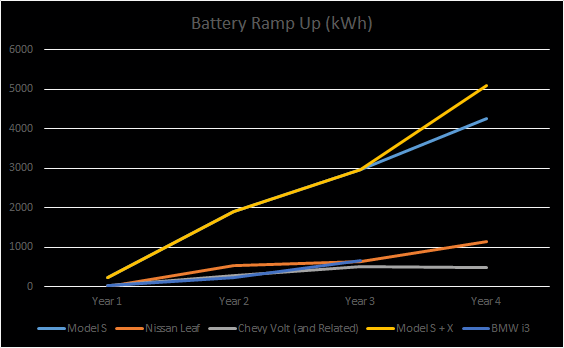 Source: Sales data from above graph and battery sizes of the vehicles.
Panasonic (OTCPK:PCRFY) being unable to scale as fast as Tesla required is the prime motivation behind the GigaFactory. This one factory is supposed to out-produce the entire world's factories by 2020. Based in my estimates of Tesla's growth from now up to their goal of 500,000 vehicles in 2020, this is what the pack production ramp up would look like just for cars: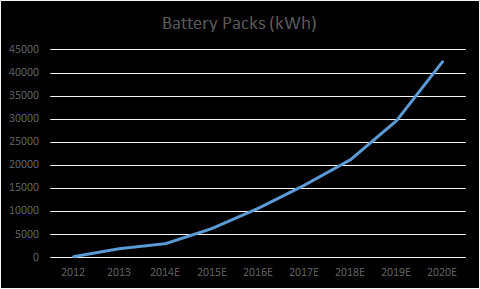 Source: Based on my estimate of Tesla sales going forward. See chart here.
If Tesla can reach its goal of 50GWh of packs from the factory, just the excess packs from the factory for non-automotive use will be nearly 6 times the 2014 Nissan battery output. That's 310,000 Leafs.
What about the global energy storage market? The global utility scale battery storage market in 2014 is estimated to be about $221 million. At a price of $500/kWh (low estimate), that translates to 442MWh. So just the excess production from the GigaFactory for storage is >16 times the current utility scale global battery storage market. The current size of the market is small because batteries are a very expensive proposition for utility scale storage. But if prices were to reach $100/kWh, they would compete with all other forms of storage.
No other manufacturer of batteries, automotive or storage is even planning on that kind of scale. Maybe they are waiting to see if Tesla succeeds before they invest heavily into this kind of expansion. If that is the case, maybe we will see larger battery factories from others by 2025?
What are the products that Tesla already makes? Here is a slide from one of their presentations: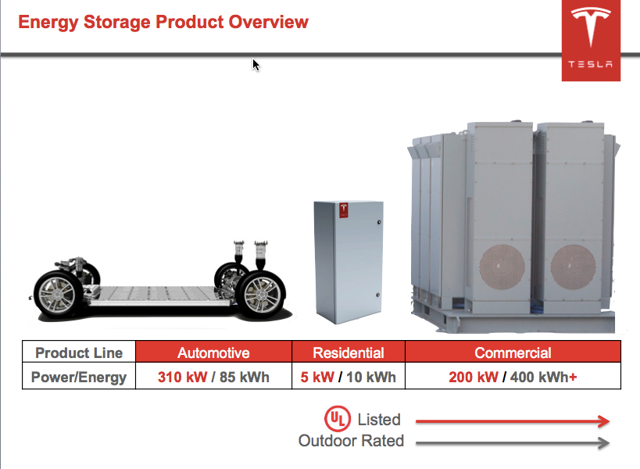 Here is a picture of the 2MWh storage batteries in use at Tesla's Fremont Factory: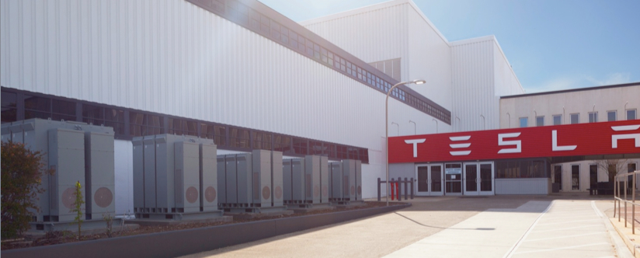 Photo Credit: GreenTechMedia.
These are the same batteries that SolarCity (NASDAQ:SCTY) is installing for residential and commercial customers.
Now for the automotive competition. It is a very common argument that some major auto manufacturer will come up with a 200 mile EV in the next 2-3 years. Rumors are that it might be GM with an LG battery.
However, I believe that to be unlikely for several reasons.
As Volt sales are declining and GM (NYSE:GM) plans on releasing a second generation Volt in 2016, I find it highly unlikely that they would release a Volt competitor in the same time frame.
GM makes a compliance EV - the Chevy Spark EV. However GM has so far been unable to scale this nationwide. Maybe by 2016 GM might make the spark available nationwide. An affordable 200 mile EV would effectively kill the Spark EV.
As for the rest of the auto industry, they are lagging so far behind even in thinking about the scale of battery production to make a compelling Electric Vehicle that it is unlikely that Tesla will have any viable competition for the Gen III. Maybe big auto is taking a wait and see approach until the Gigafactory goes online and is successful? However, if that is the case, by the time they are ready, they will be lagging Tesla by at least 5 years.
The Tesla Roadster with a 200 mile + range launched in 2008. This has yet to be demonstrated by any auto major auto maker. So trusting any of them to possibly come up with a Gen III competitor and using that as a negative against Tesla stock is a losing battle.
One other issue people had is with Tesla achieving their battery price reduction goals. Now that I have explained the scale, let's look at how the scale will help Tesla reduce costs
Cell + Pack production under same roof avoids cell shipping costs.
The large scale of raw materials are planned to be acquired directly from suppliers as opposed to the open market.
Planned local acquisition of materials.
The cell size is planned to be optimized.
Energy density is gradually improving - The current Model S is already several 100 pounds lighter. Less material equals less cost.
Renewable energy and on site self-manufactured energy storage will help save energy costs.
This is in addition to any incentives to build the factory and improvements in the pack design itself.
There were also complaints about how Tesla is often late to meet their goals. What people fail to see is that Tesla is better at this than big auto. The Nissan Leaf was late. The BMW (BAMXY) i3 was late. The Chevy Volt was late. The Ford (NYSE:F) Focus Electric was late. It is missed that Tesla is a new car company, the Model S their first sedan, their first 100% in house car. The Roadster had a Lotus body. This is an impressive achievement for a new car company. To have sales and ramp of a new expensive vehicle outpace all the cheaper competition.
One long term Tesla bear also attempted to scoff at the sales at Tesla stores. He calculated that each store sells about 235 cars per year, and called that figure unimpressive. However, an average dealer sells just over 800 vehicles a year, and that is from a full lineup of cars. A Tesla store sells only one very expensive car and some stores can't even offer test drives or talk price!
Other comments talked about Tesla's inventory and compared it to the inventory of GM and Ford. However when looking at inventory, it is important to understand that a majority of Tesla's inventory is cars in transit to customers. Cars whose deposit is now non-refundable and are contracted to be purchased. On the other hand inventory at other automakers is essentially unsold cars.
A recent analyst visit revealed that Tesla already has a factory floor dedicated to stationary batteries. In conclusion, I hope I have established that it will be difficult for any manufacturer to compete with the scale of Tesla in batteries and electric vehicles.
Disclosure: The author is long TSLA, SCTY.
The author wrote this article themselves, and it expresses their own opinions. The author is not receiving compensation for it (other than from Seeking Alpha). The author has no business relationship with any company whose stock is mentioned in this article.
Editor's Note: This article discusses one or more securities that do not trade on a major U.S. exchange. Please be aware of the risks associated with these stocks.