By David Russell
Arch Coal (ACI) has had a nice run, but now traders apparently think that the top is in.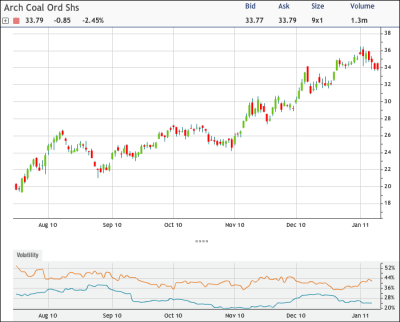 optionMONSTER's tracking systems detected the sale of about 10,000 April 37 calls for $1.78 to $1.80 against open interest of just 885 contracts. The activity pushed total options volume in the coal miner to 9 times greater than average.
ACI is down 2.45 percent to $33.79 in morning trading. It rallied more than 60 percent between early September and the end of 2010 but has been drifting lower since then. The current decline comes after the stock returned to the same levels where it traded in September 2008, immediately before the financial panic. Many other companies have struggled at comparable levels on their charts.
Selling calls at the $37 strike reflects a belief that ACI will remain below that level into the spring. However, thanks to the premium earned, it can climb to about $38.80 before they start losing money.
The company's last earnings report on Oct. 29 was mixed, with revenue beating forecasts but profit coming up short. Unless there is a major incident such as an accident or change in reserve levels, companies such as ACI tend to follow energy prices and economic sentiment more closely than quarterly numbers.

Disclosure: No position