After two straight quarters of declining sales for Apple (NASDAQ:AAPL) iPads, the designers in Cupertino - already leaning on their freshly inked deal with IBM (NYSE:IBM) - are looking for new sources of growth. A recent Bloomberg article reports that Apple suppliers are gearing up to produce the largest iPad ever made, presumably to target the enterprise and education markets. With the iPad as the second highest revenue producing product after the iPhone, the initiative is important. With Apple now trading at ever-increasing highs, investors should fight the urge to take too many profits because the stock continues to have room to run into the September 9 product launch that is expected.
Apple iPad Market Share
In addition to seeing declining sales, Apple - which essentially defined the market segment with the iPad - has seen tablets powered by Google (NASDAQ:GOOG) (NASDAQ:GOOGL) Android take over the top spot. According to figures released by research firm Gartner, where Apple commanded 52.8% of the market at the end of 2012, that number fell to 36% at the end of 2013. This is confirmed by the fact that much of the growth in tablets has come from smaller devices, like the iPad mini. The range of inexpensive Android tablets at that size has ballooned, gobbling up market share along the way. Android finished 2013 with 62% of sales.
Gartner's Roberta Cozza helped to explain the shift: "In 2013, tablets became a mainstream phenomenon, with a vast choice of Android-based tablets being within the budget of mainstream consumers while still offering adequate specifications." She added that, particularly as we begin to see increased commoditization in the Android market, the user experience is likely to drive sales. This has been an area in which Apple has excelled, and will need to stay focused.
Why IBM & Why Bigger?
After the agreement with IBM was reached, CEO Tim Cook made note that one of the rationales behind the deal was to help Apple more successfully sell to businesses, referring to it as "a catalyst for future iPad growth." Business buyers of iPads are more likely to expect the devices to take on the jobs typically performed by laptops. Additionally, when used for display and presentation purposes, a larger screen is likely to have more impact.
An analyst at IDC, Jitesh Ubrani, told Bloomberg that the firm expects businesses, schools and governments to become more significant tablet consumers, with enterprise focused on larger devices. While global tablet sales have continued to increase, U.S. sales have seen decreased growth. This has been attributed to several factors, including a relatively slow replacement cycle and limited real productivity potential.
Shifting to larger devices has the potential to create the type of shakeup needed to drive new sales, particularly at a time when Microsoft's (NASDAQ:MSFT) Surface Pro 3 is finally gaining limited traction. While it is too early to have numbers supporting a Microsoft surge in the tablet space, reviews have seen the Surface Pro 3 as a legitimate Windows-based alternative to both a laptop and a tablet. Finding significant points of differentiation and superiority will allow Apple to leverage the IBM relationship to drive important sales relationships.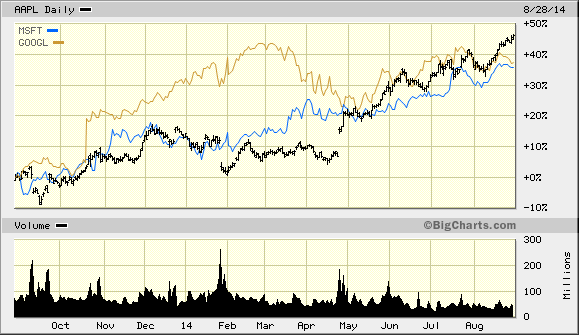 Ever since the seven-for-one stock split, shares of Apple have been trending steadily higher. At these historic highs, it is fair to begin to question if Apple will run out of gas. I believe the stock continues to have significant upside heading into the fall season of product releases. The much anticipated iPhone 6, with a larger screen, is likely to be a hit. The expected release of the next generation of iPads in time for the holidays, and the potential for big iWatch numbers should add momentum. While I have never been an Apple-is-going-to-infinity type, I think a price target north of $110 and potentially as high as $120 is attainable, depending on the strength of the overall market. I remain a buyer here.
Disclosure: The author has no positions in any stocks mentioned, and no plans to initiate any positions within the next 72 hours.
The author wrote this article themselves, and it expresses their own opinions. The author is not receiving compensation for it (other than from Seeking Alpha). The author has no business relationship with any company whose stock is mentioned in this article.