Xiaomi is a rising star in the smartphone market. I believe Apple (NASDAQ:AAPL) shareholders should be completely aware of this Chinese-based company, which might be soon an actual threat to Apple's smartphone business.
Being a long-term shareholder should involve constantly looking around the competitive landscape to see if anyone is crawling up to threaten any competitive advantage.
Apple's biggest competitive advantage, in my view, is its huge and loyal customer base it has developed in the past decade or so, and as one of those customers, I believe the reason for that is Apple devices are ridiculously easy-to-use, and just work.
Is it possible another smartphone maker has built a device that has all the above and sells for a lower price? Is it possible this maker has similar marketing wisdom as Apple? Is it possible that soon the market share leaderboard will look different? I'll try to answer these questions.
What is Xiaomi?
Xiaomi is an impressive story, especially given the fact it was founded about four years ago. Say what you want, but any company that manages to become the sixth-largest smartphone vendor in the world in just four years is worth your attention.
Founded in 2010 in Beijing, China, Xiaomi quickly launched a portfolio of products, led by its flagship smartphone, the Xiaomi Mi. The latest version, announced a month ago, is the Mi 4. Xiaomi also offers a tablet, a smart TV, a set-top box, its own operating system (Android-based) and even a router.
The Mi 3 smartphone
Business Model
Taking a quick look at the selling prices of Xiaomi's smartphones, the first question that comes to mind is: "What?"
Xiaomi smartphones carry almost the highest-quality components possible, very much like Apple and Samsung high-end devices, but the company chooses to pursue a business model that is basically selling the phones for a razor-thin margin, a hair above cost at $235/Mi 3 unit.
"Our flagship phone has a lot of the same specs you'd see in high-end Samsung and HTC phones; it's got the same processor that Samsung uses in the Galaxy S4. But it costs about half as much . . . We essentially price our phones at bill-of-materials."
Xiaomi co-founder and president, Bin Lin.
The unique business model also involves selling all of its products via its website, with no physical retail shops. This "virtual retailer" business model allows Xiaomi to reduce operating costs to a minimum.
If you thought relying on online sales slows down Xiaomi, think again. In the first half of 2014, the company claims it sold 26M smartphones, 271% more than in the first half of 2013. Total revenues were around $5.3B in that period.
Xiaomi often puts up batches of ~300K for sale on its website. Most of the time a batch is sold in a matter of minutes, showing the Apple-like cult around Xiaomi products.
Xiaomi's aim is to ship 60M smartphones by the end of 2014 and 100M in 2015.
Its current international exposure includes Singapore, Malaysia, India and Indonesia.
I think we can sum up Xiaomi's strategy as:
Create the most high-end smartphone possible.
Sell it at a very thin margin and win massive volumes.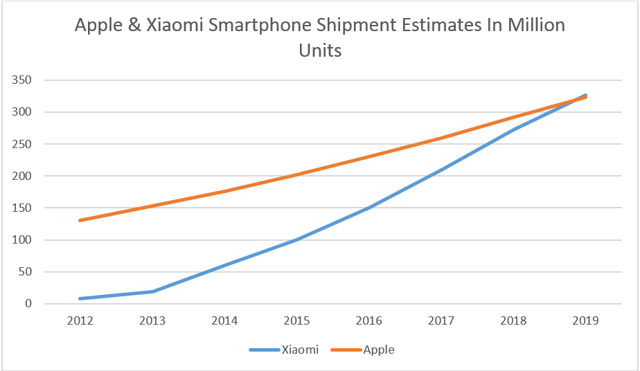 Click to enlarge
Source: PTT Research, assuming a decelerating growth rate for both Xiaomi and Apple.
Reversed Engineered Apple's DNA?
It is very hard to ignore the fact that everything related to Xiaomi "screams" Apple. From its marketing efforts, to its commercials, to its cult-like customers, to its designs, and even to its CEO, who dresses like Steve Jobs at many events: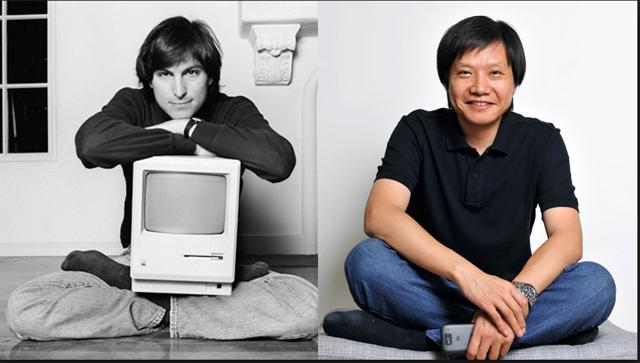 Click to enlarge
Source: Gizmodo
Another stunning example is the use of Apple's very well-known "One more thing . . ." slide, in the keynote event, introducing the new Xiaomi phone.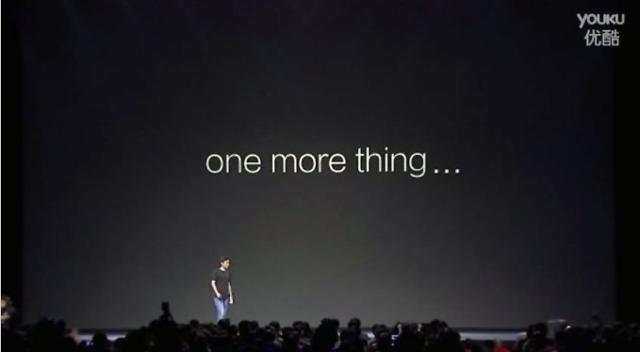 Click to enlarge
Source: Techcrunch
Xiaomi managed to build a complete Apple-DNA-like company in just four years. This has enabled Xiaomi to cater to the high-end smartphone market in China and Southeast Asia.
A look into the new upcoming smartphone, the Mi 4, reveals a very troubling image. The new Mi 4 operating system (called MIUI 6), based on Android, is almost a 1-1 copy of the iOS 7 system. Here are a few images from the MIUI 6. If you are an iPhone user, I warn you, this following images might be hard to look at.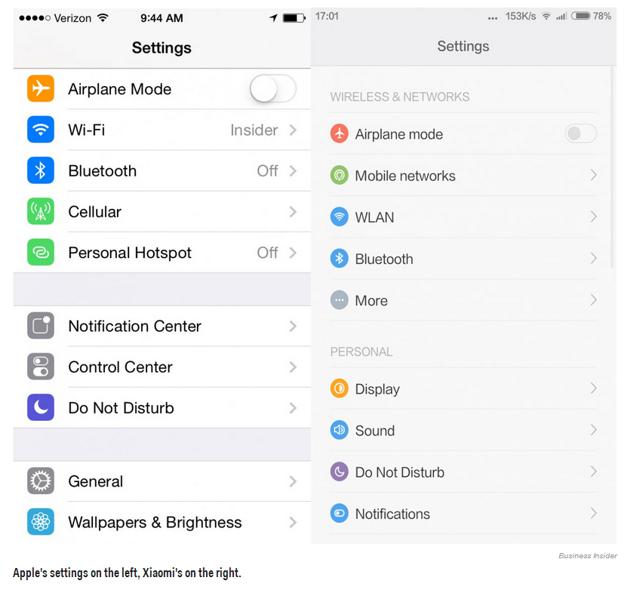 Click to enlarge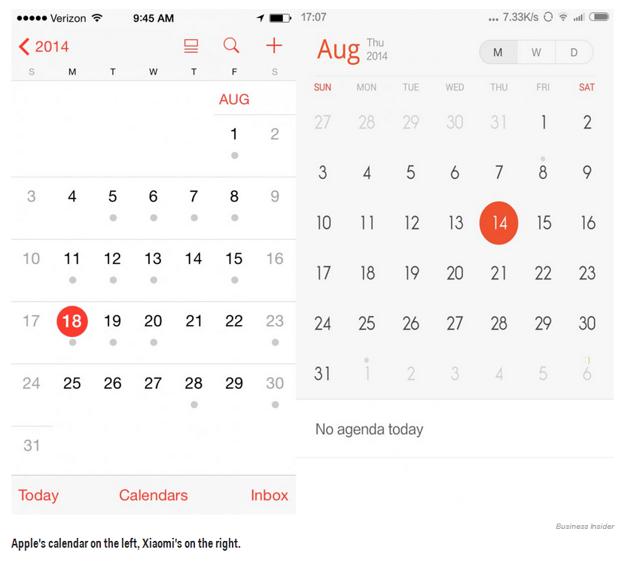 Click to enlarge

Click to enlarge
Confused?
Xiaomi Roadmap
Xiaomi's move outside of China, and especially into India's large market, marks the beginning of its international expansion.
It is more a question of when, not if, Xiaomi will enter the European market and the Americas market, including the U.S.
For Apple shareholders, such an entrance will poise a direct threat to its market share. With its latest phone, it is very clear that Xiaomi will try to convert current iPhone users by making them feel at home.
Although I honestly think acting as the "virtual" vendor of high-end smartphones is a great business model, I believe Xiaomi crossed the line by blatantly creating copies of Apple products. This is not a legitimate (or legal) method of competition.
Effect on high-end smartphone prices
Wherever it goes, Xiaomi offers consumers a value proposition hard to refuse: Get a very high-end smartphone, which has the same luxury "feel" like the iPhone, for the price of a low-end device.
The low-end customer rushes to purchase one of these now that he can afford it. The high-end customer starts to question why he is paying $550 for something he can get for $235.
From a market point of view, this should have a price reduction effect on high-end smartphones. Another effect is expanding the high-end market, at the expense of the low-end market.
Xiaomi's debut in a new market makes life very hard on both high-end vendors, which are pushed to reduce prices, and low-end vendors, which gradually lose their value propositions and thus, lose sales volume.
Apple's Possible Reactions
Legal Action
Apple could and should take legal action against Xiaomi. It is just a matter of time until Xiaomi will go to Europe and the U.S. to start selling its smartphone into those markets.
I believe many Apple customers will have a very hard time to refuse Xiaomi's value proposition once they go through their next replacement cycle.
Xiaomi doesn't have the resources of Samsung to defend itself. It is a private company, and serious legal action could threaten its ongoing operations.
That said, this could take years in courtrooms, while in the meantime, Xiaomi could still win a meaningful market share in the U.S. and Europe.
Innovation
I believe that Apple is better off at doing what it does best: innovate. Contemplating and creating new products, inventing new product categories, and offering consumers valuable tools, is Apple's long-term protection against IP infringement.
Focusing in the above should result in decades of growth for Apple.
Conclusion
Even if Xiaomi is forced to change its user interface, or some features of its smartphones, it has managed to copy something far more valuable, Apple's DNA.
If Xiaomi truly concentrates on offering high-end devices, for low-end prices, using its virtual business model, it could still pose a threat to Apple's (and the rest of the smartphone vendors) market share, and pricing power.
This poses a future risk to Apple smartphone business, volume-wise and margin-wise.
I believe that Apple's future depends on continuous innovation and ongoing development of new products, and that will eventually determine its future success and earnings growth.
This article was published first on my blog.
Disclosure: The author has no positions in any stocks mentioned, and no plans to initiate any positions within the next 72 hours.
The author wrote this article themselves, and it expresses their own opinions. The author is not receiving compensation for it. The author has no business relationship with any company whose stock is mentioned in this article.