I have been following CAMAC Energy Inc. (CAK) for several years now and writing about the company over the past year as it has transformed from a minority-interest partner in offshore Nigerian oil exploration to an operating company on the verge of significant production. Last year the company announced it had drilled the first of multiple planned development wells in the Oyo oil field located in OML 120 and had encountered better than expected oil and gas reserves in the Miocene and Pliocene formations. Shortly after that, the company announced it would acquire 100% interests in all the offshore Nigerian assets from Allied Energy Plc. As part of the deal, the following would happen:
Allied would receive 497,454,857 shares of common stock, $170 million in cash, and a $50 million convertible subordinated note
CAMAC Energy would issue 376,884,422 shares of common stock to the Public Investment Corporation (SOC) Limited ("PIC") of South Africa in exchange for a $270 million equity investment, representing an approximate 30% ownership interest
Declare a dividend in the form of additional shares of CAMAC Energy common stock, equal to approximately 1.435 shares per share outstanding
After the transactions closed, the stock continued to climb until the company had to restate 1Q14 earnings due to an error in crude oil inventories and operating costs.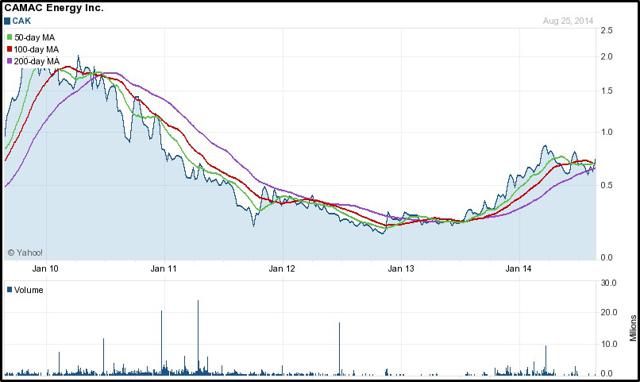 Click to enlarge
Since then, the stock has stalled somewhat, but is starting to show some life as the second half of the year gets underway and the company continues to make progress developing the Oyo oil field.
In the near term, the stock is closely tied to the exploration prospects offshore Nigeria, and the production that is scheduled to begin by the end of this year:
Yi Chen - Aegis Capital Corporation, Research Division: Could you update us on your current expectation as the time frame for production for both Oyo-8 and Oyo-7 and the relative production volume every year for each of them?

Babatunde Omidele - Senior Vice President of Exploration & Production: Yes, we're currently working on bringing in both wells, the Oyo-7 and Oyo 8, on to production by the end of this year. And in terms of production level, we're still -- we are also expecting to have the 2 wells put in 7,000 barrels each, which would make a total of 14,000 barrels per day at the end of the year.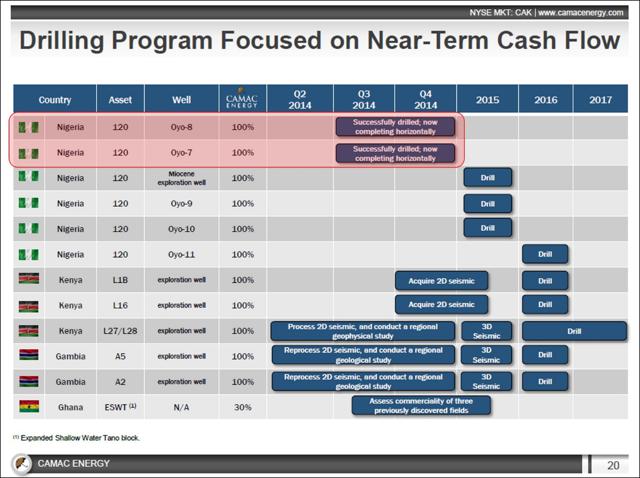 Click to enlarge
(Source: company presentation)
Not long after the earnings release, The Street upgraded the company from a Sell to a Hold. It's not a screaming bull endorsement, but it weighs in favor of the company and investors; however, their endorsement seemed a little flawed:
NEW YORK (TheStreet) -- Camac Energy has been upgraded by TheStreet Ratings from sell to hold. The company's strengths can be seen in multiple areas, such as its solid stock price performance, impressive record of earnings per share growth and largely solid financial position with reasonable debt levels by most measures. However, as a counter to these strengths, we also find weaknesses including weak operating cash flow and deteriorating net income.
For cash flow and net income, the company has had a shoe string for income prior to the Allied deal, but will soon see much larger cash flow when the next two oil wells are up and operating at the end of the year. I would expect that once the spigots are turned on, there will be another upgrade from The Street.
Click to enlarge
(Source: company presentation)
The company expects to have initial production of the two wells at 7,000 bopd each by the end of the year for a total of 14,000 bopd. Revenue for the company, net of royalties, is generated at about 80% of the price of Brent Crude, as outlined by the company: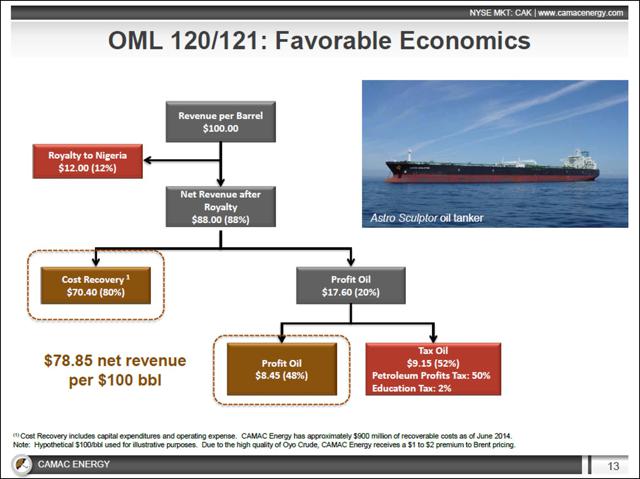 Click to enlarge
(Source: company presentation)
By expanding the numbers, the company should see revenue in the following production volumes:

Click to enlarge
During the call, a question was asked about profitability:
Yi Chen - Aegis Capital Corporation, Research Division: Second question is, at what production volume do you expect the company to be profitable or cash flow neutral?

Earl W. McNiel - Chief Financial Officer and Senior Vice President: Well, we estimate that it takes about 2,000 barrels per day to cover our field level operating expenses and our free cash flow -- at today's oil prices with North Sea Brent in excess of $100 per barrel, we generate about close to $80 per barrel of free cash flow for every barrel above that 2,000-barrel-a-day operating cash flow breakeven rate. Now we do have -- there's our corporate G&A and some exploration expenses to cover, but at the field level, our operating costs are largely fixed, it's the cost of operating the FPSO, so as we approach that 14,000 barrels per day, that Segun just mentioned, we start to generate substantial free cash flow.
Catalysts
So the next question investors will ask is what are the catalysts?
The first catalyst that investors will likely see is when the first of the two wells is finished and hooked up, shortly followed by the second well. The company will likely issue a press release announcing the completion and the flow of oil into the FPSO along with flow rates.
After the two wells are completed, the drill ship will then move on to drill the first Miocene exploration well to potentially discover a new oil field, and will then move back to the Oyo field to drill additional development wells.
Right now, the market is valuing the company based on the offshore Nigerian current and upcoming production from the Oyo field. Additional price appreciation will come from positive results from the Miocene exploration, and Kenyan, Gambian, and Ghanaian assets. 2D seismic was recently shot offshore Kenya, and is being shot onshore Kenya later this year. Initial Gambia results will likely come in the next couple of years followed by 3D seismic analysis. The Ghana asset already has three identified and discovered oil fields, and the company is working to determine if the fields are commercially viable. We should expect to receive the results of this evaluation from the company in the first half of 2015.
The company also continues to state their intent to derisk exploration offshore Nigeria by partnering with another firm. During the call, this was addressed:
Kase Lawal - Chairman and CEO: … In terms of our strategic objective, that has always been something that we look at and we look forward to. We always want to share risk. And as we continue to look at drilling our high-impact exploration wells, we have actually narrowed that to 2 in terms of institutions that are going to assist us in this farm out process, and we should be completing that process within the next couple of weeks or so. I think they're in the agreement state right now. So for us, we're always -- we've always had the objective of contacting and informing the larger institutions, and our neighbors, both to the West, East, North and South, in terms of the opportunity that we see in our high-impact Miocene prospects. Notwithstanding, we have done substantially more work. We have actually achieved substantial results in terms of the geological work and the original work that has been done by our technical people. And we believe, in not-too-distant a time, we will be announcing the results of these significant -- results that the geological team have actually uncovered, which is substantially more than what we have announced before. So we are very excited and we are going to vigorously pursue the farming in from both large independents and major oil corporations that are our neighbors. But we have actually determined, and it is going to be part of our budget in 2015, that whether they come in on time or not, we are on schedule to drill these high-impact exploration wells that we believe will significantly change our organization. We believe this is what this organization is about. We believe very strongly in the work that has been done, and we are very focused in drilling it, with or without a farminee at the time that we need to do the drilling of the exploration well.
In the region, the company has Exxon Mobil (NYSE:XOM), Chevron (NYSE:CVX), and Shell (NYSE:RDS.A) (NYSE:RDS.B) as its neighbors who would likely partner with the company. Total (NYSE:TOT) and Eni (NYSE:E) are also partners in the Bonga fields: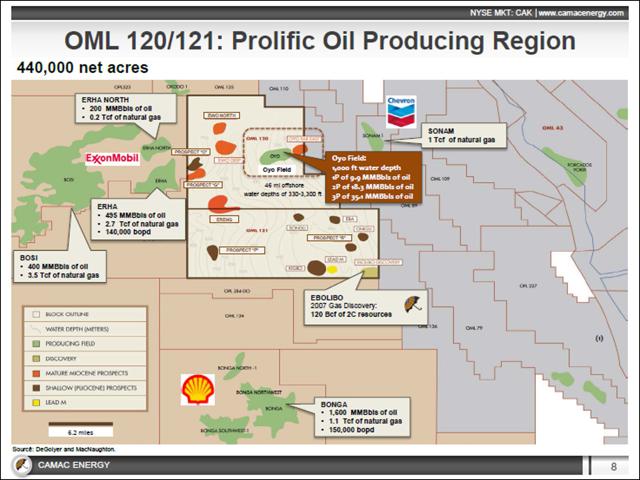 Click to enlarge
(Source: company presentation)
Downside Risks
Nigeria has some risks associated with doing business there. Onshore oil companies have faced problems with warlords, theft, and sabotage. From this, most of the major oil and gas producers have begun to divest themselves from onshore operations and are increasing their presence offshore where they have more control over the flow of oil. Because the company strictly operates offshore in Africa, with exception of the onshore assets in Kenya, the company is shielded from most of these risks.
Environmental hazards are always a threat to businesses in the Oil and Gas industry. The company has successfully drilled eight wells offshore Nigeria with no environmental accidents in its history. This reputation of operational and technical expertise should temper this risk in the minds of investors.
Conclusion
CAMAC Energy is still in the early stages of exploration and development of the oilfields offshore Nigeria. There are significant catalysts coming in the next six months that will increase value for investors. The company is also planning for the long term with exploration and development in Ghana, Gambia, and Kenya that will help the company grow further in the years to come.
Disclosure: The author is long CAK.
The author wrote this article themselves, and it expresses their own opinions. The author is not receiving compensation for it (other than from Seeking Alpha). The author has no business relationship with any company whose stock is mentioned in this article.
Editor's Note: This article covers one or more stocks trading at less than $1 per share and/or with less than a $100 million market cap. Please be aware of the risks associated with these stocks.