As per its most recent 10-Q filing, Loews Corporation (NYSE:L) is a holding company whose "subsidiaries are engaged in the following lines of business: commercial property and casualty insurance [CNA Financial Corporation, a 90% owned subsidiary (NYSE:CNA)]; the operation of offshore oil and gas drilling rigs [Diamond Offshore Drilling, Inc., a 51% owned subsidiary (NYSE:DO)]; transportation and storage of natural gas and natural gas liquids and gathering and processing of natural gas [Boardwalk Pipeline Partners, LP, a 53% owned subsidiary (NYSE:BWP)]; and the operation of a chain of hotels (Loews Hotels Holding Corporation, a wholly owned subsidiary)". Loews also has an additional subsidiary, HighMount Exploration and Production, a natural gas E&P company, as held for sale. Unfortunately for its shareholders, Loews is also a severely underperforming conglomerate in dire need of a large activist (or activists) to shake things up and light a fire under senior management.
This article examines the company's structure and subsidiaries, as well as the performance of its board of directors and senior management. The clear conclusion reached from this analysis is that Loews, in its current incarnation, simply does not make sense for investors--things need to change dramatically. In the event an activist or activists were to catalyze a break up of the company and/or the spinoff of its business lines into separate stand-alone companies, the upside potential could be significant, as these companies would re-rated by the market. Even assuming that this would not be feasible due to opposition from entrenched management and the company's handpicked board of directors, as well as potential inertia among large institutional shareholders, improvements in Loews' corporate governance could narrow--if not completely erase--the conglomerate discount, indicating a minimum upside of 20% with little downside risk. Finally, absent any breakup of the company, the market has already priced in healthy amounts of negativity with respect to Loews' subsidiaries, leaving room for appreciation in the coming years if operating performance improves. In sum, the potential gains for an activist in Loews are clear and substantial, while downside risks are limited.
Conglomerate Discount
With its shares just below $44 currently (approximately 5% above 52-week lows of $41.57), Loews trades at a conglomerate discount of approximately 17.5% to the sum of its parts, as evidenced by the following chart (values as of August 26th):
| | | | | | | | | |
| --- | --- | --- | --- | --- | --- | --- | --- | --- |
| | CNA Value (Loews shares) | DO Value (Loews shares) | BWP Value (Loews shares) | Net Holdco Cash and Investments | Other Assets | Sum of Parts (NYSEARCA:SOP) | Loews Market Cap | Discount to SOP |
| Current Value ($B) | 9.39 | 3.13 | 2.54 | 3.78 | 1.35 | 20.19 | 16.65 | 17.5% |
Source: Company filings; Yahoo! Finance.
(Note: Holdco net cash and investments figure of $3.78B equals $5.46B of cash and investments at the holding company, less $1.68B of long term debt at the holding company. "Other assets" category includes (1) the 2% GP interest held by Loews in BWP (estimated realizable value of $32MM), (2) HighMount's assets, which are currently held for sale (estimated net realizable value of $778MM [$1381MM of assets, less $603MM of liabilities], as per p. 37 of the most recent 10-Q), and (3) the Loews Hotels subsidiary (estimated value of $542MM, equal to the net book value of Loews' equity in that subsidiary). All amounts in the "Net Holdco Cash and Investments" and "Other Assets" categories are as of June 30, 2014, the most recent date for which information regarding these amounts is available - see p. 38 of the Q2 10-Q for a consolidating balance sheet.)
Indeed, per the chart below, Loews has consistently traded barely above the sum of the parts of just its three publicly traded subsidiaries (CNA, DO and BWP), thus evidencing the fact that the market has ascribed very little value to the company's other valuable assets, which are currently estimated to be worth approximately $5.1B (per the chart above). This indicates the extent to which the stock market has discounted the value of Loews' assets in the hands of its current management.
| | | | | | | |
| --- | --- | --- | --- | --- | --- | --- |
| Date | CNA Value (Loews shares) | DO Value (Loews shares) | BWP Value (Loews shares) | Total for CNA, DO and BWP | Loews Market Cap | Premium of Loews Market Cap to that of Public Subs |
| 12/31/13 | 10.40 | 3.99 | 3.20 | 17.59 | 18.62 | 5.86% |
| 12/31/12 | 6.79 | 4.76 | 3.13 | 14.68 | 15.97 | 8.79% |
| 12/31/11 | 6.48 | 3.87 | 3.47 | 13.82 | 14.93 | 8.03% |
| 12/31/10 | 6.56 | 4.69 | 3.91 | 15.16 | 16.13 | 6.40% |
Source: Company 13-F filings; Yahoo! Finance. Note: Amounts in $B. Assumes that the 22.9 million BWP Class B units held by Loews had been converted to Class A units as of the relevant date on a one-for-one basis and were valued at the then current market price of the Class A units.
It should also be noted that Loews' stock price of $44.01 per share at 6/30/14 (the most recent quarter end available) was well below Loews' book value of $51.85 per share as of such date (as per p. 43 of the most recent 10-Q).
Conglomerate Structure Serves to Enrich Insiders, not Loews Shareholders
Loews's holding company structure seems to serve, more than anything else, to enrich insiders at the expense of the common shareholders. Loews is run by a 3-person "Office of the President", consisting of three members of the Tisch family, namely Jim, Andrew and Jonathan. The Office of the President was formed in 1998, upon the retirement of the company's then co-CEOs, the founders and brothers Laurence and Robert Tisch (note that Jim and Andrew are sons of Laurence and Jonathan is the son of Robert). Collectively, Jim, Andrew and Jonathan Tisch have received nearly $106,000,000 in compensation over the past five years alone (and Loews' named executive officers have received a whopping $147,000,000 over the same period):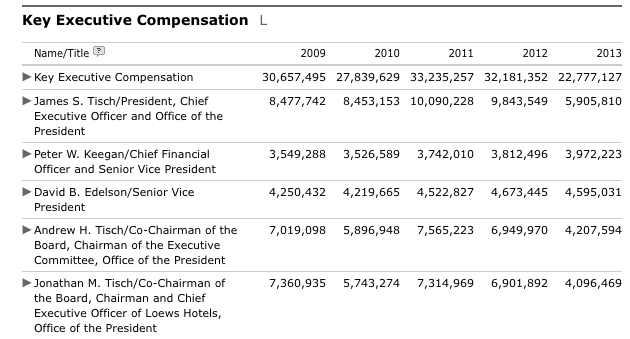 Source: Finra - see here.
Furthermore, while former CFO Peter Keegan just recently retired, CEO Jim Tisch stated on the Q1 2014 earnings call that Keegan will remain on the payroll as a "senior advisor" going forward, at further expense to shareholders (and presumably, David Edelson will receive a pay raise now that he has been promoted to CFO). In the Loews world of corporate largess (where bigger is just bigger, not necessarily better), paying for 2 CFOs is apparently better than paying for just one.
Not to be overlooked is Loews' board of directors, each earning an average of $180,000 per year for their part-time work on behalf of the company: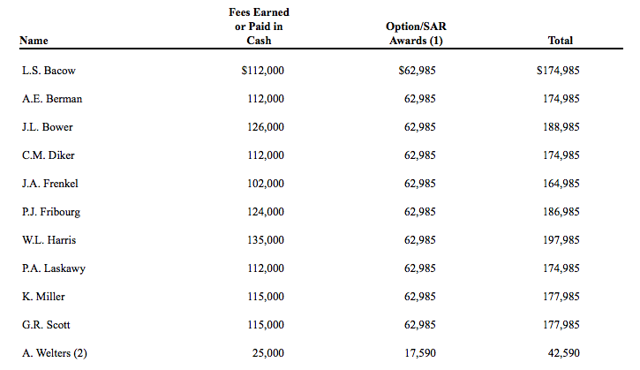 Source: 2014 Proxy Statement, page 10. Note - Welters compensation excluded from average because he joined the board in October 2013; he replaced the now retired Gloria Scott as a director.
The Loews board is stacked with academics for whom ~$180,000 per year is probably a meaningful amount of money. No less than four members of the board (out of 10 independent directors in total) have made their careers in academia and government appointments (Lawrence Bacow, Ann Berman, Joseph Bower and Jacob Frenkel). These directors are highly unlikely to rock the boat or ever challenge management on any substantive issue concerning the company. Additionally, of the 10 outside directors, only 2 directors (Walter Harris and Anthony Welters) have a background in insurance (relevant for CNA) and none have any background in the oil and gas industry (relevant for Diamond Offshore, Boardwalk and HighMount). The average age of the board of directors (other than the three Tisch cousins) is over 67 and the total equity held by these 10 directors as of March 1, 2014 amounts to a measly 131,492 shares (or 0.03% of the outstanding amount of Loews shares), as shown in the following table:

Source: 2014 Proxy, p. 3. Note that Edelson and Keegan are not members of the Board.
Perhaps an argument could be made that Loews' conglomerate structure could be justified, assuming Loews had emulated the success of other conglomerates such as Berkshire Hathaway (NYSE:BRK.A) (NYSE:BRK.B), to which Loews is sometimes compared (see here and here, for example). Unfortunately, Loews lags Berkshire on all meaningful metrics. During the first half of 2014, for example, corporate expenses for Loews at the holdco level were $75MM (a $150MM runrate), per p. 59 of the Q2 10-Q. In comparison, holdco corporate expenses for Berkshire, with a market cap approximately 20 times that of Loews, appear to be much less (see p. 24 of Berkshire's Q2 10-Q filing, which indicates a corporate loss of only $41MM during the first half of 2014). Indeed, Berkshire's 2013 10-K filing (p. 2) states that the company's headquarters in Omaha only employs 25 people, out of a total of over 300,000 employees. Based on the disclosure on p. 22 of Loews' 2013 10-K filing, Loews appears to employ approximately 260 people at its corporate headquarters (out of a total of just over 18,000 employees), over 10 times that of Berkshire despite having only 6% of the total employees of Berkshire and just 8.25% of the revenues of Berkshire during 2013. Yet Berkshire trades at a large premium to its book value, whereas Loews trades at a sharp discount to its book value (as noted above). Clearly, with respect to corporate expenditures at the holdco level, less is more at Berkshire, while more is less at Loews. If any more evidence were required, the following 5-year and 30-year stock performance comparisons should seal the case for Berkshire against Loews: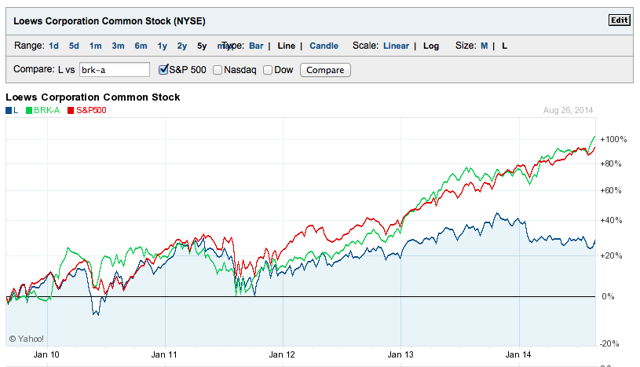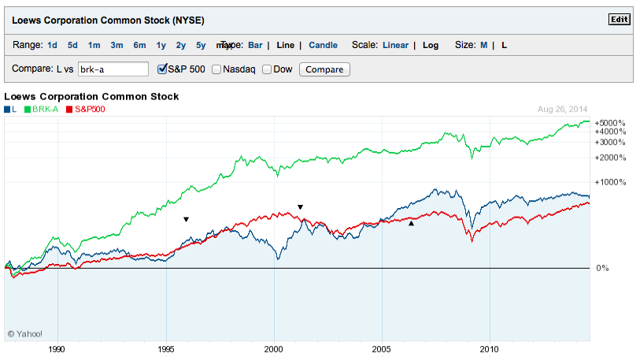 Conglomerate Structure Fails to Evidence Synergies or Superior Performance by Subsidiaries versus Peers
Another argument for keeping a group of subsidiaries together as part of a conglomerate could involve synergies, either vertical or horizontal [Exxon (NYSE:XOM), for instance, is a prime example of the synergies inherent in vertical integration; on the other hand, horizontal synergies among sister subsidiaries could include optimal capital allocation of subsidiary cash flows and common materials and services sourcing practices]. Loews' varied subsidiaries, however, which range from insurance to oil and gas enterprises to hotels, have no apparent synergies as a single group and would likely be much better performers as independent companies with managers held accountable to distinct shareholder bases for their performance. One could easily imagine Loews being carved up into 4 distinct and independent publicly-traded companies: (1) CNA as a stand-alone insurance company; (2) Diamond Offshore as a stand-alone offshore drilling company; (3) Boardwalk as a stand-alone midstream oil and gas company (assuming that Loews sells off the HighMount assets, in the absence of which Boardwalk and HighMount could be combined into one distinct entity); and (4) Loews Hotels as a stand-alone boutique hotelier. Furthermore, each of these separate entities could prove an attractive acquisition target once spun off or separated from Loews, thus providing an opportunity for shareholders to capture a control premium in addition to the higher valuation that would likely result from just a spin or separation.
Currently, management of these subsidiaries is only answerable to Loews; therefore, as long as the Tisches find their performance acceptable, managers of these subsidiaries need not worry about their paychecks or activist investors causing headaches for them. However, if these entities were independent and publicly-traded, management of each would need to satisfy the demands of its own shareholders, be held to objective performance standards and comparisons with peer companies and, hence, be required to deliver meaningful results to shareholders or face the consequences. Outside pressure, whether from activist shareholders or otherwise, along with the knowledge that management's jobs are constantly at risk, tends to focus a management team on obtaining results for shareholders.
In confirmation of the thesis that Loews' subsidiaries have not been held accountable in recent years, it should be noted that each of these subsidiaries has dramatically underperformed its peers over meaningful measurement periods. CNA, for example, has been a poor performer in its industry for quite some time. Historically, CNA's stock performance has dramatically lagged that of both Travelers (NYSE:TRV) and Chubb (NYSE:CB) (not to mention the S&P 500), as indicated by the 30-year chart below: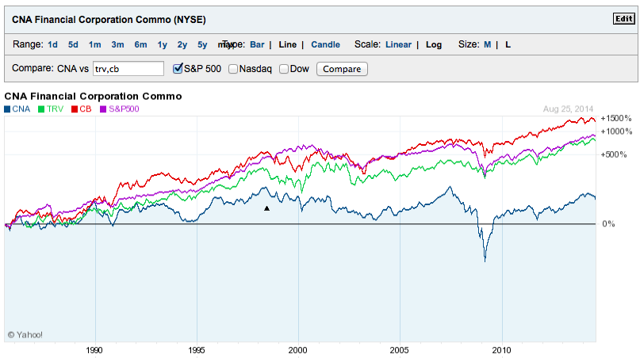 Similarly, the following charts evidence how each of DO and BWP have significantly trailed their peers (and the S&P 500) over the past five years: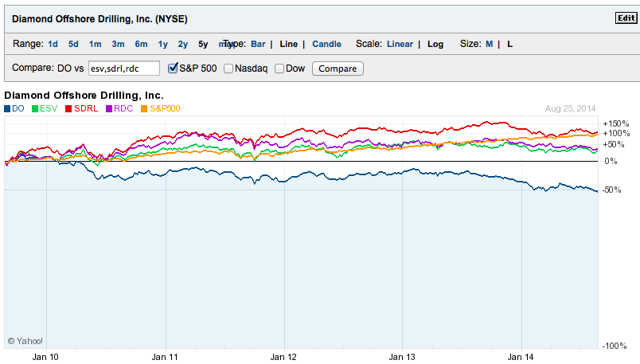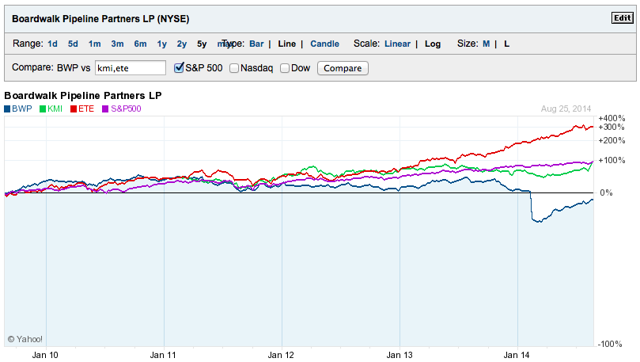 Would any of Loews' subsidiaries command a higher valuation if hived off from the current conglomerate structure? It appears that this would be the case, at least with respect to CNA. Based on comparisons with peer companies and also including a potential control premium in an acquisition (at a market cap of ~$10-11 billion, CNA could be an attractive acquisition candidate for a large insurance company), CNA could potentially be worth up to $75 per share if valued on a stand-alone basis (94% above the current market price):
| | | | | |
| --- | --- | --- | --- | --- |
| | PPS | Market Cap | Price/Book (mrq) | Forward P/E (FY 2015) |
| CNA | 38.7 | 10.4B | 0.80 | 10.4 |
| TRV (Travelers) | 94.2 | 31.9B | 1.25 | 10.2 |
| CB (Chubb) | 91.1 | 21.9B | 1.33 | 11.7 |
| CNA (if valued similarly to peers on P/BV) | 62.4 | | | |
| CNA (if valued similarly to peers on Fwd P/E) | 40.7 | | | |
| CNA (if valued similarly to peers and with 20% control premium added) | 49-75 | | | |
| Potential Upside to Current Stock Price (including 20% control premium) | 27-94% | | | |
Source: Company filings; Yahoo! Finance.
Similarly, both DO and BWP would likely command higher market caps if they were stand-alone publicly traded entities. Most of the appreciation would occur over time due to improved operating performance and better corporate governance practices. For example, compare DO's recent utilization rate for ultra deep water (UDW) drilling rigs against Transocean's (NYSE:RIG) similar metrics in the table below (note that RIG became a target of Carl Icahn beginning in early 2013, which activist presence has resulted in positive changes at the company for shareholders in the past year, such as a significantly increased dividend):
| | | | | |
| --- | --- | --- | --- | --- |
| | 2011 | 2012 | 2013 | 1st H 2014 |
| Transocean UDW Utilization Rate | 88% | 94% | 92% | 89% |
| DO UDW Utilization Rate | 82% | 85% | 82% | 58% |
Source: Company filings.
As shown in the above table, DO has consistently lagged RIG in UDW rig utilization. This is important because these UDW rigs can earn dayrates in excess of $500,000, and each day a rig is off-hire means several hundred thousand dollars in shareholder losses, since the company must still pay operating expenses for the rig when it is off-hire (unless it is cold-stacked).
Consistent Failure of Senior Management to Effectively Allocate Capital
Loews' senior management, consisting mainly of the second generation of Tisches (via the company's "Office of the President"), does not appear to have demonstrated any ability to effectively allocate capital on a consistent basis in recent years, thus negating one of the key rationales for having a conglomerate structure. Witness the following debacles, all of which have occurred in the past decade:
HighMount - This subsidiary was acquired by Loews in July 2007 for slightly over $4 billion (see p. 53 of the Q2 2007 10-Q filing, located here). This acquisition, made coincident with a peak in natural gas prices, has been an unmitigated disaster for Loews shareholders. Below is a summary of HighMount's operations from 2007 to the present (sourced directly from Loews' SEC filings). As can be seen from the chart, pre-tax losses have amounted to over $3 billion during the period (or in excess of ~75% of the original purchase price).
Year Ended December 31

2014

(1st Half)

2013

2012

2011

2010

2009

2008

2007

Total

(In millions)

Revenues:

Other revenue, primarily operating

101

260

297

390

455

620

770

274

3167

Investment gains

0

(1)

0

(34)

(30)

0

0

32

(33)

Total

101

259

297

356

425

620

770

306

3134

Expenses:

Impairment of natural gas and oil properties

29

291

680

0

1,036

691

0

2727

Impairment of goodwill

259

584

0

0

482

1325

Operating

111

252

239

245

258

343

411

150

2009

Interest

5

17

14

46

61

80

76

32

331

Total

404

1144

933

291

319

1,459

1,660

182

6392

Income before income tax

(303)

(885)

(636)

65

106

(839)

(890)

124

(3258)

Income tax (expense) benefit

91

311

229

(24)

(48)

302

315

(46)

1130

Net income attributable to Loews Corporation

(212)

(574)

(407)

41

58

(537)

(575)

78

(2128)
Loews recently announced that it intends to sell HighMount's assets and, despite over $4 billion of writedowns over the past 6 years, could incur a realized loss from the sale (see here).
Boardwalk Pipeline - This subsidiary blindsided its shareholders in Q1 2014 by announcing a massive cut in the quarterly dividend, from $0.53/share to $0.10/share. As can be seen from the headlines excerpted below, the reaction of BWP shareholders was immediate and drastic, as the stock experienced by far the largest single-day decline in its history.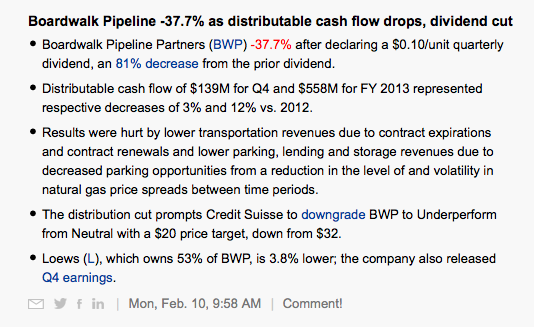 Although BWP's stock price has since recovered from $14 to around $20 per share recently, it remains 33% below the price level of one year ago. BWP shareholders have seen a net pre-tax total shareholder return (or TSR) of just $9.50 from owning this midstream play since its $19 per share late 2005 IPO, which is particularly anemic considering that midstream MLPs have been in a bull market during much of the past 10 years. For comparison purposes, Energy Transfer's (NYSE:ETE) shareholders have enjoyed a pre-tax TSR of approximately $52 on a $23 IPO price during the same period, or 450% greater than BWP's TSR. BWP also recently suspended further investment in its Bluegrass Pipeline joint venture with Williams Companies, which project the company had consistently touted as its next growth vehicle, due to lack of market interest (see here and here).
Lorillard Exchange Offer - In June 2008, Loews' exchanged 65.4 million shares of Lorillard (NYSE:LO) that it owned for 93.5 million shares of Loews held by its then shareholders (see here). The same 65.4 million shares of LO would now be worth approximately $11.5B (adjusted for 3-for-1 LO split in 2013); whereas the 93.5 million shares of L would be worth approximately $4B. Loews shareholders thus have lost approximately $7.5B in value (or nearly $20 per share) from this exchange in just 5 years. In other words, Loews stock would likely be above $63 right now had Loews not effected this exchange offer.
Loews Corporate Equity Trading Portfolio - CEO Jim Tisch claimed on Loews' Q2 2013 earnings call that Loews maintained its equity trading portfolio because it had an "expertise in investing in equities" at the corporate holdco level. If any such expertise exists, it certainly has not evidenced itself in the trading portfolio's recent performance, however. As of June 30, 2014, this portfolio had a cost basis of $650MM (see p.12 of the Q2 10-Q). Amazingly, despite the S&P 500 (as of 6/30/14 and including dividends) appreciating over 40% since the beginning of 2013 and over 220% from the March 2009 lows, Loews had managed to generate just 3% of unrealized gains ($20MM in gains versus a basis of $650MM) overall in the trading portfolio. This meager gain is actually a step up however, since the equity trading portfolio was actually in a net unrealized loss position as of the end of 2013 and the end of 2012 (see p. 126 of the 2013 10-K). Based on management's comments in Loews' earnings calls over the past few years, the underwhelming performance of its trading portfolio is apparently due to poorly timed bets on gold and gold-related stocks.
Perhaps because of these capital allocation failures, CEO Jim Tisch appears to have become gun shy about making acquisitions, thus missing a golden opportunity to buy dirt cheap assets during the market downturn in 2008 through 2010. Others, such as John Malone and Warren Buffett, were not so timid during this period and put large amounts of their shareholders' money to excellent use (Malone by acquiring a huge stake in Sirius Radio (NASDAQ:SIRI) for just $530 million [see here; note that Liberty's SIRI stake, to which it subsequently added after the initial investment, is now worth over $11B] and Buffett through his investments in Bank of America (NYSE:BAC), General Electric (NYSE:GE), Goldman Sachs (NYSE:GS) and Burlington Northern railroad, just to name a few [see here and here]). In stark contrast, witness Jim Tisch's consistent timidity during this period, as evidenced by the following exchanges from various earnings calls in 2009 and 2010, when stocks and related assets were at their most attractive levels in perhaps thirty years [source: Seeking Alpha]:
Q1 2009 earnings call: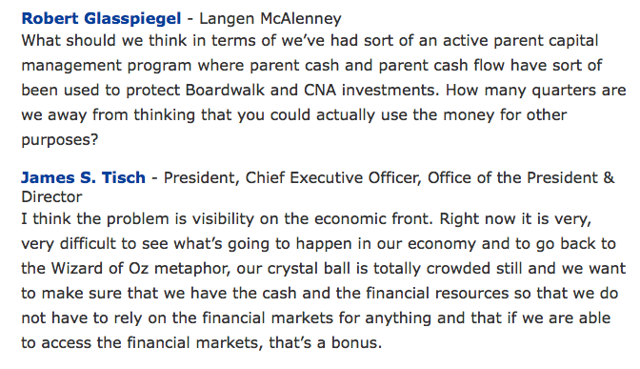 Q2 2009 earnings call: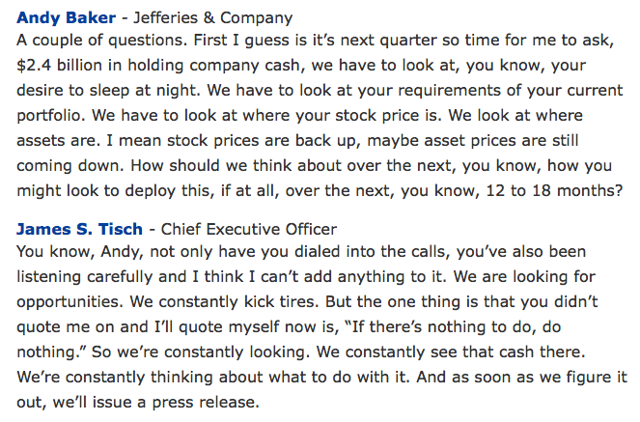 Q3 2009 earnings call: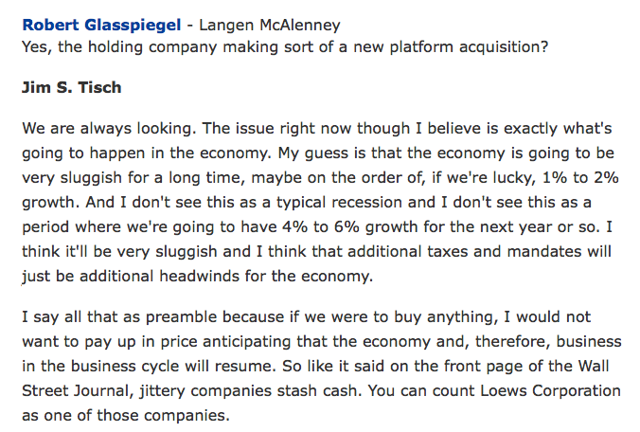 Q2 2010 earnings call: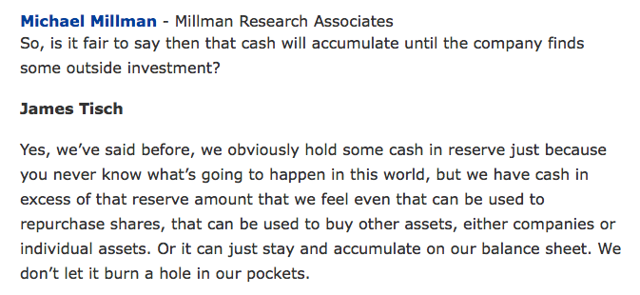 Q4 2010 earnings call: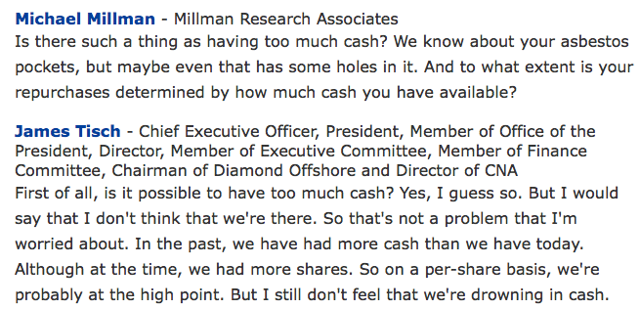 Certainly a Loews shareholder would not want management to make an ill-advised acquisition without doing proper due diligence on the target, simply to deploy excess cash; however, management has failed to make any significant acquisition since 2007, when it bought HighMount (in retrospect, as shown above, a terrible allocation of capital). Prudence is wise, but excessive timidity can be very costly, especially when asset prices are low, as they were during 2009 and 2010. Shouldn't Loews shareholders expect management to buy low and sell high? Unfortunately, during the past eight years management has either failed to do so or done precisely the opposite. Given this fact, one must ask the following question: What use is the Loews holding company structure, if management at the holdco level consistently fails to allocate capital effectively?
In addition, lately on Loews' earnings calls, CEO Jim Tisch has stopped answering even basic analyst questions regarding operating benchmarks by which management's performance can be measured in the future. See, for example, the following exchange from the earnings call for Q1 2014 regarding Loews' hotel business: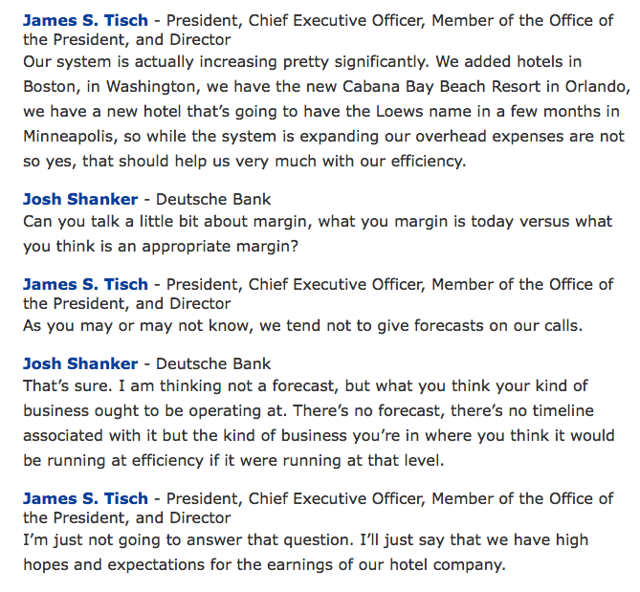 Clearly, Loews' management has no desire to divulge any internal or external financial goals or metrics by which their performance can later be judged. Warren Buffett has described this approach as painting the bulls-eye around the arrow of performance, which is exactly the reverse of what management should do. See the following from Berkshire's 2010 Shareholder Letter:
Charlie and I believe that those entrusted with handling the funds of others should establish performance goals at the onset of their stewardship. Lacking such standards, managements are tempted to shoot the arrow of performance and then paint the bull's-eye around wherever it lands.
Again, why have a conglomerate structure at all if there's no objective way to measure its usefulness (or lack thereof) to shareholders?
Poor Corporate Governance Practices
While it has probably been sufficiently disappointing for Loews' shareholders to witness the capital allocation and operating performance shortcomings at the company over the past decade, it must be incrementally distressing that Loews displays subpar corporate governance practices and procedures. Take, for instance, the following disclosure in Loews' 2014 Proxy Statement regarding the determination of management's yearly bonuses:
The Compensation Committee determined that Performance Based Income for 2013 would mean our consolidated net income, after excluding the impact of certain items which the Committee concluded would not be appropriate in measuring performance in 2013... For 2013, Performance Based Income amounted to $1,238 million compared to consolidated net income of $595 million.
We see from this disclosure that, although Loews' consolidated net income amounted to $595 million for 2013, the amount of "adjusted" net income that the compensation committee decided to use to determine management's 2013 bonuses was $1.238 billion. Wait, what? They used an amount more than double the actual net income for the year to determine the bonus pool for management--how the heck did they do that? Simple, just exclude everything that's "bad" in the income statement, such as negative accounting changes, goodwill impairments, asset writedowns, reserve "strengthening" (a euphemism for "oops, we understated our claims reserves at CNA"), and, bizarrely, even items such as "Catastrophe losses of CNA in excess of CNA's 2013 budgeted amount, but not less than such budgeted amount"(!)
Wouldn't you like to exclude all of the "bad" items, including items that deviated negatively from your "budgeted amount", from your job review and bonus determination? Although the proxy pays lip service to the compensation committee's supposed "negative discretion to reduce an award otherwise earned", it is safe to say that this negative discretion will almost always go unused. Unsurprisingly, we learn from the proxy that for 2013 "the Compensation Committee granted incentive compensation awards…at amounts equal to the 2013 targets", despite the fact that Loews shares trailed the S&P 500 by approximately 13% (including dividends received). The compensation committee at Loews sure seems to be a forgiving bunch of folks.
In addition, the "Transactions with Related Persons" section on p. 30 of the 2014 Proxy discloses that nepotism remains alive and well (at least, at Loews), with the third generation of Tisches walking away with a grand total of $1.75 million in cash compensation, not to mention unquantified amounts from participation in employee benefit programs and a massive grant of 30,000 stock appreciation rights (or SARs) as an equity kicker, all for their "corporate development" and "brand marketing" efforts on behalf of the company in 2013 (whatever those were), as the following from the Proxy reveals:
Alexander Tisch, son of Mr. A.H. Tisch, is employed as a Vice President in the Company's Corporate Development Department. Mr. Tisch, an at-will employee, earned compensation of $700,000 in 2013 and participated in benefit programs available to salaried employees generally. In January 2014, he was granted 15,000 SARs under our Stock Option Plan having terms identical to those applicable to other employees.
Lacey Tisch, daughter of Mr. A.H. Tisch, is employed as a Director of Brand Marketing for Loews Hotels. Ms. Tisch is an at-will employee, earned compensation of $79,300 in 2013 and participated in benefit programs available to salaried employees generally.
Benjamin Tisch, son of Mr. J.S. Tisch, is employed as a Vice President in the Company's Corporate Development Department. Mr. Tisch, an at-will employee, earned compensation of $975,000 for 2013 and participated in benefit programs available to salaried employees generally. In January 2014, he was granted 15,000 SARs under our Stock Option Plan having terms identical to those applicable to other employees.
Call me crazy, but I doubt these three winners of the ovarian lottery would be able to command similar compensation levels for their "corporate development" and "brand marketing" skills at, say, a Berkshire or a Leucadia (NYSE:LUK). It must be nice to be children of the members of Loews' "Office of the President".
Equity Voting and Liquidity Analysis; Significant Shareholders; Charter and By-Laws
Interestingly, one area where Loews does practice good corporate governance is in the area of voting rights. Despite heavy ownership by insiders, Loews has only a single class of voting stock; thus, fortunately, all shareholders are on an even playing field in this respect. Loews stock trades on average about 740,000 shares per day, or approximately 15.5 million shares per month (note that there are approximately 381 million shares outstanding). At the current prices, Loews shareholders trade around $675 million worth of its stock per month. Thus, assuming an activist were responsible for ~40% of the daily purchase volume, a 5% position could be amassed in approximately 3 months (or more quickly via options). In addition, an activist could build significant positions in one or more of CNA, DO and BWP in order to exert further pressure on Loews' management (although gaining control of any of these subsidiaries would be impossible, since Loews maintains a controlling interest in each).
Per the 2014 Proxy and general news reports, it appears that members of the Tisch family control upwards of 20% of the outstanding shares of Loews. A sizable portion of this amount is held by the respective widows of Laurence and Bob Tisch, "Billie" and Joan, each of whom are now in their late 80s. It is unclear whether any of this portion of the Tisch family holdings would need to be divested in the event of the death of either of Billie or Joan. In addition, Southeastern Asset Management / Longleaf Funds own approximately 13% of the stock.
See below for a summary of the institutional equity holders as of June 30, 2014 (source: Finra):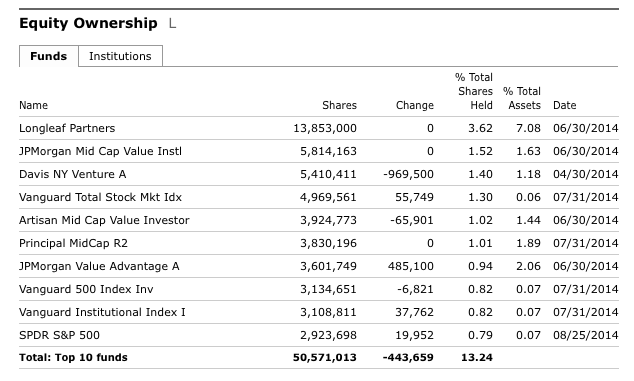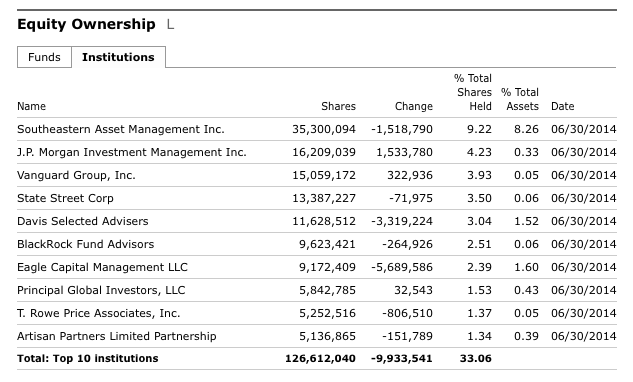 Although Southeastern has a reputation as being a buy-and-hold passive investor, on occasion they have evidenced an activist streak. For example, in 2013 they teamed up with Carl Icahn in opposition to Michael Dell's bid to take Dell private. In addition, during 2012 they went activist in respect to CHK, MLM and VMC. See here. Thus, it is plausible that an activist could convince Southeastern to join forces in order to apply pressure to Loews' management to spin off certain of its subsidiaries, ramp up share repurchases and/or improve its corporate governance.
Loews charter and by-laws are located here and here, respectively. Section 2.3 of the by-laws states that holders of 50% of the outstanding shares of Loews may call a special meeting of shareholders. In addition, it should be noted that Loews does not have a staggered board, so all directors are up for election annually.
Loews 10-Year Financial Summary
For general reference, below is a 10-year financial summary for Loews Corporation (source: S&P):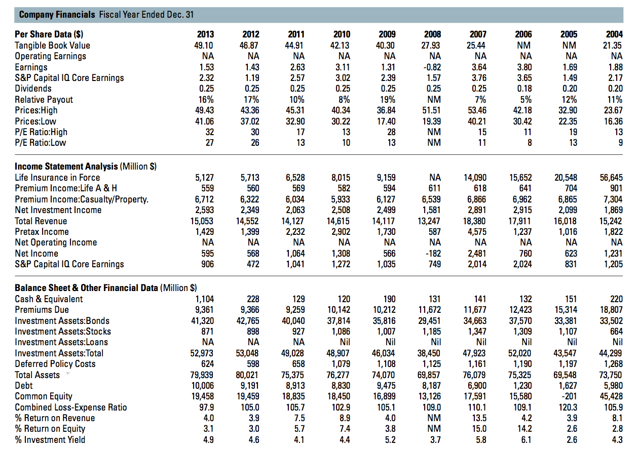 Conclusion
Loews currently trades at a 17.5% discount to the sum of its parts, indicating a minimum upside of over 20% were this gap to close. Similarly, were Loews to merely trade at book value (let alone a 40% plus premium to book, such as the market has awarded Berkshire Hathaway shares), its stock would need to appreciate over 17%. These minimum upside scenarios, in addition, give no credit for potential operating improvements and/or control premiums that Loews' subsidiaries could experience if they were to become stand-alone public entities, with focused and accountable management beholden to separate shareholder bases, via spinoffs or a breakup of the Loews conglomerate. Although the Tisch family controls a large chunk of the outstanding stock (perhaps up to 20%), all shareholders are on an even playing field with respect to voting rights (and some members of the Tisch family might even look favorably on an unlocking of value for a stock that has basically been stuck in the mud for the past 8 years).
Loews thus presents, in my view, an ideal opportunity for one or more large activist shareholders to deploy significant capital. From a risk/reward perspective, and in light of the increasingly limited pool of value situations available in today's frothy markets, an activist stake in Loews presents the holder thereof with very little downside risk for such an appealing potential upside reward.
Disclosure: The author has no positions in any stocks mentioned, and no plans to initiate any positions within the next 72 hours.
The author wrote this article themselves, and it expresses their own opinions. The author is not receiving compensation for it. The author has no business relationship with any company whose stock is mentioned in this article.