Apple (NASDAQ:AAPL) shares are on a tear this year. They are up over 25%, at all-time highs in a raging bull market, and they still are a bargain. Apple's current multiples compare favorably to peers and the broader market and the shares appear under intrinsic value using Graham's revised formula and a fairly conservative DCF model. The company has multiple catalysts approaching with the most imminent and significant being the iPhone 6 launch September 9th. To top it all off the company is very shareholder friendly with a large share repurchase program and offers a decent dividend.
Current Valuation Comparison
The chart below compares Apple's P/E and P/S multiples to peers Microsoft (NASDAQ:MSFT) and Google (NASDAQ:GOOG) (NASDAQ:GOOGL). Apple's multiples compare favorably. Apple's P/E of 16.3 also is lower than the S&P 500 average P/E of 19.83 and technology sector P/E of 20.1.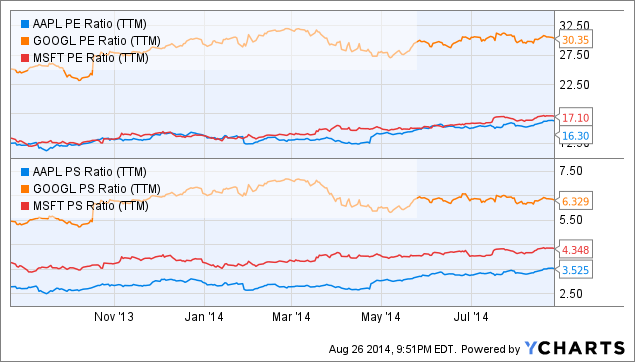 Looking at a cash flow comparison to Microsoft and Google really drives home how potent of a cash generator Apple's business is.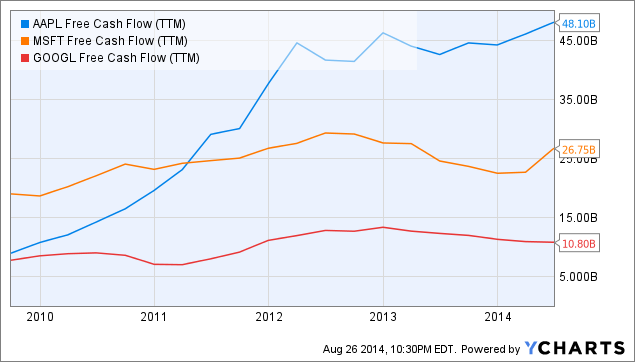 Not only does Apple have lower multiples compared to its peers, its sector and the broader market, it also generates copious amounts of free cash flow - $48B over the trailing twelve months. Nearly 2x that of Microsoft and over 4x cash flows of Google.
Is Apple Over or Under Fair Value?
To determine the fair value or "intrinsic" value of a stock there are two easy and common methods - Graham's revised formula and discounted cashflow valuation (DCF).
Graham's revised formula - Benjamin Graham, known as the father of value investing, developed his formula to give investors a tool to quickly screen if a stock was above or below intrinsic or fair value.

V* = Fair Value
EPS = EPS ttm
g = EPS (5yr projected growth)
Y = AAA Corporate Bond Yield
If we plug Apple's numbers into the equation we get:
V*= $6.19(8.5+2*11.90)4.4 divided by 4.16 = $211.47
Seeing as Apple's shares closed at $100.89 Friday they are significantly undervalued according to Graham's revised formula. Graham's revised formula, while a decent quick indicator, can tend to be on the high side - so we can use an additional method to check fair value called a discounted cash flow valuation.
Discounted Cash flows Valuation - The DCF method is a popular method for determining fair value and uses future free cash flow projections, then discounts them to come up with a present value. In using the DCF valuation we have to make some assumptions for the discount rate (our expected annual rate of return on our capital) and projected growth after year 5.
Using this online DCF calculator and inputting a discount rate of 10% and a conservative 5% growth rate for year 6 forward we get a fair value of $174.20. Using a DCF valuation Apple's shares appear significantly undervalued.
If we were to go even more conservative and use a discount rate of 11% and year 6 forward growth rate of only 4% we get a fair value of $127.47.
Growth Prospects
Apple has significant upcoming catalysts - the most imminent being the iPhone 6 release on September 9th. There should be major pent-up demand for the iPhone 6 since loyal Apple customers have been waiting for years for a large screen iPhone and "phablet." Samsung's (OTC:SSNLF) Galaxy pioneered the larger screens and phablets and likely converted many dissatisfied Apple customers wanting a larger screened smartphone. Apple may be able to win those lost customers back with the new large screened iPhone 6. Also contributing to the excitement for the iPhone 6 was Apple's strategy of releasing multiple iterations of the iPhone 4 and iPhone 5 without significant changes between models. The iPhone 6 will look and feel completely different from past iPhones. In October, Apple is rumored to be releasing an iWatch and is rumored to be releasing a 12.9" larger screened version of the iPad in 2015 to compliment its popular 9.7" and 7.9" screened iPads. Apple also recently partnered with IBM (NYSE:IBM) in a push to get more of its devices into the enterprise market and bolster its cloud services. Apple's growth prospects are strong on multiple fronts.
Share Repurchases And Dividends
Apple returns value to shareholders through a huge $130B share repurchase program and pays a dividend that is currently yielding 1.86%. The charts below illustrate how Apple has ramped up both of these programs beginning in 2013.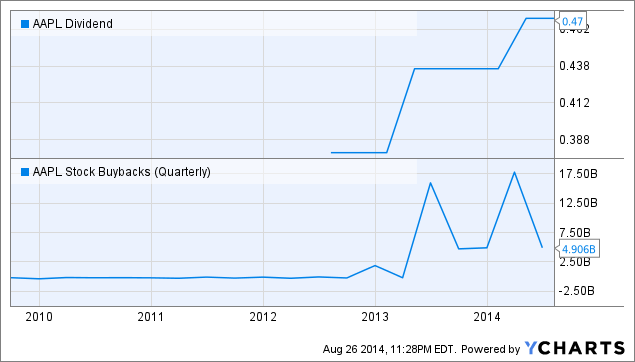 Risk Factors
Risks associated with Apple fall generally into the macro-economic bucket. A correction or market sell-off could definitely halt Apple's progress toward reaching fair value. Also Apple relies on many vendors - any break in the supply chain could certainly hinder progress in Apple's shares. As mentioned above, Graham's revised formula tends to produce high intrinsic values and using a DCF valuation assumptions have to be made about discount rate and long-term growth rates. Stocks can stay below fair value for extended periods of time. Stocks that are trading considerably under fair value will have a greater margin of safety and can weather market downturns better than high-flying overvalued equities.
Conclusion
Even though Apple shares trade at historical highs in a raging bull market it is still a solid buy with a 20%-30% margin of safety. Given the catalysts Apple has on tap, it should be making new highs well through 2015.
Disclosure: The author has no positions in any stocks mentioned, and no plans to initiate any positions within the next 72 hours.
The author wrote this article themselves, and it expresses their own opinions. The author is not receiving compensation for it (other than from Seeking Alpha). The author has no business relationship with any company whose stock is mentioned in this article.
Additional disclosure: This article is informational and intended to spur thought and discussion. This article is not a substitute for your own extensive due diligence and does not qualify as investment advice. Do not buy or sell stocks based on this article.