Honeywell (NYSE:HON) is the conglomerate that keeps delivering. Over the last 2 years, it has thoroughly outpaced General Electric (NYSE:GE) and United Technologies (NYSE:UTX), as well as the Dow Jones. As shown in the chart below, it wasn't one spike. The company has just been consistently outperforming.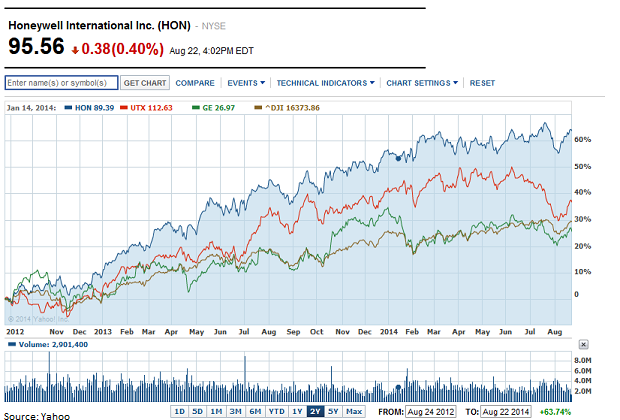 Following its strong first half of 2014, the company raised the low end of guidance by 5 cents, leading to a pro forma EPS guidance range of $5.45 to $5.55 for the fiscal year. Like other conglomerates, Honeywell has been spinning off segments that didn't make sense for it. Management points to the closing of the sale of "Friction Materials" as a driver for continued performance.
Management has provided shareholders with the long-term targets for 2018. The targets look fairly aggressive, but Honeywell might be able to do it. Its success in its previous long-term goals helped its stock outperform the other conglomerates. Here are those targets: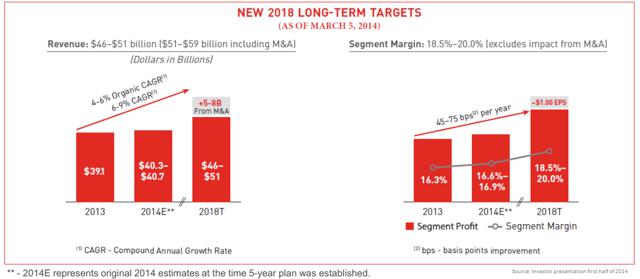 If you're new to reading about Honeywell, the company had four segments. They were: Aerospace, Automation and Control solutions, Performance Materials and Technologies, and Transportation Systems. The following chart should help display their relative value to the company.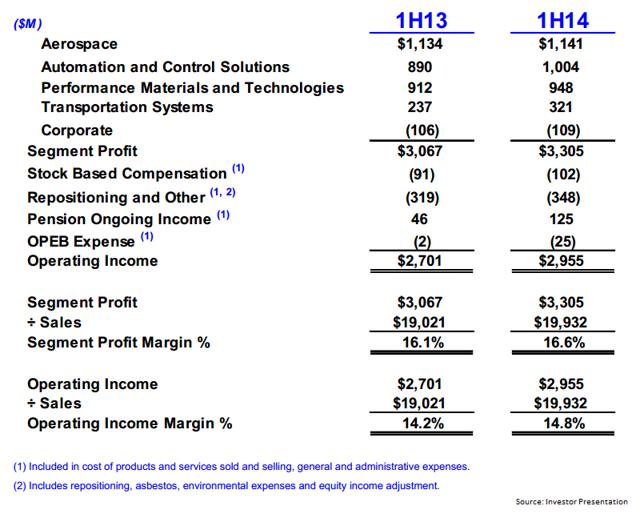 I use the past tense in referring to the four segment approach because Honeywell filed an 8-k in the third quarter to reflect a change in reporting. In the future, you'll see a segment called "Transportation Systems and Aerospace". This merging of segments was planned to follow the sale of Friction Materials. The second-quarter information under the new format, which should be used for comparisons moving forward, is presented below:

For the combined segment of Transportation Systems and Aerospace, sales are expected to come in flat, possibly down by 2%. The potential decrease recognizes the loss of revenues from Friction Materials. When excluding Friction Materials from the values for 2013, sales should be up 2% to 3% for the segment, which includes 3 sub-segments: Commercial, Space and Defense, and Transportation Systems.
Regarding the merging of the two segments, per the earnings call transcripts:
"Honeywell has realigned the Transportation Systems business segment into Aerospace to better take advantage of the engineering and technology similarities and the shared operating practices with two businesses."
Defense and Space has been a challenging area for Honeywell lately. Revenues were down 8% in the first quarter, but only 1% in the second quarter. Management is predicting the declines to be done, and has stated that they expect growth for the segment in the third quarter, as well as in the next fiscal year.
Region sales
Honeywell's geographic breakdown of sales is still centered on the United States. The typical breakdown for regional sales is:
United States : 45%
Europe: 25%
Other parts of the Americas: 8%
China: 6%
India: 2%
All other areas combined: 14%
Cash Deployment
Honeywell has been following a simple plan for deciding what to do with cash. From 2010 through the projected end of 2014, the goal was, and still is, roughly a 50/50 split between returning to shareholders and investing in new growth. Counting the projected uses through the end of 2014, there should be $3.4 billion in share repurchases to compliment $6 billion in dividends. On the growth side, the totals are projected to be $4.5 billion into capital expenditures and $4 billion into Net M&A.
Taxes
Honeywell has been dealing with some minor difficulties in the effective tax rate. The effective tax rate of 26.1% in the second quarter reduced EPS by 6 cents relative to the second quarter of 2013. EPS of $1.38 per share, which beat the high end of management's guidance range by $.02, was an increase of 8% on a GAAP basis ($1.28 EPS for Q2 2013), or 12% normalized for taxes.
Conflict between management statements and insider transactions
The CFO, Tom Szlosek, closed his prepared remarks in the earnings call by saying:
"We feel confident that our balance portfolio mix, alignment to favorable macro trends and focused cost discipline will enable us to continue to outperform and we're focused on executing sustainable restructuring productivity actions including delivering on the strong restructuring project pipeline..."
Those are fairly bullish statements. They are confident they will continue to outperform? As an analyst, I like the things they've done with the company, but I'm a little concerned that those statements were not representing an increase in exposure to the stock price. Since the earnings call, Insider Cow shows only sales by insiders, with total proceeds in excess of $9 million. Since Tom wasn't one of those sellers, I'll give him a pass on that. He may feel bullish, and I can understand the sentiment.
Conclusion
Honeywell has delivered great returns to shareholders for years. The vision is solid, and its targets are clearly articulated. I'm concerned that its targeted growth in segment margins may be beyond even its ability, but so far, there is no proof it can't hit it. By divesting the less appealing segments and refocusing the company, it is avoiding competing in areas in which it lacks a sustainable advantage. Its actions, in my opinion, read like a textbook on how to run a conglomerate. The trailing PE of 19.15 isn't too bad considering its combination of expected growth and dividend yield. I'm bullish on the stock. Even without the improvements to segment margin, the dividend yield and sales growth provide a reasonable level of protection against downside risk. The stock dipped in late July, but like most Honeywell dips, it was just another buying opportunity.
Disclosure: The author has no positions in any stocks mentioned, and no plans to initiate any positions within the next 72 hours.
The author wrote this article themselves, and it expresses their own opinions. The author is not receiving compensation for it (other than from Seeking Alpha). The author has no business relationship with any company whose stock is mentioned in this article.
Additional disclosure: Information in this article represents the opinion of the analyst. All statements are represented as opinions, rather than facts, and should not be construed as advice to buy or sell a security. Ratings of "outperform" and "underperform" reflect the analyst's estimation of a divergence between the market value for a security and the price that would be appropriate given the potential for risks and returns relative to other securities. The analyst does not know your particular objectives for returns or constraints upon investing. All investors are encouraged to do their own research before making any investment decision. Information is regularly obtained from either Yahoo Finance or the SEC database. If either of these sources contained faulty information, it could be incorporated in our analysis. The analyst holds a diversified portfolio including mutual funds or index funds which may include a small long exposure to the stock.