AmTrust Financial Services (AFSI) delivered a strong second quarter beat on August 7, prompting analysts to revise their estimates significantly higher for both 2014 and 2015. This sent the stock to a Zacks Rank No. 1 (Strong Buy).
Although shares have already enjoyed nice gains so far this year, the stock trades at just 9x forward earnings. Given the strong earnings momentum and growth projections - along with relatively low interest rate risk - AmTrust still offers investors plenty of upside from here.
AmTrust is a property and casualty insurer that specializes in coverage for small businesses. The company provides insurance coverage for products with high volumes of insured and loss profiles that it believes are predictable. It offers workers' compensation insurance, extended warranty coverage, specialty middle-market property and casualty insurance and several related products and services.
Second Quarter Results
AmTrust delivered better-than-expected second quarter results on August 7. Adjusted earnings per share came in at $1.34, crushing the Zacks Consensus Estimate of $1.01. It was a 79% increase over the same quarter last year.
Gross written premium jumped 39% year-over-year to $1.44 billion due in large part to a reinsurance agreement with Tower International Group.
Investment income, excluding net realized gains and losses, soared 44% year-over-year to $32.6 million.
Meanwhile, the company's combined ratio improved from 92.1% to 90.9%. This was driven by improvement in both the company's loss ratio and expense ratio.
Estimates Soaring
Analysts have increased their earnings estimates significantly following the strong Q2 results. The 2014 Zacks Consensus Estimate is now $4.84, up from $4.48 before the report. The 2015 consensus is currently $5.31, up from $4.96 over the same period
As you can see in the company's "Price and Consensus" chart, consensus estimates have been moving significantly higher over the last several months.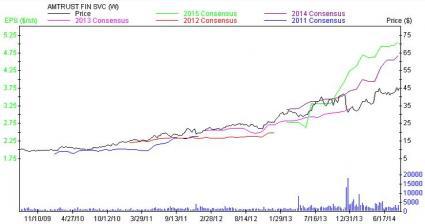 Based on current consensus estimates, analysts are projecting 43% EPS growth this year and 10% growth next year.
Reasonable Valuation
While shares of AFSI have soared more than 36% year-to-date, the valuation picture still looks reasonable. The stock trades at just 9x 12-month forward earnings, below the industry median of 13.8x.
While its price to tangible book value ratio of 3.4 is well above the industry median of 1.9, this seems justified given AmTrust's superior returns on equity. Over the last 12 months, the company has generated 23% ROE compared to 7% for the industry.
Interest Rate Risk
One of the fears that has hung over insurance stocks is the threat of rising interest rates. Since insurers hold a lot of fixed income investments in their portfolios, rising rates would decrease the value of these securities.
However, AmTrust's interest rate risk is relatively low. The company has a $4.3 billion investment portfolio, with more than $4.0 billion in fixed income investments like corporate bonds, mortgage-backed securities and municipal bonds. But the weighted average duration of its fixed income securities was a relatively short 5.3 years. So unless interest rates spike significantly higher, AmTrust investment portfolio should be able to weather rising interest rates rather well.
The Bottom Line
With strong earnings momentum, solid growth projections and reasonable valuation, AmTrust still offers investors attractive upside potential.
AMTRUST FIN SVC (NASDAQ:AFSI): Free Stock Analysis Report (email registration required)
Disclosure: None