The discount retail industry in the US is dominated by three corporations: Wal-Mart (NYSE:WMT), Target (NYSE:TGT), and Costco (NASDAQ:COST). Wal-Mart is the largest corporation by far in the category, with a market cap of $243 billion. Costco is the second largest publicly traded discount retailer in the US with a market cap of $53 billion. Target is third with a market cap of "only" $38 billion. Notice that Wal-Mart is over four times as large as its nearest competitor, and over twice as large as its two largest competitors combined.
Wal-Mart's public perception is unfavorable, to put it mildly. The company pays low wages, hires workers part time which to cut down on health care benefits, and drives out local family owned retailers. In stark contrast, Costco has a reputation for high pay and fair labor practices. Target is somewhere in between the two based on employee compensation.


Source: Data from Glassdoor, chart from author
Wal-Mart's low pay could be partly responsible for its stocking issues, which have cost the company sales as store shelves remained empty despite having product available. Empty store shelves are a tell-tale sign of poor supply chain management and /or an unresponsive employee base.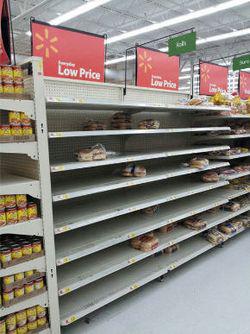 Source: Through the Eyes of the Customer
Target has apparently worked hard over the past year to keep pace with Wal-Mart's negative publicity. The company suffered a truly massive data breach in late 2013 that resulted in the loss of information on 110 million credit cards. To make matters worse, Target had been actively promoting its Target credit cards. The company's CEO resigned recently, likely due in part to the credit card data breach. Negative publicity and poor operational management have negatively affected Wal-Mart and Target's comparable store sales.
Comparable Store Sales
Over the last six quarters, Costco has greatly outperformed Wal-Mart, Sam's Club (owned by Wal-Mart), and Target. The company has had exceptional comparable store sales growth in each of the last 6 quarters. In contrast, Wal-Mart stores in the US have not increased comparable store sales in six quarters. Both Target and Sam's Club have seen decreasing comparable store sales for 3 consecutive quarters. Target's comparable store sales data shows a sharp decline of 2.5% for the quarter when the data breach occurred.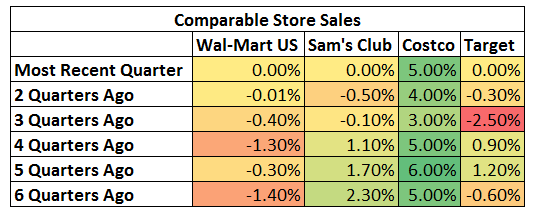 Source: Data WMT, COST, and TGT investor relations, chart from author
Total Revenue Growth
Despite lackluster comparable store results in the US in recent quarters, Wal-Mart has managed to grow revenue per share by over 8% a year over the last decade. The company's strong growth may come as a bit of a surprise to investors who view Wal-Mart as a slow growing stalwart. Target has grown nearly as fast as Wal-Mart, with a revenue per share growth rate of almost 7.5% per year over the last decade. Costco has outpaced both companies, with a revenue per share growth rate of nearly 9% a year over the last ten years.
Despite strong growth from Costco, the gap between the three companies' long-term revenue per share growth rate is smaller than one would expect. Costco is only growing about 1% a year faster than Wal-Mart and 1.5% a year faster than Target over a ten-year period.
Future Growth Potential
Wal-Mart and Target have suffered recent declines in comparable store sales, but that is not the entire picture for either business. Wal-Mart has strong growth potential in its new smaller store layouts, which are a hybrid between a gas station, a pharmacy, and a small discount retailer. The company has plans to open about 200 of these stores over the next twelve months. Wal-Mart will "fill in the gaps" between its larger stores with these new smaller locations. The company has a competitive advantage versus other small discount retailers in that it can purchase and resell goods at a significantly lower price than its smaller competitors. Wal-Mart has also seen strong comparable store sales growth of over 5% for its Wal-Mart Neighborhood Market stores, which compete more with traditional grocery stores than with big box discounters.
Target is targeting (pun might be intended) Canada for its future growth. The company is focusing capital expenditures in Canada to continue increasing its store count in the region. The company has seen underwhelming results from its Canada operations thus far, with serious stocking problems and weaker than anticipated Canadian demand. Fortunately for Target, its US operations have been rebounding from the data breach debacle. The company is in position to deliver positive comparable store sales in the US for the first time in three quarters next quarter. Overall, Target's expansion plan into Canada has not proven accretive to shareholder value. The company's short-term earnings potential has been negatively affected by the Canada expansion.
Costco's growth potential stems from its unique business model. All three discount retailers rely on slim margins and massive volume to turn a profit. Costco takes it one step further. The company maintains an operating margin of less than 1% without counting revenue from memberships. Costco in effect gives away its goods at cost in order to entice members to join. Costco can be thought of almost as a giant consumer purchasing agent, that works for the consumer. Its main source of profits is its membership fees. Costco is expanding both in the US and internationally, and has a very long growth runway ahead.
Do Not Overpay For Your Discount Retailer
If I were going to shop at any of the three discount retailers above, it would be Costco. The company's razor thin margins and product mix appeal to me as a consumer. As an investor, Costco is not a bargain. The company is riding high on several consecutive quarters of comparable store sales increases while its largest competitors struggle. The best time to buy a stock is not when it is surrounded by good news, but when the company zeitgeist has turned negative.
Be Fearful When Others Are Greedy and Greedy When Others Are Fearful
- Warren Buffett
Both Wal-Mart and Target have had a string of negative results and negative publicity. The historical and current P/E ratios for all 3 companies are shown below. Keep in mind the S&P 500 has a P/E ratio of about 19.8 as of now, significantly up from its long-term average of just over 15.
Wal-Mart has the lowest P/E ratio of the 3 businesses by a wide margin. The company is trading at a price well below the overall market, despite strong 10-year revenue per share growth. Wal-Mart is the leader in its field by size, and selling square feet by a wide margin. Further, the company is the most international of the 3 large discount retailers with significant operations throughout the world.
Rising Income In Retirement
Wal-Mart has a current dividend yield of 2.5%, while Target has a dividend yield of 3.4%. Costco has a dividend yield of just 1.2%. Both Target and Wal-Mart are Dividend Aristocrats with a long history of dividend payments. Wal-Mart has paid increasing dividends for 41 consecutive years. Target has paid increasing dividends for 42 consecutive years. Costco has a significantly shorter dividend history, with 10 years of consecutive dividend increases. Despite the lower number of consecutive dividend increases, Costco's management appears very committed to paying increasing dividends year after year. All three businesses will likely give retired investors dividend raises year after year that significantly beat inflation. Target has the highest dividend yield of the three, and is the only one of the three with a dividend yield over 3%.
Putting It All Together
Costco is the clear winner in recent positive news. The company sports the highest P/E ratio, highest growth rate, and strongest comparable store sales over recent quarters. Wal-Mart is the cheapest of the three based on its P/E ratio, while Target has the highest dividend yield. Wal-Mart is a top 10 stock based on the 8 Rules of Dividend Investing, while Target is a top 20 stock. The 8 Rules of dividend investing use quantitative metrics that have historically improved returns such as high dividend yield, low payout ratio, and low volatility to ranks businesses that have not reduced their dividends for 25 or more years.
If I could shop at any one discount retailer, it would be Costco. If I could invest in only one discount retailer, it would be Wal-Mart due to the company's strong historical growth rate, new store layout growth potential, solid dividend yield and low P/E ratio as compared to its historical P/E ratio and the overall market.
Disclosure: The author is long WMT.
The author wrote this article themselves, and it expresses their own opinions. The author is not receiving compensation for it (other than from Seeking Alpha). The author has no business relationship with any company whose stock is mentioned in this article.