More news out that will be sure to drive the municipal bond market into a tizzy. P&I Online has an article on how Newt Gingrich is trying to get a flag carrier for legislation that would allow states to enter bankruptcy in order to renegotiate union contracts.
Personally, I can't see a state filing for bankruptcy, but legislation allowing it would be that big stick if the carrot doesn't work. I am sure the fear mongers will tell you that most states are insolvent (which, technically, I am sure they are), but you must remember that states' financials are not meant to look like corporate financials with a healthy equity position.
As all there is lately is bad news for this market, there must be opportunities.
Former House Speaker and possible GOP presidential contender Newt Gingrich is pushing for federal legislation giving financially strapped states the right to file for bankruptcy and renege on pension and other benefit promises made to state employees.

Proponents of the measure — which include Americans for Tax Reform, a Washington lobby group that fights tax increases — said the legislation is desperately needed to clear the way for struggling states to slash costs before they go belly up, and should be regarded as a preemptive move that could preclude the need for massive federal bailouts.

Mr. Gingrich discussed the proposal in a Nov. 11 speech before the Institute for Policy Innovation, an anti-big-government group based in Lewisville, Texas. According to a transcript of the speech on Mr. Gingrich's website, newt.org, he said: "I ... hope the House Republicans are going to move a bill in the first month or so of their tenure to create a venue for state bankruptcy, so that states like California and New York and Illinois that think they're going to come to Washington for money can be told, you know, you need to sit down with all your government employee unions and look at their health plans and their pension plans and, frankly, if they don't want to change, our recommendation is you go into bankruptcy court and let the bankruptcy judge change it, and I would make the federal bankruptcy law prohibit tax increases as part of the solution, so no bankruptcy judge could impose a tax increase on the people of the states."

Concerns about the funded status of public pension plans are increasing because the aggregate public pension plan funding level dropped to 80% for the fiscal year ended June 30, 2009, the most recent year for which data are available, from 85% a year earlier, according to the National Association of State Retirement Administrators, Baton Rouge, La.

States whose plans have the lowest funded status ratios, also as of June 30, 2009, were Illinois, with 51%, and Kansas, Oklahoma and New Hampshire, each with 59%, according to an analysis of state pension fund annual report data by investment bank Loop Capital Markets LLC, Chicago.
A snapshot of MUB - iShares S&P Natl AMTFr Mncpl Bd Fd
click to enlarge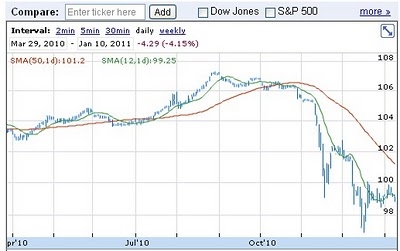 Disclosure: I have no positions in any stocks mentioned, and no plans to initiate any positions within the next 72 hours.