Microsoft (NASDAQ:MSFT) posted mixed fourth quarter results. It recorded revenue of $23.4 billion, a little higher than the expected $23.1 billion. However, EPS lagged estimates and dropped year over year. Microsoft's acquisition of Nokia's (NYSE:NOK) devices business in April was the major reason behind the setback.
Nokia wasn't performing well already, and the buyout by Microsoft changed the situation from bad to worse. The decision turned out to be futile altogether. Excluding the impact of Nokia's devices business, Microsoft would have managed decent figures.
Revenue grew 10% and EPS grew 12% in its software business, excluding the losses by Nokia. Microsoft is excelling in its cloud business, where revenue is growing in the triple digits. But these revenues are just 7% of Microsoft's total sales. This is why success in its cloud business couldn't catalyze the overall growth rate.
An unnecessary deal?
Microsoft's future looks uncertain. It bought Nokia's mobile business to capitalize on the mobile industry, but this might lead to adverse results in reality. The deal was supposed to provide $600 million cost synergies to Microsoft in 18 months, but it will now end up spending more than $600 million to subsidize the losses from it. The deal hasn't helped Microsoft in any way. Neither did the company benefit much from Nokia's mobile phones, and nor did it reduce its operating costs. In fact, Microsoft happened to spend more than what was expected.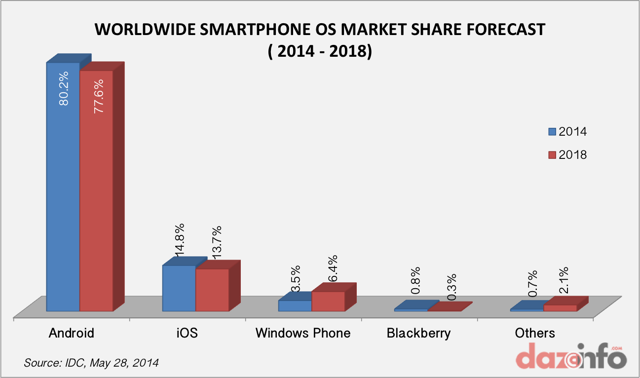 Source:dazeinfo.com
Microsoft sells less than 5% of total smartphone shipments worldwide. Its smartphone business is mainly driven by the Windows Phone, which lags way behind Android and iOS. Windows Phone has managed less than 4% market share after four years, which is an overly slow growth rate. And this is after the Nokia acquisition, which means that even the deal didn't bring any positive changes to Microsoft's smartphone business. Rather, it seems to be a complete misuse of $7.2 billion which Microsoft spent to buy Nokia.
Nokia was weak
As I mentioned earlier, Nokia's phones aren't doing great in the market. Initially, Nokia's Symbian operating system was performing very well, but on the arrival of Android, Symbian lagged, and thus, Nokia tried for various Linux-based operating systems that failed successively after Symbian. Nokia had announced its Nokia X Android phones just before the deal, but it is now set aside by Microsoft.
Microsoft's CEO plans to change Nokia X product designs to Lumia phones running Windows. Microsoft announced the Nokia Lumia 530 smartphone recently that runs Windows 8.1, and expects it to compete effectively with Google's (NASDAQ:GOOG) (NASDAQ:GOOGL) Android OS. Meanwhile, existing Windows based-Lumia smartphones' sales are significantly declining. Hence, it is very unlikely that Microsoft's focus on the smartphone market will help it improve further.
Not going in the right direction
Microsoft is adopting harsh cost-cutting measures. The company is firing a large number of people in order to free up capital for other purposes. It has acquired 25,000 people from Nokia, out of which it has aggressively cut down 12,500 jobs. In all, it has laid off 18,000 people already, and is set for more job cuts. Microsoft is struggling to manage costs, and has therefore taken this move. However, along with the decision of taking over Nokia, this decision isn't looking productive for the long-run. This biggest lay off announcement might seem positive in the beginning, but it isn't actually helping the company turn for the better.
Microsoft will have to spend another $1.1 billion-$1.6 billion to cut off its workforce. More than half of this cut is aimed at Nokia's workers, so here it will have to drain another $600-$800 million over it, which adds up to the losses generated from this deal. Microsoft also is ignoring other possible disadvantages of this decision.
It is losing efficient and talented people, which will eventually lead to a decrease in its research and development sector and also sales people, thereby leading to a decline in sales and product innovations. In a bid to correct one mistake, Microsoft is making another mistake that might hurt its financial results for a very long period. Although Microsoft's stock price rose more than 5% in the beginning of this major layoff, it might not remain up in the following years. All in all, this deal is increasing Microsoft's expenses and providing zero profits. Microsoft is not likely to overcome this dent earlier than 2018 as per forecasts.
Conclusion
Clearly, Microsoft has shot itself in the foot by acquiring Nokia. The company isn't enjoying the expected benefits of the transaction, and things could get worse in the future. Hence, investors should avoid Microsoft.
Disclosure: The author has no positions in any stocks mentioned, and no plans to initiate any positions within the next 72 hours.
The author wrote this article themselves, and it expresses their own opinions. The author is not receiving compensation for it (other than from Seeking Alpha). The author has no business relationship with any company whose stock is mentioned in this article.