Last week Sprint (NYSE:S) attempted to declare war on the wireless industry ("AT&T: Sprint Declares (A Price) War"). Fortunately, for AT&T (NYSE:T), Verizon (NYSE:VZ) and T-Mobile (NASDAQ:TMUS), S either did not have the ammunition or the backing to engage in a full-fledged price war. Advertising and promotion of S's new plans have been limited and media buzz died down the day after the announcement.
War is Good... If There Are No Casualties
Interestingly, since S's "price war" became known, all of the major wireless carriers are up (of course the S&P 500 has been up as well).

Source: Yahoo
Of course, on August 5, after S abandoned its long rumored bid to acquire TMUS, the stocks of the two industry laggards plummeted, so any positive moves by S and TMUS have to be taken in perspective.

Source: Yahoo
All of the wireless carriers have disappointed in 2014, of course T and VZ shareholders could take solace in their dividend payments, which made them net positive for 2014 (to-date).

Source: Yahoo
It was originally feared a price war could impact T materially, if it were forced to aggressively respond. A 1% competition induced drop in revenues could have had a $0.07/share impact on earnings and cost shareholders almost 3% of value. As Japanese billionaire, Masoyashi Son, controls S's majority shareholder, Softbank (OTCPK:SFTBF), he could have afforded to write the checks to fund a price war. In hindsight, S's PR move appears to have been more about new CEO, Marelo Claure, trying to make some noise to keep S relevant, especially after killing the TMUS merger rumors, than actually engaging in a costly battle it had little chance of winning.
Analyst Community Unfazed... But Trending Downward
To date, analysts have viewed S's actions as a non-event. Estimates have not been revised downward. Analyst estimates for T, though down over the past two-to-three months, remained at $2.60 for 2014 and $2.72 for 2015, giving T a forward PE of 12.8x and a PEG (PE/Growth) of 2.6.
As the following chart demonstrates, T's 2015 earnings have been slowly but surely declining since mid-2013. The 2014 forecast (the middle line) have been reasonably steady until about 90 days ago.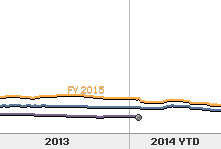 Source: TDAmeritrade
Quietly, AT&T Postures For Maximum Advantage
Probably the most under-reported promotion was T discounted iPads by $200 when a new iPhone is purchased under contract. This promotion, announced two weeks ago, is doubly smart. First, as the Wall Street Journal reported, T is seeking to grow its subscriber base. Second, it provides T with an opportunity to induce iPhone purchases in an environment when iPhone sales are temporarily dropping in anticipation of the launch of the iPhone 6 on (presumably) September 9. Importantly, the promotional cost only applies to new customers; there is no margin erosion to customer base.
More Relevant to Shareholders...
In a story reported in the NYPost, but not confirmed at the time of this writing in the Wall Street Journal or at Bloomberg.com, T has reached an agreement with the Department of Justice on conditions to complete the $67 billion acquisition of DirecTV (DTV), a transaction first announced in May of this year. T's proposed acquisition of DTV is largely driven by the need to acquire proprietary content, namely the "NFL Sunday Ticket," that is so valuable in an environment where many are dropping cable and seeking the lowest price for "commodity" services, such as voice communications. The acquisition of the profitable DTV will increase T's share count by almost 10%, debt by almost 25% and operating cash flow by almost 20%. As DTV's expected five-year growth rate, at 8.6%, is somewhat higher than T's 5%, it will make T a (slightly) faster growing company and (slightly) reduce the hefty PEG.
Summary
Fortunately, for T shareholders, the company did not have to invest in a war with S to defend market share. Defense would have been necessary and potentially costly. However, the Company seeks to maximize its position through selective promotions and behind the scenes lobbying. Though the high PEG scares off a total return investor such as myself, dividend investors can rest assured there is a lot of behind the scenes activity going on to secure T's future relevance and ability to pay (and grow) its 5.2% dividend.
Disclosure: The author has no positions in any stocks mentioned, and no plans to initiate any positions within the next 72 hours.
The author wrote this article themselves, and it expresses their own opinions. The author is not receiving compensation for it (other than from Seeking Alpha). The author has no business relationship with any company whose stock is mentioned in this article.
Editor's Note: This article discusses one or more securities that do not trade on a major U.S. exchange. Please be aware of the risks associated with these stocks.