Dividend investors face a choice when looking for income. One option is to look for higher current income, but this usually comes at the price of lower growth. The other choice is to look for higher growth, with the price of lower income today. For investors looking for growth, Vanguard Dividend Appreciation (NYSEARCA:VIG) is a solid choice.
Index
VIG tracks the Nasdaq US Dividend Achievers Select Index. The index tracks dividend paying companies and uses several criteria to select holdings. The first is that the firm must have paid dividends for 10 consecutive years and that those dividends must have increased each year. The index also uses criteria to screen for higher quality dividend payers.
The index is a modified market capitalization weighted index-no single holding can exceed 4 percent of the fund's total assets at the time of rebalancing. The fund is rebalanced once a year in February, taking effect in March. REITs and limited partnerships are not included in the index.
VIG only charges 0.10 percent in fees. Vanguard clients can trade VIG commission free, as can customers of TD Ameritrade.
VIG's Advantage
The reason VIG is a superior ETF comes down to its selection of financially superior companies. The Barron's article How Stretched Is Your Dividend ETF's Payout? cited Credit Suisse research that shows VIG's portfolio is the strongest in terms of ability to pay rising dividends (and avoid cuts). The VIG portfolio has one of the lowest payout ratios, in addition to companies in the portfolio having lower recurring costs such as interest and capex. This leaves plenty of room for dividend hikes, or in the event earnings tumble, dividends are protected from cuts. The only fund in VIG's neighborhood with similarly strong results by both measures, is First Trust Nasdaq Technology Dividend Index (NASDAQ:TDIV). Unlike TDIV, however, VIG holds a diversified portfolio.
Income & Return Comparison
For comparison, we'll look at VIG versus SPDR S&P 500 (NYSEARCA:SPY) and a popular dividend ETF, iShares Select Dividend (NYSEARCA:DVY). All data is from Yahoo! Finance or fund providers' website.
Based on the closing price on June 1, 2006 and the future 12-month dividend payout (through June 2007), VIG had the lowest yield at 1.69 percent. SPY had a yield of 2.28 percent and DVY a yield of 5.05 percent. Investors looking solely at current income would have picked DVY, and also preferred SPY to VIG.
In the seven years since then, DVY only increased its dividend payout by 3.11 percent due to severe dividend cuts during the 2008 financial crisis (both SPY and VIG also saw their dividends reduced, with VIG recovering the fastest). SPY saw healthier cumulative growth of 44.47 percent. VIG saw superior growth of 110.14 percent.
While DVY still pays a larger dividend than VIG or SPY, the dividend has only tread water due to the financial crisis. SPY had a 0.6 percent yield advantage over VIG in 2006, but an investor who purchased equal dollar amounts of VIG and SPY in 2006 and did not reinvest dividends, would find that their check from VIG now exceeds their check from SPY.
Aside from income, there's capital appreciation to consider. On price alone, DVY gained 19.41 percent from June 1, 2006 through August 27, 2014. VIG and SPY saw much better and nearly identical cumulative returns of 56.56 percent and 55.56 percent.
The total return for these funds over this period was 73.85 percent for DVY; 84.49 percent for SPY; and 85.30 percent for VIG. The high income from DVY kept the fund competitive, but price appreciation lifted SPY and VIG to better returns.
Conclusion
VIG has shown it can perform as well as SPY on price, while growing its dividends more quickly. An investor looking ahead would have done well to buy VIG back in 2006, even if they would have seen lower income in the first several years.
Today, VIG has a 30-day SEC yield of 2.07 percent as of August 27, versus SPY's 30-day SEC yield of 1.78. An investor facing the same choice today gives up nothing. VIG already yields more than SPY and this gap will only grow in the years ahead. SPY is not considered a dividend ETF, but VIG can serve as a core holding in a portfolio for investors looking to bump their portfolio income.
As for DVY, it has a 30-day SEC yield of 3.15 percent as of July 31. Past results are no guarantee of future results, but if VIG's dividend growth outpaces DVY's as it has since inception, an investor choosing VIG over DVY today can expect to see larger dividend checks (assuming no reinvested dividends) by the end of the decade or very soon thereafter.
However, the look back period that includes the financial crisis favors VIG because the fund holds companies that can weather recessions and financial crises. Since 2012, SPY has seen faster dividend growth and DVY's income growth has been competitive with VIG too. The charts below show that VIG greatly outperformed in 2008 likely due in large part to the financial strength of the firms in its portfolio, but it has since underperformed DVY and SPY.
These charts are price ratios (adjusted for dividends). A rising line means VIG is outperforming, a falling line means it is under performing.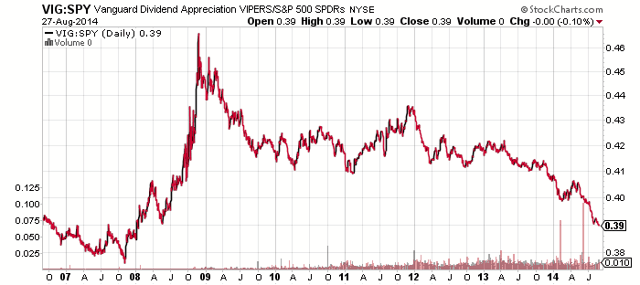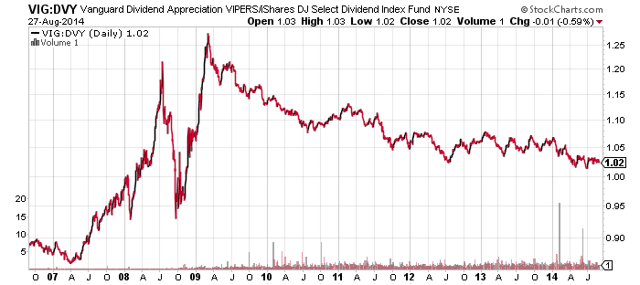 The biggest risk to this investment thesis then, is that the rest of this decade sees no financial crisis or recession, nor rising costs such as higher interest rates that crimp firms' ability to raise dividends. In that case, VIG will still be a solid choice for investors, but its income growth may not be as impressive versus other funds and its performance is likely to lag both SPY and DVY. On the other hand, if there is another recession or financial crisis before the end of the decade, then the case for VIG is all the stronger because it will better weather the storm.
Disclosure: The author has no positions in any stocks mentioned, and no plans to initiate any positions within the next 72 hours.
The author wrote this article themselves, and it expresses their own opinions. The author is not receiving compensation for it (other than from Seeking Alpha). The author has no business relationship with any company whose stock is mentioned in this article.