It's all a guess about how attitudes might change
Even hardened gold bugs stop trying to find any consistent economic guides to future gold prices, and sniff the chaotic international political winds for compelling shifts with some lasting (weeks to months, perhaps) chance to ride a move.
The underlying rationale of human political weakness, over time, of debasing the value of any and all paper currencies, is universally embedded in the portfolio asset allocations of the concerned community. From here on, it's just a matter of emphasis.
And emphasis, either enthusiasm or discouragement, seems always to be in flux.
That makes one's perspective an essential in dealing with the topic. To attain that we select for comparison some Exchange Traded Funds that span the array of possible attitudes.
The ETF cast of characters
Since the pervasive basic attitude among this species of investor/speculator is negative as to the futility of other-than-specie currency, it seems appropriate to cast the ETF players of the drama with ursine natures, so naturally the Three Bears come to the fore.
Papa bear has to be the oldest and biggest gold ETF, the SPDR Gold Trust ETF (NYSEARCA:GLD). Around since 2004, he commands $33 billion of AUM, and is often deferred to, for fear of arising his ire. Lately he has seemed rather grumpy.
Mama bear plays the typical role of disciplinarian in the family as ETFS Physical Swiss Gold Trust ETF (NYSEARCA:SGOL). Only $1 billion actually under her control, but she knows for sure that it will be there when and if she ever needs it.
Baby bear does the typical adventuresome kid thing, with Direxion Daily Gold Miners Bear 3x (short) Shares ETF (NYSEARCA:DUST) providing a parent-rebellious posture based on the producers' share values rather than on the commodity itself. Excitement is the goal.
So, how do they compare today?
We prefer to use our expert street consultants, the market-makers [MMs] on what may be the likely coming trend of securities, even though they, like most others, have a pretty horrible record of forecasting on these names. But at least they have a record that we can find, and know that it has legitimate comparison with what they may be thinking today.

Click to enlarge
Explicit price range forecasts, implied by hedging actions, are in columns (2) and (3). Risk and return prospects are matched by the upside change potential reward in the (5) column (+7.3% for GLD) against an average (-5.6%) of the worst price drawdowns (6) following 163 prior forecast experiences like today's of (12). Those priors produced average gains (9) in holding periods (10) amounting to annual rates of return in (11). Odds of having a profitable investment experience are shown in (8), while (13) measures how well (9) covered (5). Column (14) pits (5) against (6), and (15) integrates all these components into a figure-of-merit ranking measure intended to suggest comprehensive desirability.
Your sense of attractiveness may well differ from these systematic guidance, and that is what makes markets work. But here you have some extensive history of what has transpired following forecasts like what is currently being seen by highly-paid market experts.
The differences in being price-omniscient, as suggested in the proportion of winning trades in (8), among these gold ETFs is undetectable. Quite different from the MMs scorecard on SPY where they are constantly getting feedback updates from big-money portfolio managers who have the resources (and interest) in moving prices.
Their past payoffs (9) from forecasts similar to today's on GLD and SGOL border on what might be chance outcomes. But Baby Bear's winnings, even after taking a loss on one out of every 3 bets, have impressive scale. The credibility of these gold ETFs' current forecasts, based on past payoffs, as measured in (13) is far below the "all-ETF" average of nearly 200 of their other ETF cousins.
The experienced Reward-to-Risk ratios of (14), particularly when conditioned by credibility of prior forecasts, makes Baby Bear's DUST the more comfortable choice for risk-takers who can stomach being temporarily under water of cost with about one-fifth of your capital. But Baby B is there for the excitement.
What has been the recent past for these Gold ETFs?
In case this is an unfamiliar scene, here are the past two years' history of how their weekly market quotes have impacted MMs' impressions of what might be ahead from each reported date. Trends in their expectations tell varied stories.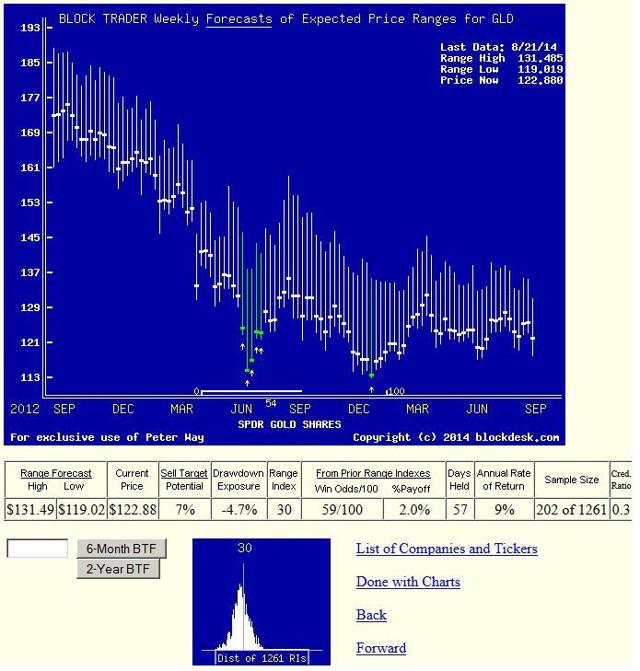 Click to enlarge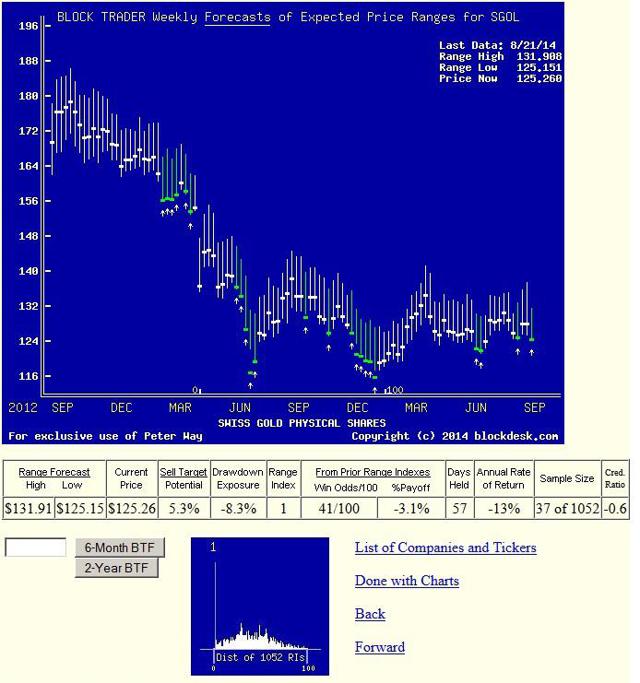 Click to enlarge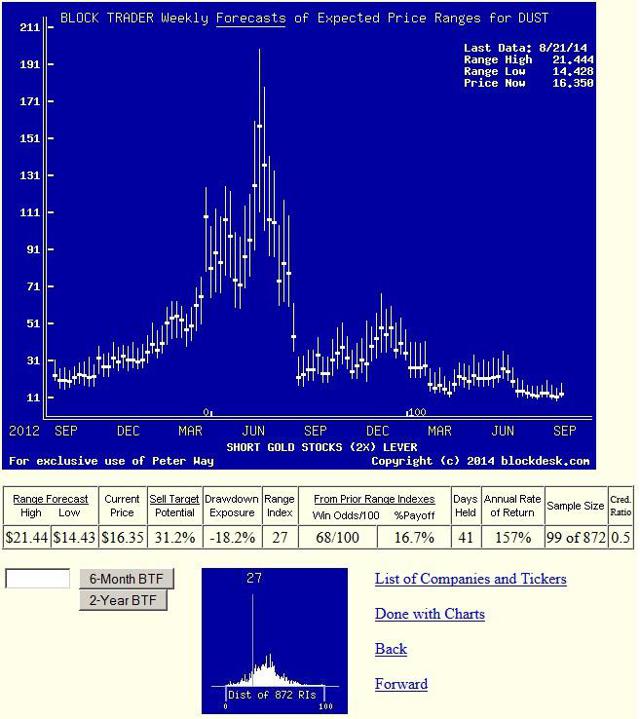 Click to enlarge
(used with permission)
The analysis dates of 8/21/2014 for each of these pictures are the prior Thursday, so there will be slight differences in the historical data lines beneath the BTF pictures and the current data in the prior table. The Range Indexes [RIs] referred to in each of the picture thumbnails and the table's column (7) measure what percent of the forecast range lies below that date's market quote.
We will leave the interpretations to you.
Conclusion
This whole exercise grays our hairs, knowing that every day there are alternative choices of a dozen or more equity investments with win odds of 90+ out of 100, sell-target forecast gains of +10% or more made credible by past profit achievements of +12%, reached in holding periods of seven calendar weeks that when compounded 7 or more times a year would double your money.
The folks who justify crippling portfolio returns just for the sake of finding investments that do not correlate with market averages leave us cold. But then, our principal interest is far more about building wealth than preserving it by abuse.
Disclosure: The author has no positions in any stocks mentioned, and no plans to initiate any positions within the next 72 hours.
The author wrote this article themselves, and it expresses their own opinions. The author is not receiving compensation for it (other than from Seeking Alpha). The author has no business relationship with any company whose stock is mentioned in this article.