Triangle Petroleum (TPLM) Book Report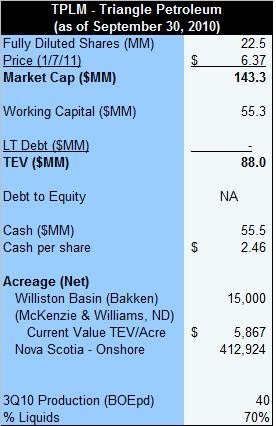 Highlights and Comments:
The Acreage:
~ 15,000 net acres:


6,500 net acres in the Rough Rider area with Slawson

2,600 net acres in the Grizzly area with KOG operating on the border with Montana in the southeast corner of the Elm Coulee field.

2 wells in progress with a 26% WI (21% NRI, (Grizzly 13-H, Grizzly 1-27H)

the first of these, the Grizzly 1-27H, IP'd last week at 507 BOEpd. Net to TPLM, that's just over 100 BOEpd, and I would expect the rate to be half that level three months down the road and on pump. The point is, that well alone is three times TPLM's total company production for 3Q10.

Notably, this area is attached to gas lines for improved economics.

Between 1,100 and 1,732 net acres that are in the process of being purchased from a private company. This will be TPLM's first shot at operating in the Williston.

This puts their TEV/Acre at $5,600.
The core Bakken player group (comprised of pure Bakken players OAS, KOG, NOG and almost pure player BEXP) are trading at $10,122 / acre.

It should also be noted that the words Bakken and Williston Basin are not to be found in the 2009 annual report, so they are truly new to the play.
The Balance Sheet:
About $55 mm in cash ($2.46 per share) and no debt.
Production Profile:
Production is tiny: 30 BOEpd, 70% oil as of 3Q10.

No consistent past pattern and not really relevant to their current plan.

Looking for hockey stick style oily volume growth here this year and next.
The Plan:
$72 mm 2011 budget

$42 mm for 6 net wells (30 gross)

$30 mm for leasehold acquisition, and planning to get to 30,000 net acres by year end 2011.
Management:
The President has extensive experience in developing nascent operations (I recall him from Harvest Natural).

Note that new management team was brought in at the end of 2009 to revitalize the name and completely shift the focus from a Nova Scotia Maritimes area gas play to a Bakken player.

Insiders hold 8%
Other Stuff:
They have a large onshore block of acreage in Nova Scotia – 413,000 net acres – which they plan to spend $0 on in 2011. Look for this play to be monetized.
Nutshell: Conceptually, this is similar to NOG a few years ago, in that they are focused on the Bakken and are a non-operator. Further similarities come from them having a majority of their wells being drilled by Slawson. Moreover, their partnership with KOG in the Grizzly area of North Dakota will provide press releasable catalysts from a larger, experienced public entity that has become a household Bakken name. My expectation would be that as they add acreage, their per acre valuation will move up in the direction of, if not even with, the other players. NOG, the biggest non-operator in the basin, currently trades at $11,700 per acre (TEV/acre basis) while KOG trades at ($13,200 /acre).

Nutshell Bullet Points:

1) Brought in a very experienced (30+ years) E&P head, who is a geologist to run it.

2) They then funded it well (lots of cash for its size and no debt)...

3) ...Giving it the potential to buy land with Bakken/Three Forks potential at one price (about $1,000 per acre),

4) and have that valued by the market closer to $6,000 per acre.

5) Its peers traded at about $10K / acre with some over $13K /acre.

6) And they plan to double their leasehold this year out of existing cash.

7) Production is so low right now that any success results in multi hundred % style growth.

8) Finally, to help with growing production, they partnered with public and private entities with play specific experience.