The Verge got the scoop on the anticipated unveiling of the newest operating system by Microsoft (NASDAQ:MSFT). The unveiling is expected at a press event to be held on September 30th. The event should include an overview of key new features of the operating system and a technical preview. The new operating system would be the first to be launched under new CEO MSFT Satya Nadella. This may be a great day for computer owners everywhere that were stuck with Windows 8.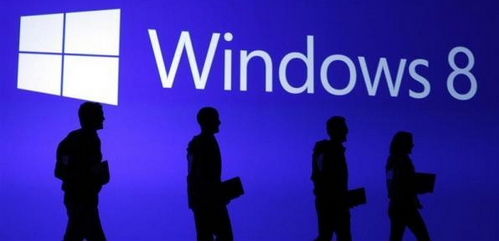 (Image Source: Reuters)
The image above reminds me of all the people walking away from windows 8. I'm not speaking as someone without experience. My work regularly involved using two top of the line machines. One was using windows 7 and the other was using 8. While running under very high load, the machine running Windows 8 performed significantly worse. Eventually, I found a copy of Windows 7 and formatted the machine. The performance improved significantly, though the machine that had used Windows 8 still performed at a lower level than the other one.
Some investors may be wary of Microsoft rushing out a new version without having time to test everything. I was optimistic, but not just based off the "every other release theory" which states that MSFT will rotate between good and bad releases. The release of "Windows 9," as it is currently being referred to, is expected to include Cortana.
Windows is important to Microsoft, but the importance is no longer overwhelming. The division that is anchored by Windows is "only" generating about 20% of the company's revenues. The market for PCs has been shrinking, but quarter 2 showed a decline in the rate of shrinkage. Gartner reported "flat growth" in the second quarter of 2014 after the previous eight quarters of decline. I wouldn't count on the trend to have ended abruptly, but even a quarter that comes in flat is a positive surprise.
Did you say FREE?
The great uncertainty regarding the next operating system is how much money the company will make. Under GAAP, R&D is expensed immediately, but as investors we believe that the money being spent on R&D is being invested to grow future returns. That assumption could turn out to be optimistic.
There is a Russian "leaker" that releases substantial amounts of information on Microsoft. He, she, or they, since the entity is known simply as WZOR, is/are known for accurate leaks of information regarding Microsoft. WZOR predicted in January that the RTM (version for manufacturers) of Windows 9 would be replaced October 21st, 2014. He recently added that the retail version is expected to ship to consumers in April 2015.
According to that source, Microsoft may be giving Windows 9 away, or offering it as an upgrade for about $20, to customers who have use it as an upgrade from the Windows 8.1 patch. I don't usually place much faith in rumors, but WZOR has a fairly accurate track record so I think investors should know about the risk.
My concern about Windows 9 being offered at $20 to owners of Windows 8 is simple. Windows 8 is the operating system that makes people want to upgrade. If there is any one statistic that should indicate a potential buyer for Windows 9, it would be that the person has Windows 8.
For comparison sake, imagine how McDonald's sends out coupons occasionally. The goal is to bring in people who were not planning to visit the restaurant. If McDonald's decided to promote their restaurant by handing out coupons in their own parking lot, they would just be selling their food for less. I can understand that Microsoft may want to get improved consumer perception of their brand, but I'm not convinced that this would be the right strategy.
Conclusion
The expected unveiling is September 30th, 2014, and the expected launch is in 2015. In an interview over a year ago, Microsoft Communications Chief Frank Shaw had declined to indicate how often they would provide new operating systems. If they decide to release more systems and fewer patches, it may drive revenue higher. On the other hand, if they decide to release new systems that are free or nearly free, the new operating system should be considered at least partially as a patch.
If the operating system is sold to all customers, it should drive revenue and margins. If it is given away for free to some users, the expected income and margin should be much lower. While investors would love to know "for sure," any analyst claiming that knowledge should be viewed very skeptically. For now, investors need to be aware that the hype could be overblown and any projections of revenues should include two very different cases. One should assume the company sells the operating system to all interested customers, and the other should assume they give away a large volume of the copies.
Disclosure: The author has no positions in any stocks mentioned, and no plans to initiate any positions within the next 72 hours.
The author wrote this article themselves, and it expresses their own opinions. The author is not receiving compensation for it (other than from Seeking Alpha). The author has no business relationship with any company whose stock is mentioned in this article.
Additional disclosure: Information in this article represents the opinion of the analyst. All statements are represented as opinions, rather than facts, and should not be construed as advice to buy or sell a security. Ratings of "outperform" and "underperform" reflect the analyst's estimation of a divergence between the market value for a security and the price that would be appropriate given the potential for risks and returns relative to other securities. The analyst does not know your particular objectives for returns or constraints upon investing. All investors are encouraged to do their own research before making any investment decision. Information is regularly obtained from either Yahoo Finance or the SEC database. If either of these sources contained faulty information, it could be incorporated in our analysis. The analyst holds a diversified portfolio including mutual funds or index funds which may include a small long exposure to the stock.